Conan Edogawa/Shinichi Kudo
Dubbed the "Heisei Holmes" (Heisei being the current "era" of Japanese history), sixteen-year old Shinichi was well-known throughout the Beika District of Tokyo and beyond for being able to solve any crime that the police failed to. However, he was still a teenager, and susceptible to things such as... oh, falling in love with his childhood friend Ran.
One day, after solving a murder at an amusement park, Shinichi comes upon a mysterious man in black extorting money from another man. While he's investigating, however, he fails to see the man's partner sneak up on him and knock him out cold with a metal pipe. Deciding that He Knows Too Much, the two force-feed him a poison pill supposed to not only kill him, but leave no trace behind besides "evidence of a spontaneous heart attack". Unfortunately for them, it fails to do the former, and only half-accomplishes the latter: Shinichi has been shrunk into a six-year old.
One quick visit to his neighbor Professor Agasa's house later, Shinichi realizes that he must keep his identity secret, lest the two men in black come back and kill him for good. He is adopted by Ran, and now lives at the Mouri Detective agency, much to his (at first) dismay. Every once in a while, he has picked up leads on the two men in black, but in the meantime... murders, thefts, and kidnappings are popping up all around, and what better way to pass the time than to solve them all?
Mandatory naming note: "Shin'ichi" has various possible spellings - the one used here is 'new one', possibly referring to his being the 'Holmes of the Twentieth Century/New Era', but may also be a reference to the Japanese writer Shinichi Hoshi. "Kudo" came from Shunsaku Kudo of Tantei Monogatari.
Tropes associated with him:
Ran Mouri
Mandatory name note: The entire name came from Maurice Leblanc, creater of Arsène Lupin, through the Japanese reading Mooritsu Ruburan.
Tropes associated with her:
  Akai: You are crying again... You are always crying.
Kogoro Mouri

Mandatory naming note: "Kogoro" came from Kogoro Akechi, the Great Detective in Rampo Edogawa's novels.
Tropes associated with him:
Ai Haibara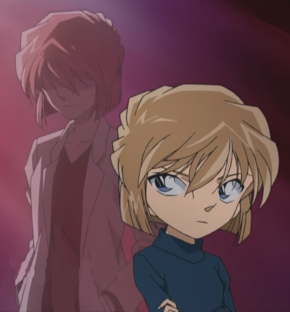 Mandatory naming note: Haibara came from Cordelia Gray; Haibara literally meant Grayfield. Ai came from flipping the V in V.I. Warshawski-- the kanji usually associated with the sound "Ai" means love, but she took the alternative for "sorrow."
Tropes associated with her:
Community content is available under
CC-BY-SA
unless otherwise noted.