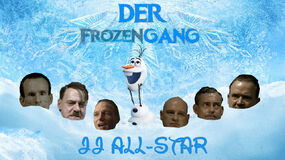 Der Frozengang is a crossover parody between Downfall and Frozen, created by JJ All-star.
In the ruined streets of Warsaw, Poland, Hermann Fegelein wanders around the city. He comes across pianist Władysław Szpilman, and asks him to play a song for him. The song in question haunts Fegelein, and reminds him of a troubled past: at that time, Hitler exploits Fegelein's one weakness, cold, and with this knowledge creates the ultimate plan to eliminate him. To this end he invades and conquers the kingdom of Arendelle, and takes the country's Queen Elsa prisoner.
Using her powers, he creates a pencil that can summon winter at will. The pencil succeeds in bringing Fegelein down to normal, but has the side effect of covering the city in perpetual snow. Now it's up to Fegelein and his allies to stop him and to rescue Queen Elsa...
The prologue can be seen here, while the first part (and indeed the rest) of the parody is available on YouTube.
JJ would eventually state that he has plans to remake the entire series except for the last three episodes.
---
This parody features examples of
---
Community content is available under
CC-BY-SA
unless otherwise noted.