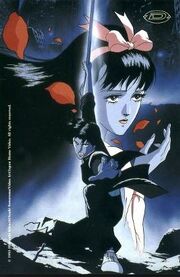 Demon City Shinjuku (Makaitoshi Shinjuku, also translated as Hell City Shinjuku and Monster City) is a novel by Hideyuki Kikuchi that was adapted into an anime movie in 1988, directed by Yoshiaki Kawajiri.
The movie begins with a battle between fates, Levih Rah versus the hero Genichirou. Levih Rah has allowed himself to be possessed in order to gain the incredible powers of evil and plans to summon demons to conquer the world. He defeats Genichirou and offers up the Shinjuku area of Tokyo as a sacrifice, setting off an earthquake that devastates the area while leaving the surrounding districts untouched, and promises his demonic allies that in ten years he will hand the world over to them. Shinjuku becomes a demon-infested wasteland commonly known as "Demon City."
Ten years later, Levih Rah is almost ready to unleash the demons on the rest of the world. To keep his old master Agni Lai from interfering, he attacks the World President Koizumi Rama, the man who is leading the rest of the world toward peace, in order to keep Master Lai busy protecting him. What Levih Rah does not realize is that Genichirou has a son, Kyouya Izayoi, who has inherited all of his father's talent and more. Following an emotional plea from the president's daughter, Sayaka Rama, the reluctant Kyouya follows her into Demon City with only three days to hone his skills enough to stop Levih Rah from creating hell on earth.
The film was released in North America by Central Park Media in 1994. Portions of the opening fight scene were featured in the 1995 cyberpunk film Johnny Mnemonic.
Tropes used in Demon City Shinjuku include:
Community content is available under
CC-BY-SA
unless otherwise noted.