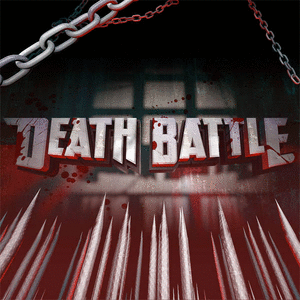 Death Battle is a special hosted by Screwattack.com and is presented by "Wiz" (Ben Singer) and "Boomstick" (Chad James). Episodes 20-29 were animated by Mr Lange, aka Short Factor (Jordan Lange), with Episodes 29 onwards animated by Torrian Crawford and some guest animators. The point of the show is to take two similar characters and pit them against each other, analyzing their respective strengths and weaknesses to see who would win, similar to Deadliest Warrior.
So far, there are 70 videos. The first 18 episodes were featured exclusively on ScrewAttack's YouTube account, and starting with episode 19 the series is now posted to the redesigned screwattack.com, with a delayed posting of past fights to their Youtube page.
The fights so far, in order of airing are:
Season 1:
Season 2:
Ryu Hayabusa vs. Strider Hiryu
Season 3:
Season 4:
But to see who wins, you'll have to watch them kicking the bejeezuz out of each other! Because that's what happens in a DEATH BATTLE!!!!!
---
Tropes used in this work include:
 Boomstick: Mikey's not gonna win this one, is he?

Wiz: He'd better not!
Beware the Nice Ones: Rainbow Dash only attacks Starscream when he threatens to kill her, then delivers a thorough beating. Then, she eats his Spark! Yeah, Starscream really shouldn't have antagonized her.

Yoshi is described in the intro as a "cute, happy dinosaur". The fight ends with him throwing Riptor over a cliff, after drenching the latter's face in his own acid.

Princess Peach

, the somewhat ditzy, happy-go-lucky girl who can't take ten steps without getting kidnapped,

kicks Zelda's face so hard her head explodes.
 Peach after killing Zelda: Did I win?

Thor after killing Raiden: Farewell
 Wiz: Yoshi has a large arsenal of eggs to use as lightweight projectiles and can even create a giant egg-shell to use as an all-encompassing shield.

Boomstick: What is it with creatures from the Mario universe usin' their babies as weapons? Is it that effective? I'm gonna have to test this out, maybe some sort of baby-launcher...

Wiz: Boomstick! That's a terrible idea! Any time you'd want to reload you'd have to wait nine months!
Crack Fic: On occasion, the matches depicted in "Death Battle" can wind up like this in a BIG way, such as Rainbow Dash vs Starscream.
 Wiz: Television has been used to market toys to boys and girls for generations. Ranging from G.I. Joe to Barbie, and Transformers to My Little Pony.

Boomstick: Are we really doin' this?

Wiz: Yes. Yes we are.
 Vegeta: Wow... what a ripoff.
 Wiz: When it comes to fighting, combatants come in all shapes and sizes!

Boomstick: And I'm likin' the shapes and sizes on these two!
 Wiz: [Mai] wears it for kunoichi, a female ninja method of sensually distracting the foe before striking.

Boomstick: ...I'm sorry, what? I was distracted.
  Boomstick: ...Thaaaat seemed a bit overkill......I liked it!
No-Nonsense Nemesis: Eggman V.S. Wily. Neo Metal Sonic destroys Wily's first machine, popping Wily out of it's remains. Wily begs for his life and Dr. Eggman denies his request by stomping on him with the Death Egg Robot's foot... only to realize it's a dummy. The real Wily was right behind him in a new machine.
Not So Above It All: While Wiz is the straight guy to Boomstick, he's not totally sane himself. For example, he's mentioned doing something with genetically enhanced hamsters, dissected an unwilling Goomba and only discounts Boomstick's baby cannon idea on the grounds of acquiring ammunition.
Oh Crap: In the Master Chief/Doomguy fight, when

Doomguy realizes too late that he has a Plasma Grenade stuck on him.

Also, in Bomberman vs Dig Dug after Bomberman realizes that he dropped a bomb in front of himself.
And in Mario vs. Sonic, both combatants are spooked when they realize that they are inside a mountain with a large amount of Bob-ombs that are about to explode. However, both Mario and Sonic survive the experience thanks to Power Ups.

Mario had this reaction again when his Mega Mario power up ran out.

There was also Vegeta vs. Shadow,

when Shadow came back to normal.

This was pretty much

everyone

's reaction when

Metal Sonic went rogue and became Metal Overlord

in Eggman VS Wily.
This was Starscream's reaction When Rainbow Dash leads his own missiles straight at him.

Off with His Head:

Samus Aran finishes off Boba Fett by blasting his head clean off with a fully charged shot.

Michelangelo also gets his head sliced off by Leonardo shortly after he sliced off his right arm.

One-Winged Angel:

Metal Sonic absorbing the Egg Fleet and turning into Metal Overlord...then proceeding to obliterate Eggman, Dr. Wily, all the remaining fighters on both sides, the city they're fighting in, and possibly the world.

Power-Up: Used interestingly in the judgment of the fights. Twice now, they have had a fighter who collected all kinds of power-ups go against someone who had just about all of their abilities from the start. And in both cases they have chosen the latter to be the victor.
Red Oni, Blue Oni: Boomstick and Wiz, respectively.
Rule of Cool: In the second Q&A, Wiz specifically states the fights are not representative of who actually wins the Death Battle; the winner is decided well beforehand through research into the combatants. The fights are purely for entertainment purposes.
Shock and Awe: The entire battle between Thor and Raiden.
Shown Their Work: Before every fight, Wiz & Boomstick look through the history, abilities, arsenal, & weaknesses as presented in the canon of each fighters in great detail to determine who would win. Regardless of what one thinks of the results, they can't be accused of not doing their homework.
Take a Third Option:

Wily uses his Roboenza on Metal Sonic, which sends Metal Sonic on a rampage, killing Eggman, which would normally be a win for Wily. But since Metal Sonic was Eggman's robot and kills Wily directly afterwards, Wiz and Boomstick can't decide who wins. So they just declare Metal Sonic victor.

The Remake: The Starscream/Rainbow Dash battle was remade including new information and better effects in the battle.

About 24 hours after Thor vs Raiden was released, Shortfactor (the animator) improved the visuals of the final phase of the battle, and was subsequently updated with the video.

Unstoppable Force Meets Immovable Object: The Haggar Vs. Zangief fight was described in the commercial break as "the unstoppable force meets the immovable mayor".

The unstoppable Zangief overrode the immovable Haggar.

Victoria's Secret Compartment: Boomstick jokes that this is where Mai Shiranui stores her weapons. To his surprise, this is actually true.
Where's the Kaboom?: After Starscream shot out an armoury's worth of missiles towards Rainbow Dash who flew into the clouds he stands there waiting for an explosion for a few seconds only for Rainbow Dash to lead his missiles to him.
Your Head Asplode: Peach ruptures Zelda's skull with her Mega Strike: Empress Peach.
Notes
↑

Wonder Woman and Chun Li are formally trained fighters, making them poor matchups for their respective opponents, as Wondie would eventually hit Rogue's uncovered face, causing a power absorption, and Mai's ninja training made her too unpredictable. While Kratos wasn't held back by his training, his weaponry was forged by Olympians, which the video noted wasn't a different plane of existence like heaven, and wouldn't necessarily be able to kill Spawn. Zelda is extremely powerful and experienced, but it is specifically noted that her power and experience are almost entirely in areas unrelated to combat, leading to her defeat by the less magically potent but more athletic Peach. Boomstick noted that Raiden's main method of attack, electricity, is useless against Thor
Community content is available under
CC-BY-SA
unless otherwise noted.