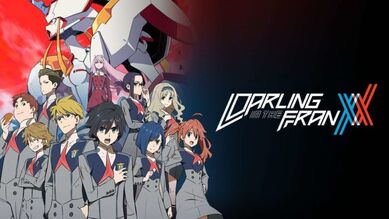 From this day forward, you are now my darling!~
Darling in the Franxx (Japanese: ダーリン・イン・ザ・フランキス Hepburn: Dārin In Za Furankisu), abbreviated as DarliFra (ダリフラ DariFura), is a 2018 Japanese science fiction and romance TV series in 24 episodes, produced by CloverWorks and animated by Studio Trigger, that ran from January to July 2018. Crunchyroll and Aniplus Asia simulcasted the series, then Funimation dubbed it in English. There are also two manga adaptations, one by Kentaro Yabuki from To Love Ru.
The series happens in a dystopian future, where adults and children live separately. The adults are immortal and live in the cities normally, but they don't pursue relationships and don't have kids. Children and teenagers are artificially born/created, ahve shortened lifespans and are referred to as Parasites, raised solely to pilot the gigantic mechas named Franxx in male-female pairs (with guys known as "stamens" and girls called "pistils"), and are otherwise treated as expendable pawns by the leaders of humanity, an Omniscient Council of Vagueness known as APE, which is led by the mysterious "Papa". So, other than having to fight the evil and gigantic aliens known as the Klaxosaurs, these children and teens have next to no actual purpose and hope for the future.
One of the many Parasite teams is Squad 13 of Plantation 13. Hiro is one of the kids in that group: once believed to be a Child Prodigy, he's now a depressed teen unable to connect with his partner Naomi, and therefore neither of them cannot complete their training and she dies. However, Hiro's luck is about to change: he finds a new partner of sorts in Zero-Two, a horned girl called "Partner Killer" since all of the "stamens" who have worked with her died after their third joined battle. When she loses her current stamen, Hiro becomes her "darling" AND survives the three following battles. Soon, both of them plus Hiro's remaining companions (Ichigo, Goro, Mitsuru, Kokoro, Ikuno, Futoshi, Miku and Zorome) begin their shared Coming of Age Story, fighting the klaxosaurs together and starting to question the world around them little by little...
This page is heavily under construction!!
Tropes used in Darling in the FRANXX include:
Community content is available under
CC-BY-SA
unless otherwise noted.