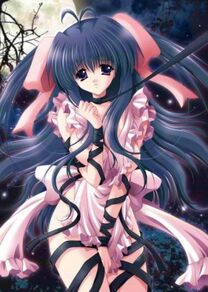 What do you get when you take one syrupy newlywed couple, Gratuitous English terms of endearment, and add in a whole slew of kinky outfits and Imagine Spots? A surprisingly cute Hentai show named "Darling", (and some elephants)!
Darling is the story of a Hentai mangaka named Jun Kitano, who has just married his assistant and the love of his life, Miyuki. Their life of married bliss is interrupted, however, by Soyoko Mifuji, the representative of a publishing company, who comes to Jun with a huge opportunity: the chance to write and draw the greatest porn manga anthology in the 21st century. However they only have 30 days to finish, or Soyoko will be forced to become her boss's sex slave. How will they meet this impossible deadline? By using Jun's secret ultimate technique, Hyper Erection Mode, in which he is able to fuel his writing with the power of his month-long erection!
Darling is based on an H-game game of the same name, and is three episodes long.
Tropes used in Darling include:
Community content is available under
CC-BY-SA
unless otherwise noted.