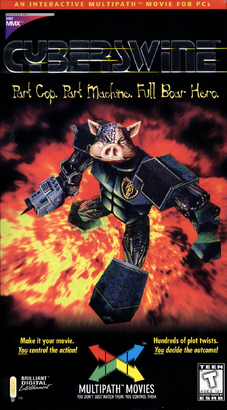 "Part machine, part cop."

—Cyberswine, Cyberswine
Cyberswine is an Adventure Video Game that was released in 1997. It was developed and published by Brilliant Digital Entertainment, Inc., for the PC. It is a Video Game Adaptation of an Australian comic book with the same name.
It is Cyberswine's first day on the job as a police officer in the CyberCity Police Department. The Chief assigns Lieutenant Sarah Lee as Cyberswine's partner and mentor. Lee is not thrilled at the idea of partnering up with a cyborg pig, but she is on probation. Naturally, things get complicated for both of them as they start their first patrol....
If you would like to see playthroughs of Cyberswine on YouTube, please see the following videos:
---
This game contains examples of:
---
Pearl Butter The Geriatric Tour
Community content is available under
CC-BY-SA
unless otherwise noted.