Cyberswine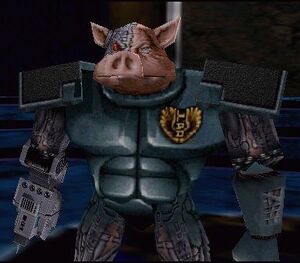 The titular protagonist. He is a Mechanimal (i.e. mechanical animal) and a cyborg. He was brought onto the police force as their secret weapon against crime. He starts off as a rookie being given an orientation patrol, but things get complicated shortly after starting the patrol. What is more, a conspiracy also strikes CyberCity, and what started as a simple orientation patrol becomes a fight for survival.
Lieutenant Sarah Lee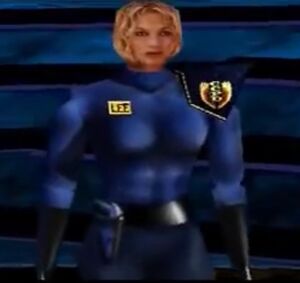 A police lieutenant. She is partnered up with Cyberswine for his orientation patrol. Normally, she would not be given this job, but she is on probation for refusing to take the Healthex vaccine, which is required by law. She is also not thrilled about being partners with Cyberswine, because she sees him as a freak and a thing. Little does she know that circumstances will force them to work together, whether she likes it or not.
The Chief Of Police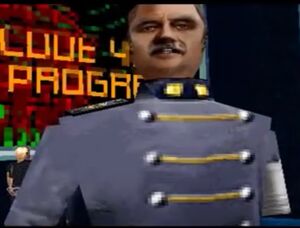 The police chief of the CyberCity Police Department. He gives Sarah the assignment of accompanying Cyberswine on his orientation patrol.
Bob Hugh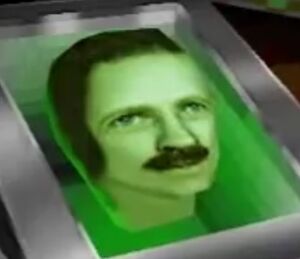 The newscaster of CameraNet. In his first appearance, he announces Cyberswine as the first Mechanimal in the CyberCity Police Department to the public. In his last appearance, he announces the spread of the Grid Virus and claims that it is being contained.
Implausible Deniability: He claims that the government is containing the Grid Virus. Cyberswine and Lieutenant Sarah Lee have seen the results with their own eyes, and know that it is certainly not the case.
What Happened to the Mouse?: What is very interesting to note is that he is still alive to report the news when the Grid Virus strikes. This would imply that he did not take the Healthex vaccine. However, the fact that he does not appear again after would imply that he did not survive the NetCops.
Vice-President Bryce Gets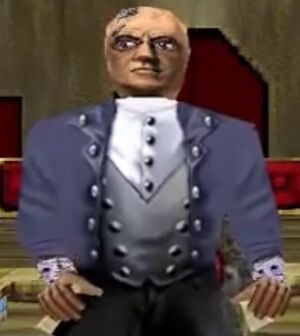 The de-facto owner of Farmtech. He has big plans for everybody, but most of them will not realize it until it is too late. He is the one behind all the bad things that happen in this story.
The Scientist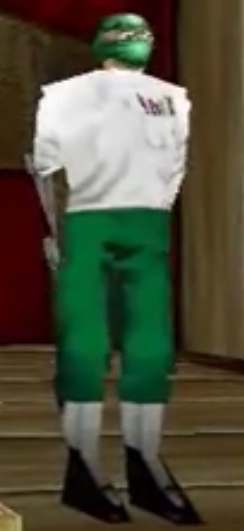 The faithful lackey of Vice-President Bryce Gets. He carries out every one of Bryce's orders.
Speedo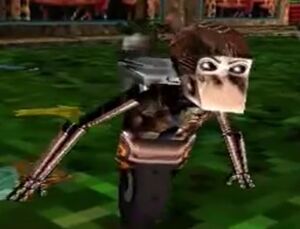 A Tech Prototype Courier Droid. He first appears spray-painting "PIG" on Cyberswine. This causes Cyberswine and Sarah to chase after him. Once they catch him, they place him under arrest. However, when their AV malfunctions and they crash, Speedo escapes.
Fragile Speedster: As his name implies, he can move very fast. However, Cyberswine was able to knock him out in one hit.
It's All About Me: He changed his programming and got smart. Unfortunately, he also became arrogant and clearly thinks that he can do whatever he wants without consequences. Cyberswine and Lieutenant Sarah Lee beg to differ.
Jerkass: Speedo spray-paints "PIG" on Cyberswine and laughs about it. He leads them on a high-speed chase. Even when they catch and arrest him, he shows no remorse over what he did.
Draino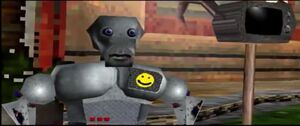 A strange droid. He is apparently very old and very mysterious. He seems to know a lot about what is going on. However, he only reveals what needs to be revealed in due time. Cyberswine and Sarah encounter him after they crash their AV.
Cryptic Conversation: Many of his conversations are this. For example, he mentions knowing a boy who became a fine man but he had to get rid of his chips first. It turns out that he was actually referring to Cyberswine.
Mr. Exposition: Draino serves the purpose of explaining some situations to Cyberswine and Lieutenant Sarah Lee. However, he keeps the exposition to a minimum, because there are some things they have to find out for themselves.
Police Brutality: Played with. Cyberswine and Lieutenant Sarah Lee generally do not beat the stuffing out of suspects, but after Sarah gets replaced by a replicant, she threatens to shoot Draino to get him to tell them information, forcing Cyberswine to step in and get her to take a walk.
The Distraught Woman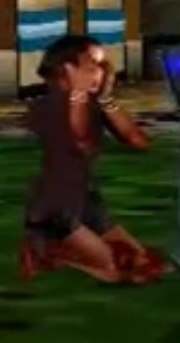 A woman who Cyberswine and Sarah meet. She begs them to help her, but she is infected with a virus and there is nothing they can do for her. She dies shortly afterward.
The Rebel Soldier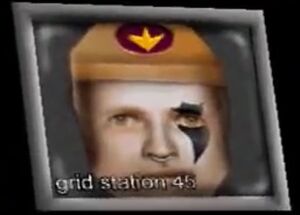 A member of a group of rebels. He appears later to ask Cyberswine to save Draino from the NetCops.
The Dying Old Man

An old man Cyberswine and Sarah find lying on the ground. He is dying from the virus, and he begs Cyberswine to kill him.
Zak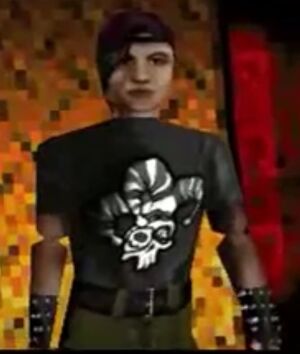 A teenage boy who is first seen trying to help the dying old man. Cyberswine and Sarah spend a portion of the game looking for him. Once they find him, he proves to be an invaluable ally in the crisis.
NetPolice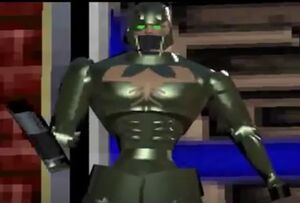 Also known as NetCops. In theory, they are the police force of the New World. In reality, they are robots whose only purpose is to exterminate all humans.
Imperial Stormtrooper Marksmanship Academy: Played with. A number of times, they cannot seem to hit Cyberswine and Lieutenant Sarah Lee. But there is one point when one NetCop actually hits Cyberswine a few times.
Killer Robot: Even though they are called cops, they are robots and they will kill anyone who is not them. Justified, because they were programmed that way.
No Name Given: The only one given something akin to a name is Unit 76-Delta. Justified, because they are robots and they would not need names.
The Street People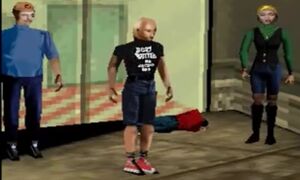 A group of people Cyberswine and Sarah encounter at the entrance of a hospital. According to Sarah, they live by their own rules, don't mix with society, ignore the government and so on. They survived the virus, but now they have to survive the NetCops.
Facial Markings: One of the Street People has a tattoo over his left eye.
Kill the Poor: The NetCops' attempts to kill them has a whiff of this. Of course, they are human and the NetCops are programmed to kill all humans.
Real Men Wear Pink: One of the Street People is wearing pink sneakers.
Civilian Robots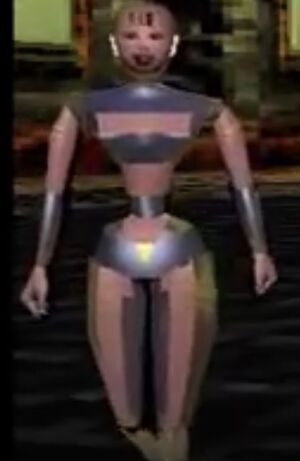 Robots intended to fulfill the duties of human civilians. Depending on your decisions, you can find them in a warehouse shortly after leaving Police Headquarters.
Garbage Robots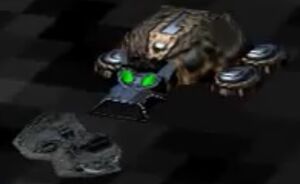 Robots that resemble rats. Cyberswine encounter one of these after seeing the Civilian Robots in the warehouse. Their purpose is to vacuum up the clothes left behind by the victims of the virus.
Animal Motifs: Rats. They deal in garbage disposal which is a job that most people would not want to do.
Logic Bomb: They are programmed to vacuum up all the garbage that they find, especially clothes left behind by the victims of the Grid Virus. However, there is so much garbage that their programming breaks down and they start randomly attacking robots.
Reality Ensues: While having robots to vacuum up garbage is convenient, the garbage still has to go somewhere. If the robots get completely filled up with garbage and have no method to dispose of the garbage contained within them, they will be unable to obey their programming. In that case, their programming will break down and cause them to behave erratically.
The Boy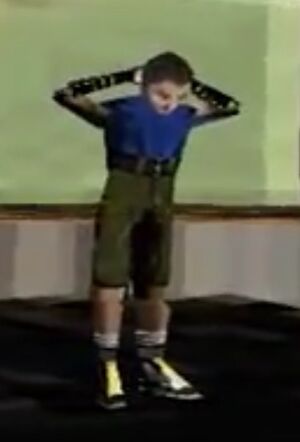 A teenage boy who Cyberswine and Sarah find. He gets gunned down seconds after meeting him and then the NetCops extract his brain from his body.
Sam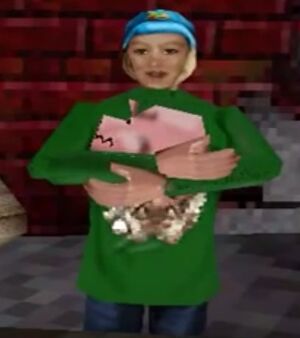 Zak's little sister. She has an IQ of 184.
Cyberbird
A cyborg working for Vice-President Bryce Gets. He seems to be comparable to Cyberswine, except this one has a soldier's brain combined with a chicken's brain put into a robotic chicken's body. This cyborg is Cyberswine's most dangerous opponent.
Community content is available under
CC-BY-SA
unless otherwise noted.