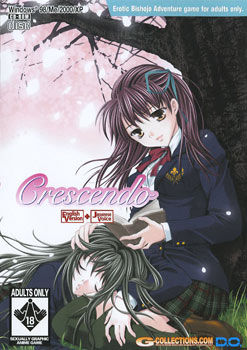 Crescendo Eien Dato Omotte Ita Ano Koro is an Eroge Visual Novel created by Digital Objet (creators of Kana: Little Sister).
It's the final week before graduation, and Ryo Sasaki is currently taking additional lessons at school to make up for multiple absences over his three years in high school. At the same time, there are several women in his life: Kaho, his friend and president of the literary club; Kyoko, a younger member of the literary club who has just recently confessed her feelings to him; Yuka, the teenage prostitute who is looked down upon by the entire school; Ayame, his stepsister who dropped out of college to support herself and Ryo after their parents died; and Kaori, the school nurse that Ryo has grown close to over the past three years. Graduation is in only four days, at which point they'll go their separate ways unless Ryo takes action.
---
This Game Contains Examples of the Following Tropes
Community content is available under
CC-BY-SA
unless otherwise noted.