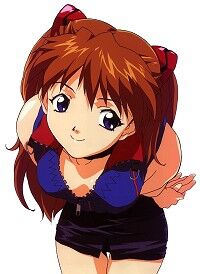 A common pose for young ladies to show they are interested in someone, but in a subtle way rather than being overly seductive. This is Truth in Television, which makes it a good characterization visual in fiction.
The common form is to hold her arms behind her back (which by itself is a common pose for shy girls, and it's the key here to making her not look too forthcoming) and tilt her head coyly, while leaning towards, or walking towards, the person she's interested in. Bonus points if she is standing just a bit off angle.
Should also be noted that what the girl is wearing doesn't matter. It's how she carries herself. She could wear Dominatrix gear and still pull off this trope.
Compare Rebel Relaxation, Ready for Lovemaking (the very up-front Sister Trope), Pec Flex (a more direct male version), Over-the-Shoulder Pose, Old-Fashioned Rowboat Date.
Contrast All Women Are Prudes, The Ingenue.
Examples of Coy Girlish Flirt Pose include:
Anime and Manga
Comic Books
Film
Live-Action TV
Video Games
Western Animation
Community content is available under
CC-BY-SA
unless otherwise noted.