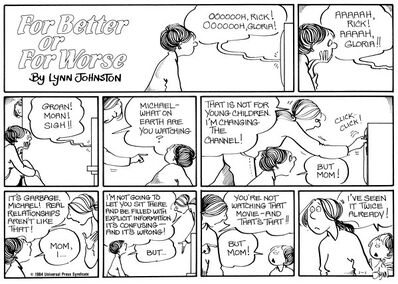 In fiction, sexual activities do not have to be realistic. They are not there to give people realistic expectations. So they may as well present rare luck, implausible stuff, and the downright impossible as being the average daily life that anyone should expect. At best, the authors tend to run on a mix of Rule of Fun, Rule of Sexy, LawOfConservationOfDetail, They Just Didn't Care, and let's-not-squick-people-out. With or without Lampshade Hanging. At worst, they Did Not Do the Research. Particularly common in porn fics, as disproportionately many are written by teenage girls, who are therefore very likely to be virgins/ Thus, welcome to the wonderful world of Hollywood Sex, where sexuality often works like this:
---
Everything I know about vanilla sex, I learned from the Movies
Everything I know about BDSM, I learned from Comic Books and Fan Fiction
Everything I know about fetishism, I learned from pornography and the plot-twist of detective stories.
Everything I know about same-gendered sex, I learned from slash fiction and manga
---
For other ways things can go unnaturally smooth, compare and contrast Common Mary Sue Traits. While Mary Sue is a way to function socially and Hollywood Sex is a way to function sexually, they are both unrealistic in the same basic way. (Not to mention that Mary Sues tend to try their damn hardest to serve as Fan Service anyways...)
Notes
↑

When a man has trouble reaching orgasm outside his masturbation routine

↑

On the off-chance that someone reading this doesn't know: Long fingernails are not remotely practical if you're going to put them in or around somebody's orifices. It's painful for the receptive partner and just generally gets in the way.
Community content is available under
CC-BY-SA
unless otherwise noted.