Wiki Targeted (Entertainment)
Play Sound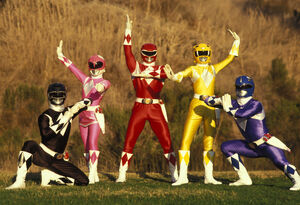 When a creator of a work introduces a large number of characters at once, such as at the beginning of a work, they have to find a way to distinguish them and make them memorable in the audience's mind. Some of the ways they do that is to give them memorable names or personality traits. But perhaps the easiest way ties to human's strongest sense: our sight. By giving each character a specific Color Motif, the audience can quickly come to associate one color with that character and tell the characters apart with only a glance.
Note that this is not always the only way to tell the characters apart. It is usually just one of many.
Bright, contrasting colors, particularly primary colors, are common. One specific such color combination is Chromatic Arrangement. When used for characters, Rainbow Motif is another.
This trope can come into play with Palette Swap (colors used in Video Games), and how to tell characters apart with Only Six Faces.
A Sub-Trope of Colour-Coded for Your Convenience.
A Super-Trope to Chromatic Arrangement.
Compare Color-Coded Elements (when the color also pertains to the character's Elemental Powers), Color Motif.
Examples of Color-Coded Characters include:
Anime and Manga
Sailor Moon

Sailor Soldiers

Usagi/Moon,

Pink

/

White

Ami/Mercury,

Blue

Rei/Mars,

Red

Makoto/Jupiter,

Green

Minako/Venus,

Yellow

/

Orange

Setsuna/Pluto,

Black

Chibiusa/Chibi Moon,

Pink

Haruka/Uranus,

Navy

Michiru/Neptune,

Teal

Hotaru/Saturn,

Purple

Black Moon Clan

Prince Demand, White
Blue Saphir, Blue
Green Esmerude, Green
Crimson Rubeus, Red

Ayakashi Sisters

Petz, Dark Green
Calaveras, Yellow
Belthier, Blue
Koan, Pink

Witches 5

Cyprine, Deep Blue
Ptilol, Deep Red
Viluy, Whitish Blue
Tellu, Green
Mimette, Yellow
Eudial, Red

Amazon Trio

Hawk's Eye, Red
Tiger's Eye, Orange
Fish Eye, Light Blue

Amazoness Quartet

Vesves, Red
Pallapalla, Blue
Cerecere, Yellow
Junjun, Green

Revolutionary Girl Utena with the Duelists' roses. Other than Utena, who is a Rose-Haired Girl and bears a white rose, the rest below match their hair colors as well:

Utena: White/Pink
Touga: Red
Saionji: Green
Juri: Orange
Miki: Light Blue
Nanami: Yellow
Ruka: Dark Blue

Professor Nemuro

and The Black Rose Duelists all have black roses

Mobile Suit Gundam 00

Setsuna - Blue
Lockon - Green
H/allelujah - Orange
Tieria - Purple, though most of his Gundams were Gray until The Movie.

Naruto - as evidenced by their backgrounds during openings and closings

Team 7:

Naruto, Yellow/Orange
Sasuke, Blue
Sakura, Red/Pink
Kakashi, Green

Puella Magi Madoka Magica - Each Mahou Shoujo has her hair, eyes and soul gem of the same color.

Madoka,

Pink

Homura,

Purple

Mami,

Yellow

Sayaka,

Blue

Kyoko,

Auburn

Ronin Warriors

Ryo, Red
Kento, Orange
Sage, Green
Cye, Blue-Light Blue
Rowen, Blue-Dark Blue

Bubblegum Crisis

Sylia, White/Bluish-white and Blue
Priss, Blue and Red
Linna, Green and Orange
Nene, Pink and Purple, later Pink after the Mid-Season Upgrade

Inuyasha

Inuyasha, Red
Kagome, Green
Miroku, Violet
Sango, Pink
Shippo, Blue
Kirara, Yellow

In Pretty Cure All Stars DX 3, the Cures are sent to different dimensions in three mostly-color-coordinated groups:

Pink-or-Magenta-tinted leaders
Cool-color-tinted girls
Bright-color-tinted girls

Yes! Precure 5/Go Go

Nozomi/Cure Dream,

Magenta

Rin/Cure Rouge,

Red-orange

Urara/Cure Lemonade,

Yellow

Komachi/Cure Mint,

Green

Karen/Cure Aqua,

Blue

Kurumi/Milk/Milky Rose,

Purple

Tokyo Mew Mew

Ichigo Momomiya/Mew Ichigo, Pink
Minto Aizawa/Mew Mint, Blue
Retasu Midorikawa/Mew Lettuce, Green
Bu-Ling Huang/Mew Pudding, Orange
Zakuro Fujiwara/Mew Zakuro, Purple

In Kuroko no Basuke, all of the Generation of Miracles have hair colors that match with the kanji in their names, except for Kuroko. They also combine this with Curtains Match the Window.

Kise,

Yellow

Midorima,

Green

Aomine,

Blue

Murasakibara,

Purple

Akashi,

Red

Momoi,

Pink

Kuroko,

Cyan
Teenage Mutant Ninja Turtles: An interesting example. While this trope has overall been played straight across the franchise, it was averted with the old comic, where not only did all of the turtles have the same skin tone, their bandannas were all

red

(whenever they got colored at all), making it hard to tell the four apart even when they did have their trademark weapons. The new IDW comics are continuing the tradition.

On the other side of the spectrum are the original toys, where not only did

Leonardo

,

Donatello

,

Michelangelo

, and

Raphael

all have their specifically-colored bandannas, their

green

skin tones were all in unique shades as well. This was duplicated in the second cartoon, making the turtles easier to differentiate from each other. See the Western Animation section below.
The rest of the installments have just opted for similar skin tones, with the bandannas and weapons being the aids to tell the guys apart.
Fanfiction
Film - Animated
The Brave Little Toaster

Toaster,

Blue

Kirby,

Green

Lampy,

Orange

Blanky,

Yellow

Radio,

Red

Cars

Piston Cup racecars:

Tow Cap (Rusty Cornfuel) #4,

yellow

,

indigo

, and

white

Dale Earndhart Jr. #8,

red

,

black

, and

white

Nitroade(Aiken Axler) #28,

orange

, and

black

Mood Springs(Chuck Armstrong) #33,

blue

,

white

, and

black

Trunk Fresh(Dirkson D'Agostino) #34,

chartreuse

, and

black

Shifty Drug(Kevin Racingtire) #35,

magenta

,

yellow

, and

white

Tank Coat(Eugene Carbureski) #36,

pink

,

red

, and

white

View Zeen(Ryan Shields) #39,

cyan

,

aquamarine

, and

orange

Dinoco (Strip "The King" Weathers) #43,

cyan

,

orange

, and

white

Easy Idle(Ruby Oaks) #51,

baby blue

,

black

, and

white

Leakless(Claude Scruggs) #52,

yellow

,

black

, and

white

Faux Wheel Drive(Johnny Blamer) #54,

blue

,

green

, and

brown

Fiber Fuel(Brush Curber) #56,

marigold

, and

white

Octane Gain(Billy Oilchanger) #58,

orange

,

black

, and

white

Vitoline(James Cleanair) #61,

green

,

gray

, and

white

Transberry Juice(Lee Revkins) #63,

purple

, and

yellow

RPM(Winford Bradford Rutherford) #64,

orange

,

purple

, and

yellow

N 2 O Cola(Manny Flywheel) #68,

purple

,

green

, and

white

Gasprin(Floyd Mulvihill) #70,

blue

,

yellow

, and

black

Rev N Go(Misti Motorkrass) #73,

cyan

,

orange

, and

yellow

Sidewall Shine(Slider Petrolski) #74,

black

,

yellow

, and

white

Vinyl Toupee(Crusty Rotor) #76,

mauve

,

black

, and

white

Retread(Haul Inngas) #79,

mauve

,

red

, and

white

Creme-filled Gaskits #80,

red

,

yellow

, and

blue

Shiny Wax(Darren Leadfoot) #82,

chartreuse

,

yellow

, and

white

Re Volting(Davey Apex) #84a,

red

,

gunmetal gray

, and

white

Apple Computer(Mac iCar) #84b,

black

,

white

, and

silver

Hostile Takeover Bank (Chick Hicks) #86,

green

,

orange

, and

yellow

Bumper Save(Ponchy Wipeout) #90,

red

,

orange

,

teal

, and

white

Sputter Stop(Murray Clutchburn) #92,

orange

,

teal

, and

white

Spare-O-Mint(Ernie Gearson) #93,

cyan

,

green

, and

white

Tach-O-Mint(Greg Candyman) #101,

brown

,

green

, and

white

Li'l Torquey Pistons(Ralph Carlow) #117,

red

,

blue

, and

white

Clutch Aid(Kevin Shiftright) #121,

blue

,

green

, and

white

No Stall(Todd Marcus) #123,

red

,

black

, and

white

World Grand Prix racecars:

Francesco Bernoulli #1,

green

,

white

, and

red

Lewis Hamilton #2,

black

and

yellow

Max Schnell #4,

navy

,

black

,

red

, and

yellow

Miguel Camino #5,

red

,

yellow

, and

black

Raoul Çaroule #6,

blue

,

white

, and

red

Shu Todoroki #7,

red

, and

white

Carla Veloso #8,

blue

,

green

, and

yellow

Nigel Gearsley #9,

green

,

lime

,

black

, and

orange

Rip Clutchgoneski #10,

red

,

orange

, and

green

Jeff Gorvette #24,

yellow

,

red

,

white

, and

blue

Lightning Mc Queen #95,

red

,

orange

, and

yellow
Film - Live-Action
Pirates of the Caribbean - very subtly Jack-Red, Will-Blue, Elizabeth-Yellow, Barbossa-Green.
Played with in Reservoir Dogs: each of the robbers is given a colour-based codename (Mr. White, Mr. Orange, Mr. Pink, etc), but they all wear identical black suits, shades and have slicked-back hair precisely in order to make identification (in the context of a police lineup) more difficult.
Heathers: All three Heathers, Veronica, and J.D. wear their own color of clothing — Chandler is red, McNamara is yellow, Duke is green, Veronica is blue and J.D. is black, though this isn't noticeable at first. Chandler's red hair bow becomes a symbol of power, as after her death, Duke claims it for herself, symbolizing her replacement of the original Heather.

Veronica forcefully taking it from Duke at the end of the film shows the end of the Heathers' power.
Live-Action TV
The Fresh Beat Band: Shout wears

orange

and

red

, Kiki

pink

, Marina

blue

, and Twist

yellow

.
Kamen Rider: The series now becomes guilty of this trope because of merchandising. Almost every main Rider, and a few secondary Riders will have several modes, color-designated.
Riverdale: The comic lore lends itself to this and especially the first season was highly stylised with signature colours defining the temperament of each of the families dominating the small town demographics:

Archie/Andrews family:

Blue

, corresponding to his (and his family's) position as the great, valient hope of Riverdale, especially as the state of the town becomes progressively more dire
Betty/Cooper family:

Pink

, sometimes

pastel blues

. The Pleasantville, Stepford Smiler aesthetic
Veronica/Lodge family:

Purple

, chiefly, although

green

and

yellow

also get to play. Black and grey are the most common along with the purple.
Cheryl/Blossom family:

Red

. Red, red and more red. Red. For show-off occasions, she'll don versions of the U.S. flag, still with red as the main focus.
Jughead/Jones family:

Grey

from his hat, as well as black. There is the occasional mix-in of grey-toned blues in his S-shirts, eg.

steel blue

Those are the five main families that get focus and a more deliberate colour palette. Other characters with signature colours/themes used (though less markedly): Josie McCoy's

Golden yellow

, mostly corresponding to her band and brand, the Pussycats; Toni Topaz's striking

hotpink

hair.

Super Sentai/Power Rangers: Naturally, the members of numerous teams in each season are distinguished by the colors of their outfits. The most common color combination consists of

red

(usually the leader),

green

,

blue

,

yellow

, and

pink

. Some seasons will have a

black

or

white

Ranger in lieu of one of the above colors.(Black is primarily in lieu for green.) In a manner similar to the G.I. Joe laser situation, some color-coded aspects will change when a Ranger acquires a different shiny suit.

In particular, red and blue are the only colors that have been present on every Super Sentai/Power Rangers team to date.
Power Rangers took it Up to Eleven in their first few seasons. Not only did they always wear their designated ranger colors unmorphed, most of their accessories (backpacks, notebooks, etc.) were also color-coded, alongside Pink Ranger Kimberly having a pink car (really a dark magenta, but that was what they were going for) and Yellow Ranger Trini drinking a banana milkshake at the juice bar (yes, out of a yellow glass.) A couple of former Rangers have mentioned hating seeing their Ranger color once they leave the show.
Lampshaded in Dino Thunder. At the end of the episode when he gains the new Black Ranger powers, Tommy comments that he doesn't know what he's going to wear since he doesn't have any black clothes in his wardrobe.
Actually broken by Karone in Lost Galaxy. As the Pink Ranger, her outfits consist of black leather with maybe a pink hairclip. It should be also noted in the same season that Mike the Magna Defender doesn't have a specific color, and he was the first unmorphed Ranger not to.
Despite the trope of Dark Is Not Evil being present with the usage of a Black Ranger, when the Rangers' weapons glow during the execution of an attack or something similar, the Black Ranger's weapon occasionally glows with a purple hue rather than a black coloration, as true black is at times reserved for the villains instead. As a result, it's the only weapon where the "glow" does not match the Ranger's designated color in such cases where coloration is utilized whenever Power Glows. An example of this occurring can be seen in Power Rangers Operation Overdrive, whenever Will the Black Ranger strikes with his signature weapon.
Typical 6th rangers will either be

gold

or

silver

, however there have been a lot of exceptions. For example, Burai/Tommy was a

green

ranger, and BullBlack/the Magna Defender was

black

.

Ultraman: Ultra Hero and Ultra Kaiju trinkets will typically have the characters color-coded based on what powers the Ultra Hero/Kaiju possesses. Similar case with Ultra Fusions, and Kaiju Fusions. For example, Ultraman Taro has fire-based powers, and is a

red

class Ultra, Gomora has earth-based powers, and is a

yellow

class Kaiju, and Ultraman Orb: Spacium Zepellion has brightness powers, and is a class

violet

fusion. As of now, there are only 7 color classes in Ultraman:

red

,

yellow

,

green

,

cyan

,

blue

,

violet

(with Belial being the only non-fusion Ultra to have this class), and

white

. Do note that all this started in Ultraman Orb.

In the next season, Ultraman Geed, some of the classes were spliced up a bit. For example: Ultraman Cosmos, who was a class

cyan

ultra because of his healing abilities, was changed to a class

white

. Also, Red King, who was a class

yellow

kaiju because of his earth-based powers, was changed to a class

red

.

The Wiggles: Greg, Sam, and Emma wear/wore

yellow

, Anthony wears

blue

, Jeff and Lachlan wear/wore

purple

, and Murray and Simon wear/wore

red

.
Music
The boyband JLS, who, thanks to their rise to fame on The X Factor, are colour-coded, and have carried it into their music career, often performing with not just in coloured clothing, but having coloured tape around their microphones and coloured earpieces. It's almost guaranteed that if you used their real names (Aston, JB, Marvin and Oritse) very few people would know who you were talking about, but if you said 'the blue/red/green/yellow guy from JLS,' they would.
Puppet Shows
Toys
LEGO

Hero Factory

Preston Stormer,

White

Jimmi Stringer,

Black

Dunkan Bulk,

Silver

William Furno,

Red

Mark Surge,

Blue

Natalie Breez,

Green

Julius Nex,

Orange

Nathan Evo,

Yellow

Daniel Rocka,

Gold

Ninjago

Kai,

Red

Cole,

Black

and

Gray

Jay,

Blue

Zane,

White

and

Silver

Lloyd,

Green

Nya,

Maroon

and

Cyan

Sensei Wu,

White

and

Gold

Bionicle

Tahu, Vakama, Jaller, Ackar, and Ikir,

Red

Gali, Nokama, Hahli, Kiina, and Akida,

Blue

Lewa, Matau, Kongu, Gresh, Vastus, and Uxar,

Green

Kopaka, Takanuva, Nuju, Matoro, Gelu, Melum, and Agil,

White

Onua, Whenua, Nuparu, and Terak,

Black

Pohatu, Onewa, and Ketar,

Sienna

Hewkii,

Yellow

Mata Nui, and Ekimu,

Gold

Rainbow High

Ruby Anderson,

Red

Poppy Rowan,

Orange

Sunny Madison,

Yellow

Jade Hunter,

Green

Skyler Bradshaw,

Blue

Violet Willow,

Purple

/

Violet
Video Games
Mario Series in general, especially in the sports games and other spin offs. Though due to there being Loads and Loads of Characters most have a primary color and a secondary color associated with them to prevent overlapping.

Main Characters

Mario,

Red

Luigi,

Green

,

Dark Green

, or

Blue

- depending mostly on what colors Yoshi and Toad are
Yoshi,

Green

,

Light-Green

Toad,

Blue

or

White

, or

Red

in the context of the Toad Brigade
Peach,

Pink

Daisy,

Orange

/

Yellow-Orange

or

Yellow

Bowser,

Orange

/

Red-Orange

or

Dark Green

Wario,

Purple(lighter)

, sometimes

Yellow

Waluigi,

Black

, or

Purple(darker)

DK,

Yellow

, or

Brown

Rosalina,

Cyan

and

White

Koopalings,

Green (Bowser Jr.), Cyan (Larry), Black (Morton), Pink (Wendy), Lime (Iggy), Purple (Roy), Orange (Lemmy), and Blue (Ludwig)

In the Donkey Kong spinfoff series

DK,

Yellow

Diddy,

Red

Dixie,

Pink

Tiny,

Purple

Lanky,

Blue

Chunky,

Green

Sonic the Hedgehog: Each of the characters' fur/feather/body color tends to follow them everywhere.

Team Dark is more complicated however

Shadow's fur is Black with Red highlights and wears silver shoes, he is usually associated with Blacks and Grays or Dark Red, but for some reason his attacks and auras all orange.
Rogue has White fur, and wears a black bodysuit with White gloves a pink heart and pink accents. Tends be associated with Pink/White, but her auras are magenta and attacks are typically black.
Omega is Red, Black and Gray. Like Shadow he is also associated with Blacks, Grays, and Reds, but his auras are a deep purple.

In Skies of Arcadia there are the five (later six) admirals of the Valuan Armada, with their uniforms and ships:
Star Fox:

Fox,

Yellow

Falco,

Blue

Peppy,

Red

Slippy,

Green

Krystal,

Purple

StarWolf as of Starfox Command: Wolf, Red; Leon, Green; Panther, Blue

Metroid Prime Hunters

Trace -

Red

Spire -

Orange

Kanden -

Yellow

Weavel -

Green

Sylux -

Blue

Noxus -

Violet

Advance Wars gives us Orange Star, Blue Moon, Yellow Comet and Green Earth. Interestingly Orange Star's color is actually Red. It's name was changed from Red Star in western releases due to Unfortunate Implications.
Despite a fifteen year history, Resident Evil continues to clothe five out of six major characters in the same colors through every appearance. Chris is a hunter green, Jill is usually powder blue but sometimes edges towards indigo, Claire is maroon, Ada is crimson, and Wesker is black with occasional edging into dark navy. Leon is the only combo-breaker who appears to own clothes in more than one segment of the color wheel.
The Color of Mantra from Asura's Wrath is this depending on the character. The following colors revealed so far are:
When creating Miis, it is up to the player themselves to color-code the characters. Each Mii is represented by one of 12 different color options. Most of the time, however, a Mii's color has no effect on gameplay, but the color is still often shown.

The color-coding of Miis and Mario characters is combined in Mario Super Sluggers, where Mario characters have good chemistry with Miis of a specific color.
In the 3DS Street Pass Mii Central Plaza, Miis are given different abilities based on their color, and sometimes a specific ability gives an advantage.
The 3DS Mii Maker adds an extra layer to this, as not only are the Miis' outfits color-coded, but so are the different rooms where Miis can be (instead of everyone being in a big white room like on the Wii). The 100 (maximum case) Miis are split into 10 groups of 10, each represented by the player. However, this color coding has absolutely no effect anywhere outside of the Mii Maker, and is it up to the player to decided whether these ten groups are meaningful in any way.

In Angry Birds, almost every bird has its own unique color, and the birds are often referred to as (color) Bird.

Red

Jay, Jake, and Jim

, collectively known as

The Blues

Chuck (yellow)

Bomb (black)

Matilda (white)

Hal (green)

Terence (dark red)

Bubbles (orange)

Stella (pink)

Unlike the birds, who are color-coded differently, the pigs are all

green

.

In Among Us, the main way to tell different players apart is by their colors. There are 12 different colors available for 10 players per match.
Claymates The Five Forms of Clayton

Muckster the Cat (red)

Oozy the Mouse (gray)

Globmeister the Gopher (brown)

Goopy the Guppy (purple)

Doh-Doh the Bird (green)

The main characters from The Dinonauts Adventures in Outer Space

Thorny Triceratops

(orange)

Spike Stegosaurus

(purple)

Elwood Apatosaurus

(green)

Dac Pteranodon

(blue)
Web Comics
Project 0 as per the characters' buttons on the website. Typically prominent on their outfits as well.

Owen,

Purple

Aatu,

Blue

Bea,

Orange

Ciro,

Yellow

Kareem,

Red

Veronica,

White

Noor, Black

Each of the kids in Homestuck has a color that is featured on their clothes, chat log text, etc.: John is blue, Rose is purple, Dave is red, and Jade is green. Interestingly, John and Jade's shirt colors are swapped. This is actually a feature of troll society, where the Fantastic Caste System ranks people by blood color: each of the trolls types with, dresses in, and even wears make up that is the same color as their blood. Karkat, who types in grey to maintain anonymity about his blood, is an exception.

The kids from alpha Earth have their own colors that are similar to their corresponding beta kid's: Jane is light blue, Roxy is pink, Dirk is orange, and Jake is dark green.

A bunch of other things have associated colours as well - Derse has purple; Prospit has yellow; the armies of Derse and Prospit have black and white respective due to Chess Motifs also being in effect; the Felt, Doc Scratch, Lord English, and the Green Sun all have the same shade of green (Doc Scratch is also associated with white); and the Kids' and Trolls' universes respectively are depicted as red and blue. The kids' sprites also have associated colours - Nannasprite is light blue, Jaspersprite is pink, Davesprite is orange, and Jadesprite is dark green.

In other words, exactly the same as the Alpha kids' colours, except Jaspersprite's, which is slightly different to Roxy's.

This can be seen in Voodoo Walrus by way of the main cast having certain colors that the artist repeatedly works into their clothes. Orange and green for Grymm, a dull blue and grey for Creep Knight, vibrant blue for Bowler, and purpler for Mirth. This isn't just for clothes, it extends into their word bubbles as well. And many other supporting characters are color coded too. But some colors change with major personality shifts.
Cucumber Quest, if rebooted.

Cucumber,

Green

Almond,

Brown

Sir Carrot,

Orange

Princess Nautilus,

Blue

Commander Caboodle,

Red

Peridot,

Light Green
Web Original
In the Global Guardians PBEM Universe, the Iron Legion is a group of seven Powered Armor mercenaries who are code named for the seven spectral colors (Red, Orange, Yellow, Green, Blue, Indigo, and Violet), and whose armors are colored to match their names. The Lightning Power Special Team, a group of color-coded heroes, are the premiere superheroes of Japan.
Each of the four main characters in Oktober have a color that is associated with them, which makes it easier to keep track of who's entry you are reading. Nick is orange, Natasha is red, Matthias is green, and Smith/Jones is blue. Additionally, side characters seem to have colors that are associated with them as well. Most notably, Daphne is light blue, Midas is blood red or maroon, and

Joshua

is silver.
The Five Powers of Lambda each have their own particular colours. Soleil is black, Krieggarten is gold, Seisen is blue, Casus Belli is green, and Zafiel is red.
Western Animation
Teenage Mutant Ninja Turtles: As of the 1987 series:

Leo,

Blue

Raph,

Red

Don,

Purple

Mike,

Orange

April,

Yellow

(April was also represented as

Pink

in the early games of the 2003 series, but was eventually changed back to Yellow.)
Casey Jones appeared as a

Green

blip on the radar, it's also stated as his favorite color.

And in the original toyline and 2003 series, the green skin tones of the turtles were each a unique shade.

Mickey Mouse

Mickey -

Red

Donald -

Blue

Goofy -

Green

(or

Orange

, particularly in older works)
Minnie -

Pink

Daisy -

Purple

Pluto -

Yellow

Justice League

Superman,

Red

Batman,

Black

Wonderwoman,

Yellow

Green Lantern, Green
Flash,

Orange

Hawkgirl,

Gold

Martian Manhunter,

Teal

The Batman

Batman,

Blue

Robin,

Red

Batgirl,

Purple

Station Zero

Chino,

Red

Karaz,

Purple

Scooter,

Black

DJ Tech,

Orange

Powerpuff Girls

Blossom,

Pink

Bubbles,

Light Blue

-

Blue

Buttercup,

Light Green

-

Green

Princess,

Yellow

Bunny,

Purple

Bullet,

Orange

Prof. Utonium/Power Prof,

White

Mojo was also purple in the one episode when he was given Chemical X powers, and his costume was a darkblue/purple color in general.

Brick,

Red

Boomer,

Dark Blue

-

Blue

Butch,

Dark Green

-

Green

Codename: Kids Next Door

Numbuh 1,

Red

Numbuh 2,

Cyan

Numbuh 3,

Green

Numbuh 4,

Orange

Numbuh 5,

Purple

/

Indigo

Numbuh 6,

Black

/

White

Temporary Numbuh 49,

Yellow

The Drama Brothers on Total Drama Island. I'm going with their trademark outfits:

Cody, Tan
Trent, White
Harold, Black
Justin, Indigo
Sasquatchanakwa, Purple

Teen Titans

Robin -

Red

(

Yellow

in Teen Titans Go!)
Starfire -

Orange

(

Pink

in Teen Titans Go!)
Terra -

Yellow

Beast Boy -

Green

Cyborg -

Blue

Raven -

Purple

/

Black

In the Huntik Secrets and Seekers opening, we have:

Sophie- Red/pink
Lok- Blue
Dante- Yellow
Zhalia- Green

Wild Kratts: Martin wears blue, Chris wears green. Oh, and Chris's evil Zachbot double wears red.
Voltron is an interesting case as in the original series some of their uniforms didn't match their lion colors and actually matched the lions of someone else. This was changed by Voltron Force th

Keith,

Black

Lion(but originally had a

red uniform

)
Lance,

Red

Lion (but originally had a

blue uniform

)
Allura,

Blue

Lion (originally with a

pink uniform

)
Pidge,

Green

Lion and uniform
Hunk,

Yellow

Lion and uniform

Transformers Generation 1 - Had similar colour-coding for lasers to the G.I. Joe example; Autobots fired orange lasers, while Decepticons fired purple. The Autobots' eyes are blue, the Decepticons' eyes are red (at least in the 80's cartoon.)
The Ashleys in Recess

Ashley A. - Pink
Ashley B. - Yellow
Ashley Q. - Blue
Ashley T. - Green

The Mane Six from My Little Pony Friendship Is Magic

Twilight Sparkle -

Purple

Pinkie Pie -

Pink

Applejack -

Orange

Rainbow Dash -

Cyan

Rarity -

White

Fluttershy -

Yellow

Shimmer and Shine:

Shimmer -

Pink

Shine -

Cyan

Zac -

Red

Leah -

Yellow

Lite Sprites. The entire series is themed around colors, since the special ability of all the Lite Sprites is that they can give various colors to various types of objects, using their wands.

Prisma - Pink
Astra - Yellow
Meadow - Green
Brooke - Blue
Bleak - Grey

Codename: Kids Next Door

Numbuh 1,

Red

Numbuh 2,

Cyan

Numbuh 3,

Green

Numbuh 4,

Orange

Numbuh 5,

Purple

/

Indigo

Numbuh 6,

Black

/

White

Temporary Numbuh 49,

Yellow

OK K.O.! Let's Be Heroes:

Lord Boxman's robots:

Jethro -

Blue

Raymond -

Green

Ernesto -

Purple

Mikayla -

Yellow

There's also Red Action and her fellow members of the Hue Troop— Blue Power, Black Strategy, Yellow Technique, and Green Guts.

The Loud House:

Lori -

Cyan

Leni -

Light green

Luna -

Purple

Luan -

Yellow

Lynn -

Red

Lincoln -

Orange

Lola -

Pink

Lana -

Blue

Lisa -

Dark green

Lily -

Lavender

Some non Loud family characters have this too.

Ronnie Anne -

Purple

Bobby -

Green

Waynehead:

Damey Wayne -

Red

Mo' Money -

Black

Toof -

Orange

Marvin -

Green

Roz -

Pink
Community content is available under
CC-BY-SA
unless otherwise noted.