Sector V
The main characters of the show, they are a division of a worldwide actually galactic organization known as the Kids Next Door. They are considered to be one of the best teams in the KND.
Numbuh 1
Numbuh One / Nigel Uno
  "Kids Next Door, battle stations!"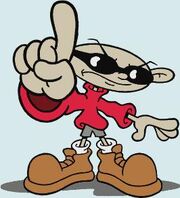 The leader of Sector V, an overworking agent who loves every minute of his job. He is widely considered one of the best of the best. However, his paranoia and stubbornness have gotten in the way of doing his job effectively at times. He is voiced by Benjamin Diskin.
Numbuh 2
Numbuh Two / Hoagie P. Gilligan Jr.thumb|link=File:Numbuh_2.jpg
The team's
technology expert
who loves cracking bad jokes. As Sector V's technology officer, he designs many of the 2×4 technology the team uses In his off time he enjoys building and flying airplanes and solving mysteries at his school. Voiced by
Benjamin Diskin
.
Numbuh 3
Numbuh Three / Kuki Sanbanthumb|link=File:Numbuh_3.jpg
 "What do you think I am, an airhead or something?"
The team's
medic
, and the
most feminine of the kids
, a happy-go-lucky girl who loves Rainbow Monkeys. In battle, she specializes in diversionary tactics. She seems to have a lot of admirers, but her heart obviously belongs to a certain Aussie. Voiced by
Lauren Tom
.
Numbuh 4
Numbuh Four
/
Wallabee Beatles
(Wally)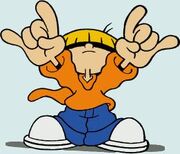 "Right, first I'll be cleaning your adult-lovin' prissy little clocks..."
The team's
combat specialist
. He's incredibly lacking in book smarts, but his combat prowess more than makes up for it. In his off time, he competes in adult disapproved sports. Voiced by
Dee Bradley Baker
.
Numbuh 5
Numbuh Five
/
Abigail Lincoln
(Abby)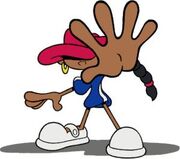 "I like it when things are too easy."
The team's
second-in-command
, she's the one that keeps a level head under all circumstances, even when everyone else loses it. In her spare time, she's a candy hunter, which brings her in conflict with her rival Heinrich and candy pirate Stickybeard. Voiced by
Cree Summer
.
 Numbuh Five: The last time Numbuh Five didn't help someone kidnapped by the Delightful Children, they did something she can't ever forgive!

Numbuh Four: What?! What did they do that was so bad?!

Numbuh One: ... They made me bald.
 Numbuh Five: Something just happened. It's as if million of gallons of ice cream just... disappeared.
Other KND Operatives
Numbuh 6
Numbuh Six / Bradley
A skunk that Numbuhs Two and Three took under their wing since "Operation: C.A.M.P.". After foiling Chester's plan of making a work camp out of an actual kid's camp, he is inducted into the Kids Next Door as an honorary member. After getting critically injured by Cree, Numbuh Two upgrades him into half-skunk, half-robot R.O.B.O.-B.R.A.D.L.E.Y. in "Operation: H.O.S.P.I.T.A.L.". He is voiced by Dee Bradley Baker.
Numbuh 60
Numbuh Sixty / Patton Drilovsky
 "Numbuh Sixty reporting for duty!"
The boy in charge of training new recruits at Kids Next Door Artic Base, he cuts no slack with new recruits. He is voiced by Matt Levin.
Numbuh 65.3
Numbuh Sixty Five Point Three / Herbie
 "Sir, I needed those official orders signed seventy two point zero berger seconds ago"
A Kids Next Door desk operative who frequently delivers mission specs to Sector V. He works on the Moon Base. Voiced by Dee Bradley Baker.
Numbuh 74.329
Numbuh Seventy Four Point Three Two Nine
 "If you honor what your friends are fighting for, you'll make that sacrifice."
A high-ranking Kids Next Door scientist. His technology is what keeps the KND running. Voiced by Dave Wittenberg.
Numbuh 86
Numbuh Eighty Six / Fanny Fulbright
 "Of all the stupid things in the stupid world of stupid people acting stupid, you boys are the stupidliest! It's like you're trying to win a stupid contest but you're too stupid to take a stupidity test!"
The former Head of Decommissioning and current Global Tactics Officer. She's a shrill girl with a particular intolerance for the male sex. But due to her behavior, she has next to no friends. Voiced by Jennifer Hale.
Numbuh 362
Numbuh Three Sixty Two / Rachel T. McKenzie
 "As Kids Next Door Soopreme Leader, I hearby order you to... go long!"
Originally the top spy in the KND, she is now its current Soopreme Leader. Due to her busy and demanding job, she's often stressed, but at heart she stands stubbornly for the rights of kids everywhere, and if the situation arises she can be fun-loving too. Has grown to form a close friendship with Nigel Uno. Voiced by Rachael MacFarlane.
Villains
Father /

Benedict Uno
Father / Benedict Uno
 "Bravo, Mr. Uno. You managed to skillfully outwit a bunch of children. The question is, do you have what it takes to play with the big boys?"
The mysterious head villain, Father is a man who wears a suit of shadows and is skilled in very dark powers. He schemes to enslave all children and turn them into his twisted version of "delightful". But despite his dark and malicious appearance, sometimes all he wants to do is curl up in a bathrobe with some Rocky Road. He is voiced by Maurice LaMarche.
The Delightful Children from Down the Lane
The Delightful Children from Down the Lane / Sector Z
 "Hello Kids Next Door. Perhaps you would like to try kicking our posteriors now?"
Father's eerie children, supposedly an adult's view of the "perfect" kids. They are educated, well-dressed and polite, but are somewhat uncivilized in their burning hatred for the Kids Next Door. They always appear clustered together, move as one and speak in perfect unison. They are voiced by Benjamin Diskin, Dee Bradley Baker, and Cree Summer.
Chad Dickson
Chad Dickson / formerly Numbuh Two Seventy-Four
 "There was no way I was going to turn over everything I ever built, everything I ever worked for, to a bunch of snot-nosed kids!"
Former Soopreme Leader of the Kids Next Door idolized and loved by all, he turned evil the moment he turned thirteen. He then served as a high-ranking member of the Teen Ninjas, and lost all the respect he had to his name. Generally cocky and approving of himself, both before and after his betrayal. Voiced by Jason Harris.
Cree Lincoln
Cree Lincoln/ formerly Numbuh Eleven
Numbuh Five's older sister and former Kids Next Door operative, skilled, cool and determined. Her relationship with her sister is very strained, but deep down they really do love each other. She is a high ranking member of the Teen Ninjas and Father's apprentice. Voiced by Cree Summer.
Mr. Boss
Mr. Boss
 "So long, shrimp! I hope your friend likes Pluto!"
CEO of a big company and additionally the "leader" of the villains, he tends to lead them on cooperative missions. He hates all children... except his own. Voiced by Jeff Bennett.
Toiletnator
Toiletnator
 "Kids Next Door, prepare to be flushed!"
The show's most pathetic villain. He gets no respect from the Kids Next Door or his fellow villains. Voiced by Dee Bradley Baker.
Stickybeard
Stickybeard
A spirited candy pirate who loots and plunders candy from neighborhood children. He respects Numbuh Five and seeks her as an apprentice. Voiced by Mark Hamill.
Heinrich Von Marzipan
Heinrich Von Marzipan
 "Ach, lipschen, I say so many things I do not mean. Like, ah, no more candy for me, or, who would like some of my lollipops!"
A former friend of Numbuh Five and current candy-hunting rival. He greedily seeks forbidden candy regardless of the consequences. Voiced by Dee Bradley Baker / Candi Milo.
Grandfather
Grandfather
Father and Monty Uno/Numbuh Zero's father and an Evil Overlord who once ruled the entire planet. He's by far the most dangerous enemy the KND have every faced and makes Father look like a saint compared to him. Acted as the Big Bad in The Movie. Voiced by Neil Ross.
Other Characters
Lizzie
Elizabeth Devine (Lizzie)
Numbuh One's demanding girlfriend. While she's quite clingy, she does genuinely care for Nigel, but his work for the Kids Next Door strains their relationship. Voiced by Grey DeLisle.
Tommy Gilligan
Tommy Gilligan (The Tommy)
Numbuh Two's little brother, Tommy is an excitable child ready to fight adult tyranny. Unfortunatly, circumstances effectivly halted his KND career. He now fights solo as "The Tommy". Voiced by Dee Bradley Baker.
 Numbuh Five: "I work alone! I am The Tommy!" He is definitely your brother, Numbuh Two.
The Kid
The Kid
A pilot in shades, The Kid is a rival pilot of Numbuh Two, and Numbuh Four's rival for Numbuh Three's affections. Voiced by Carlos Alazraqui.
Community content is available under
CC-BY-SA
unless otherwise noted.