This is the character sheet concerning the main characters of Code Geass.
Lelouch Lamperouge / Lelouch vi Britannia / Zero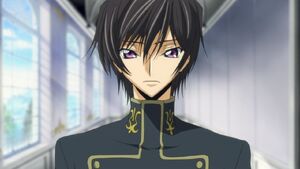 | | | |
| --- | --- | --- |
| |  "I am Zero! The man who destroys worlds -- and the man who creates them!" | |
The central character of Code Geass, Lelouch Lamperouge is a Magnificent Chessmaster who was given the power of an Evil Eye called a Geass that allows him to compel anyone to obey him to do anything he demands -- although It Only Works Once on any given person. Few even of his closest friends know that he is actually a fallen White Prince of the Britannian Empire. He plans to rebel against his estranged father, the Social Darwinist Emperor Charles zi Britannia, who, he thinks, was unforgivably apathetic about his mother's death -- and may even have had a hand in it. Lelouch demands vengeance, and he'll settle for nothing less than the complete destruction of the Britannian royal line.
Well, not the entire Britannian royal line: Lelouch wants to protect his paralyzed and blind little sister Nunnally -- and not just to protect her, but to make a better world for her. He'll do just about anything to accomplish his goals, and he doesn't mind if he has to be labeled "evil" in the process. Especially if he gets to make being evil look damn good as he announces his new anti-Britannian movement.
As the series evolves, Lelouch finds a worthy opponent, his buddy Suzaku Kururugi, who eventually becomes the biggest obstacle to his plans.
He also finds an unexpected ally, a beautiful and Mysterious Waif who usually goes by the "name" C.C. She isn't what she seems to be. But then, neither is Lelouch.
---
 Rivalz: He's even got a housekeeping book.

Lelouch: How do you know!?

Rivalz: Crap, you really do?
I Will Protect Her: Goes to varying extremities to protect his loved ones, be they his little sister Nunnally, his unrequited love interest Shirley, and his bodyguard Kallen.
Jerkass Facade: He would have more friends if he didn't act like a complete dick at the most inappropriate times. Though some characters do like that about him, these people are insane and/or immortal, generally. Justified in most cases, though, as he's doing it on purpose for this exact reason.
Jumped At the Call: His declaration of the Order of the Black Knights.
Jumping Off the Slippery Slope: He takes a flying leap off it in episode fourteen of R2.

Kick the Son of a Bitch: It's obviously played as Lelouch heading down the slippery slope, it's just that his victims weren't exactly very nice people, given what they are responsible for. Even the test subjects, who could be considered victims, are able to and feel no compunctions about forcing some of their attackers to kill each other.

Kansas City Shuffle: Against Rolo in conjunction with a Scheherezade Gambit that culminates in a Xanatos Gambit .
Knight Templar Big Brother: Virtually the Trope Maker.

To elaborate, someone among the Britannian royal court was responsible for the death of his mother and the crippling and blinding of his sister. Rather than attempt to discover who exactly it was, Lelouch decides to declare war on Britannia itself and kill off the rest of his family, bar one or two of his other siblings, in order to be thorough.

La Résistance: Initally irked by it, he soon decides he might as well lead it, as long as he gets a chance to avenge his mother and defeat Britannia.
Large Ham: Fabulously so, mostly in his Zero persona. C.C. naturally lampshades him using opportunities to be one on occasion.
Laser-Guided Karma: See Butt Monkey entry.
Laughing Mad: Lelouch does this as well at the end of episode 17 in the first season.
Let No Crisis Go to Waste: When he takes advantage of the

Euphinator incident:

Living with the Villain: Lelouch and Suzaku attend the same school, and for a while, neither of them realizes that the other is their regular opponent. Inverted in R2, where both of them know who the other really is, but have to pretend to have no idea.
Love Makes You Evil: When Lelouch's resolve fails and he betrays his ideals and the Black Knights, he does it

(twice) because his sister Nunnally is held hostage

.

Not really. Lelouch never holds any illusions about prioritizing his sister far above the rebellion, and acts accordingly whenever she's in danger.

Magnificent Bastard: Very much one.
Manchurian Agent: Lelouch does this several times with the Geass. Once with Sayako, to make her play prerecorded messages over the phone. Again with

Jeremiah Gottwald, so he will let Zero and his gaggle escape with Suzaku

while destroying his career without realizing it. As well as to the Britannian special forces

assigned to monitor him incase he regains his memories, which he does.

Even

Guilford

gets this done to him, making him think

Lelouch is Cornelia.

Justified since it's Mind Control.
Manipulative Bastard: Not as bad as you might think, considering his Geass only works once per victim, but he still has his moments. The greatest example of this comes in the second season:

Rolo, Lelouch's fake little brother, was actually a teenage assassin charged with the task of keeping an eye on Lelouch in case he regained his old memories. When Lelouch found out, he continued treating Rolo kindly and even orchestrated a situation where Lelouch could pretend to risk his life to save Rolo, winning his trust and bringing him over to his side. After Lelouch's real sister was thought to be dead, he snapped and admitted to Rolo that he was just using him, actually hated him, and had tried to kill him on several occasions. Nevertheless, without being asked or influenced by Lelouch's Geass, Rolo sacrificed himself to protect Lelouch.

I agree that Lelouch is a Manipulative Bastard, but does the last bit of this example really count? Lelouch wasn't actually trying to manipulate

Rolo

at that point, and being saved at that point was totally unexpected and unwanted.

Meaningful Name: Lelouch Lamperouge roughly translates to "suspicious red light". Specifically, the French term it derives from is 'le louche', literally "the suspicious one" - or, when taken with his surname, "the suspicious red lamp/light", as noted above (although technically, it should be "la lampe rouge louche", but we can let grammar slide here). What's even more interesting, though, is that the word "louche" derives from the Latin adjective "luscus", which means "one-eyed" - very fitting given how his Geass manifests itself

(initially, anyway)

.
Memory Gambit:

How Lelouch defeats Mao when Mao is planning to blow up Ashford Academy.

Milking the Giant Cow: Takes this to memetically

Fa

b

u

l

o

us

levels.
Millionaire Playboy: Is perceived as this as part of his Rich Idiot With No Day Job persona.
A Million Is a Statistic: Played straight, subverted and averted with Lelouch.
Mission Control: Being a strategist, he often performs this role.
Mr. Fanservice: To a degree. He gets his shower and shirtless scenes.
Mole in Charge: As Emperor Lelouch.
My Hero Zero: Or My Villain Zero.
My Sister Is Off-Limits: Unless you're Suzaku.
Necessarily Evil: Invoked during a discussion with Guilford.

His final plan, and the actions he takes to carry it out, is either this or Designated Evil.

Nice Hat: Nice enough to have its own fan club.
Nom De Mom: Along with the above trope, he and Nunnally go by their mother's maiden name while hiding in Japan.
Non-Action Guy: This trope is played with in sundry ways. Physically, Lelouch is at-best-mediocre compared to his comrades. Even Euphie can outrun him on foot. But he can more than hold his own on the battlefield, especially against Mooks. For more details, see the trope example.
No Place for Me There: He dies to finish Zero Requiem and bring about world peace. Though it's more like he did it mostly as a Suicide by Cop, considering there were other ways to bring about peace as he noted.
Nothing Can Stop Us Now: Whenever he says, "All tasks at hand have been cleared," something's bound to go terribly wrong in a way that the poor guy couldn't have possibly expected. Borders on Cosmic Plaything at times.
Not What It Looks Like: Usually with Kallen. Usually witnessed by a fretful Shirley. Similarly -- as Zero -- with C.C., witnessed by a fretful Kallen.
Ordinary High School Student: The preferred mask Lelouch wears when not wearing his preferred mask.
Out-Gambitted: Does this to enemies a few times and it happens to him too.
Paranoia Gambit: One word: "Orange".
Parental Issues: While almost everyone on the show has these, his prove more lethal than most.
Pay Evil Unto Evil - See the main page quote.
Playing Against Type: Lelouch's Seiyuu Fukuyama Jun usually plays as straightforward, naive heroes (such as Watanuki from XxxHolic). The English dub follows suit by picking Johnny Yong Bosch (you might remember him as Idiot Hero Ichigo Kurosaki, soft-spoken philosopher Itsuki Koizumi or goofy Crouching Moron, Hidden Badass Vash the Stampede... or, if you want to go even further back, the Green Zeo/Turbo Ranger and the second Black Ranger).
Powered Armor: In Nightmare of Nunnally, sort of (it's complicated). Zero can fight Knightmares hand to hand.
Power Incontinence: Hits him at exactly the worst possible second.
Promotion to Parent: After their mother was murdered and their father abandoned them, Lelouch became Nunnally's primary caretaker.
Psychic-Assisted Suicide: Lelouch uses his Geass to do this at least four times. The first of which is at the end of the very first episode.
Psychotic Smirk: Borders on Slasher Smile sometimes, but whenever he's just wiped out an enemy taskforce or thwarted one of their plans, Lelouch's typical alternating scowl/smug expression goes off into an awesomely evil smile. Often preceded or followed by an equally entertaining Evil Laugh.
Purple Eyes: They become red when he uses his Geass.
Really Dead Montage: Receives one of the longest death scenes in anime history, and yet a large part of the fandom still insists that He's Just Hiding.
Real Men Wear Pink: Aside from his "fabulous" wardrobe as

99th Emperor of Britannia

, Lelouch is also apparently a pretty good cook. The latter is justified, since he had to learn housekeeping skills to care for Nunally.
Redemption Equals Death: It is kind of ironic that this applies straight to Lelouch but it is subverted with Suzaku.

Or not, considering that he could have come up with a more moral solution that wouldn't necessitate his death. Lelouch, having lost practically everything as far as he knew at the time he started the Zero Requiem, did so largely because he wanted to die.

Red Eyes, Take Warning: When he uses his Geass. Otherwise he has Purple Eyes.
Red Oni, Blue Oni: Evoked a few times, with a few different characters:

Mao (red) and Lelouch (blue)
Lelouch (red) and C.C. (blue)
Suzaku (red) and Lelouch (blue)
Lelouch (red) and Schneizel (blue)

Red Right Hand: His left eye,

after the Geass power gets away from him with Euphemia

.
Rhetorical Request Blunder: The moment where It Got Worse in season 1.
Rich Idiot With No Day Job: His non-Zero persona. Then again it was all a front because he was in hiding, and therefore did things that did not call attention to himself.
Sanity Slippage: This started when he accidentally geassed Princess Euphemia into genocide and has to put her out of her misery, got worse when Shirley dies and crossed the Despair Event Horizon with Nunnally's apparent demise in the FLEIJA blast, the betrayal of the Black Knights, and Rolo's death. Eventually leads to him attempting to seal himself with his father inside the Sword of Akasha, and finally, committing the Zero Requiem.
Sarcastic Confession: Gave one to Suzaku and Schneizel took great advantage of it.
Savvy Guy, Energetic Girl: Lelouch with nearly any girl he can be paired with, due to his Squishy Wizard nature. Only Nunnally, C.C.

not under amnesia

, and maybe Sayoko don't fall under this.
The Scapegoat: Lelouch ends up one of these when the Black Knights betray him on account of several half-truths from Schneizel.
Self-Made Orphan: After finding out what both of his parents truly believed in. Yes, after spending 90% of the series trying to find out who killed his mother, he winds up doing it himself.
Scheherezade Gambit: Used effectively against Rolo which is part Kansas City Shuffle.
Sensitive Guy and Manly Man: A Deconstruction, through his and Suzaku's interactions.

In more ways than one. When they first met during their childhood, Lelouch really was the sensitive one, while Suzaku was the ruffian. It was the subsequent occupation of Japan by Britannia that supposedly inverted things, with Lelouch becoming more vengeful and embittered, and Suzaku,

who was responsible for killing Genbu but never being punished for it

, becoming neurotic and attempting to be even more mild-mannered and chivalrous. Though of course, cracks in their respective facades would show throughout the series.

Sex for Solace: Subverted when a depressed Lelouch propositions

Kallen

with this and she slaps him instead.
Shield Surf: During his duel with Guilford.
Shoot the Shaggy Dog: One of the reasons

Lelouch started Zero Requiem was his loss of hope due to Nunnally's apparent demise. Nunnally turns up and declares herself his enemy when he's beyond the point of no return. D'oh!

Shrouded in Myth: People thought Zero was a woman, Prince Clovis or a prince of another country.
Shut Up, Hannibal: Twice. First, in season one, after Mao most unpleasantly discloses that Suzaku

was responsible for the death of his father, Prime Minister Genbu Kururugi, in order to put an end to the war between Japan and Britannia

and then precedes to berate Lelouch's thoroughly traumatized friend, Lelouch has clearly had enough, and commands him via Geass to never speak again. The second time is in R2, when confronted with Charles'

and Marianne's

plan for Instrumentality with the Ragnarok Junction and the revelation that their abandonment of Lelouch and Nunnally in Japan was a Batman Gambit meant to protect them, Lelouch rebuts and banishes Charles

along with Marianne

to C's World with the assistance of the collective unconsciousness.
Silent Scapegoat: Zero Requiem.
Slave Mooks: Gets an entire army of them in the final arc.
Slouch of Villainy: He does these in the cockpit of whatever Knightmare he's riding in.
The Smart Guy: While Code Geass has almost as many TV Geniuses as it has idiots, Lelouch still stands out as among the very smartest.
Smart People Play Chess: Lelouch is introduced by having him win an unwinnable chess game. He's the second smartest person in the entire world of the series.
Spanner in the Works: Lelouch's affection for his friends has scuttled his plans almost as many times as Suzaku has.
Spared by the Adaptation: Suzaku of the Counterattack and Nightmare of Nunnally
Squishy Wizard: This trope is played with in sundry ways. In physical strength, speed, endurance, and coordination, he's not remotely in the league with Kallen, Cornelia, or most of his other allies and adversaries -- much less Suzaku, whose Charles Atlas Superpower allows him to dodge machine-gun bullets. Even Euphie can outrun him on foot. He manages to power through when it counts, though.
Star-Crossed Lovers: With

Shirley and Kallen

.
Stop or I Shoot Myself: Does this in response to C. C. pointing her gun at him to prevent him from going anywhere.
The Strategist: Naturally.
Straw Hypocrite: He starts out using and manipulating the Japanese liberation cause as a cover for his own personal revenge. Only to later on embrace it for real.
Student Council President: Well, Vice President.
Superheroes Wear Capes: As part of his hero identity.
Sure, Let's Go with That: The other Black Knights assume that C.C.'s his mistress, and he doesn't bother to correct them.
Take a Third Option: Lelouch tends to do this.
Taking the Bullet: He did this to save Rolo.

It was his ploy to get Rolo to come over to his side, he even Geassed the shooter so that he would fire according to the plan

.
Taking You with Me: Following the betrayal, he attempts to do this to his father by having them both sealed inside the Sword of Akasha.
Talking to Himself: With Touga Tenkuji of all people in Super Robot Wars Z 2.
The Tape Knew You Would Say That: Twice!
Tempting Fate: Constantly. See also Nothing Can Stop Us Now, above.
Ten-Minute Retirement: After learning about Nunnally's plan to restore the Special Administrative Zone of Japan in Turn 7, then again after her supposed death in episode 19 of R2.
Thanatos Gambit: Dies for world peace.
Tragic Hero/Tragic Villain: Depending on perspective. Possibly both at the same time.
Trauma Conga Line: The writers of Code Geass R2 traumatize Lelouch every two episodes like clockwork from episode thirteen on -- so much so that by his fourth trauma he could not even cry when he was told that

he had just inadvertently gotten Nunnally killed

.
Tsundere: Type A. He loves mocking his enemies and rivals, but God is he dere to those he loves.
The UnFavourites: Lelouch and Nunnally, apparently, as a side-effect of the rest of the court's disdain for their mother Marianne. This is subverted when we find about the truth in episode 21 of R2.
The Unfettered: Initially he did have a few fetters, but one by one they disapeared.
Urban Legend Love Life: Thanks to Sayoko setting up 108 dates with him, many of his classmates think he's a Millionaire Playboy and the Black Knights think C.C. is Zero's mistress.
The Uriah Gambit:

Tries to do this to Rolo in a battle against V.V..

Utopia Justifies the Means: Lelouch is willing to go to almost any lengths to create a perfect world for Nunnally. By the end of R2, this includes brainwashing numerous people, slaughtering noncombatants, deception, betrayal, self-inflicted public demonization, and assisted suicide. Though one can blame this on the events of the betrayal that led him over the Despair Event Horizon.
Villain with Good Publicity: Seems to evoke this.
Visionary Villain: Just wants to remake the world, is all.
Wake Up, Go to School, Save the World: Part of his non-Zero persona.
We Would Have Told You But: He keeps nearly everyone else in the dark about the Zero Requiem.
Well-Intentioned Extremist: Towards the end of R2 he seems to be more Necessarily Evil.

Not to mention that said plan is a consequence of his despair and isolation that resulted from Nunnally's apparent death and the betrayal from the Black Knights, making him a Woobie, Destroyer of Worlds at worst.

What the Hell, Hero?: Happens to him a few times -- perhaps most ironically, by Mao.

The most significant probably come from Nunnally, in the final arc.

White-Haired Pretty Boy: The Other Wiki tells us this was originally in his character design. Along with a mask. Blond Anti-Hero rival with great plans. Does this remind you of anyone?
White Prince: A fallen one.
Will Not Tell a Lie: To Nunnally at least. To the point where, in R2 Suzaku almost catches that his memories have returned by surprising him with a phone call from Nunnally, knowing he wouldn't pretend not to know her. The only reason it doesn't work is because Rolo uses his Geass to buy Lelouch enough time to tell Nunnally he loves her and he has to pretend he doesn't know her for a few seconds, which he then does.

He's forced to abandon this along with his last fetters during the later stages of the Zero Requiem.

Xanatos Planned This Character
Yandere: A possible interpretation of his character.
You Wouldn't Shoot Me: Lelouch pulls this a few times. The first, when C. C. threatens to shoot him in episode 7 to prevent him from going off and putting himself in danger, which he counters by pointing a gun at himself. A few episodes later, a few the Black Knights threaten to shoot him after he strands them, along with himself, on top of Narita, prior to the incursion of Cornelia's forces, and he defies them to find anyone else cunning enough to lead them. Finally, Kallen, at the start of season 2, including walking up to her and pressing the gun to his chest before finally taking it away. At the same time, this is also a subversion of the trope on several levels. Kallen is his bodyguard and thus far from "helpless", and is confronting him to find out whether or not he used his geass on her to make her love him. She's also killed many times before before, and could Easily kill Lelouch with or without the gun. Lelouch also doesn't intimidate her into giving him the gun; rather, he simply tells her the truth and asks whether or not she believes him.
Zero-Approval Gambit/Zero-Percent Approval Rating: Zero Requiem, quite literally.
Suzaku Kururugi
| | | |
| --- | --- | --- |
| |  "A victory gained through dishonest means is worthless." | |
The rival and "best friend" of Lelouch. Suzaku is a rather controversial character. Instead of following Lelouch's ideals to crush Britannia to save Japan, Suzaku opted to "change Britannia from the inside, to help Japan," and he is willing to crush Japanese freedom fighters and terrorists in order to achieve this (even those that share his ultimate goals, such as the Kyoto Group). Speaking of that, he got chosen to pilot the Humongous Mecha Lancelot, which enables him to do lots of otherwise-impossible physical feats. He often tells people that "results obtained using the wrong means are meaningless," which means he opposes Zero for using terrorism to achieve his ends, but this is actually a result of the fact that he killed his father, former Japanese Prime Minister Genbu Kururugi, to end Japanese resistance to the Britannian invasion, which has made him hate himself greatly and try to atone by attempting to get himself killed in battle.
Later, he finds love in Princess Euphemia li Britannia, and got picked as her Knight, nonetheless. But after a certain incident that made him lose her very cruelly and messily, he blamed Zero for it and became more "honest", showing more brutality and less restraint. Even after the revelation that Zero is Lelouch, Suzaku did not falter and turned against his best friend.
In the second season, Suzaku becomes a Knight of the Round and hopes to advance to the rank of Knight the First, since it will grant him honorary rule of any area. He plans to take control of Area 11 (Japan) and use his position to help the Japanese people.
Not to be mistaken for The Phoenix.
---
Suzaku embodies these tropes:
 Lelouch (still in Zero persona): Euphemia randomly murdered throngs of innocent Japanese people. You fight for a woman like --

Suzaku: (interrupts) Your Geass power is quite convenient, isn't it? You get to hide in the shadows while others take all the blame for doing your dirty work. You're just an arrogant coward. That's your true nature, the real you.
Spanner in the Works: Aside from the fact that he is usually the one to spoil Lelouch's plans (including his "Live" Geass), Suzaku wouldn't have appeared inside the Sword of Akasha if it weren't for the Batman Gambit of Marianne, who was probably counting on either his love for her stepdaughter Euphie or his friendship with her Soul Jar Anya... which backfired when Suzaku sided with Lelouch regardless. If he hadn't been there, Charles and Marianne could have had a better chance of succeeding.
Tall, Dark and Handsome: He's 5'9" (175 cms) which is just above average, but the rest checks out.
Took a Level In Jerkass: Quite a few levels in fact in R2. Though given everything that happens to him over the course of the series, it's sort of Justified.
Tragic Hero/Tragic Villain: Just like Lelouch, depends on perspective. Possibly both at the same time.
The Unfettered: Later in the series.
Unskilled but Strong: As a Knightmare pilot, though it's subdued. His natural talent and his extremely advanced Knightmare cover his weaknesses, but Suzaku is not a seasoned pilot and it shows. During his first battle against the Guren, Kallen effortlessly countered all his attacks, and Suzaku grows increasingly desperate until Lady Luck sabotages Kallen's efforts. When Kallen gets the SEITEN, he panics and just starts attacking like a madman. By comparison, Luciano, Complete Monster or not, had a sold strategy and matter-of-factly recognized that he wasn't going to win in a straight fight.
Unwitting Pawn: Suzaku is an earnest, well meaning lad with a healthy respect for authority stuck in a show filled to the brim with Magnificent Bastards and Chess Masters. As a result, he ends up being everyone's pawn... and often ends up derailing as many gambits as he helps build.
Well-Intentioned Extremist: He is. This, in turn, subverts the trope where mandatorily one and only one of the two arch-rivals is the Well-Intentioned Extremist, since BOTH of them fit the trope.
Wide-Eyed Idealist: Initially, though this brutally changes over the course of the series.
Would Not Shoot a Civilian: To the core.

At least at first.

He fights the Japanese resistance -- or any attempt (legitimate or otherwise) to free Japan -- precisely because it endangers civilians. Even in the heat of battle, Suzaku goes out of his way not to harm civilians, even if it means disobeying direct orders. (For example, in the very first episode, he refuses to shoot Lelouch -- although in that instance he also has personal reasons, as he and Lelouch are long-time friends.) Of course, the tragic irony is that Britannia is just as likely to harm Japanese civilians as the terrorists are, sometimes more so, and Suzaku participates (albeit very indirectly) in the first episode's massacre. At any rate, his previously iron-clad Would Not Shoot a Civilian position starts to crack after the first season, and it dissolves completely after the F.L.E.I.J.A. incident.
You Are Number Six: Is by definition, as a Japanese native, a Number. Ironically enough in R2, he refers to Kallen by her prisoner number when he requests Nunnally, who is conversing with her, to allow him to interrogate her. A signal of his further descent, especially in that he, the nation and the fellow countrymen he fights for are Numbers.
C.C.
| | | |
| --- | --- | --- |
| |  "Snow is white because it's forgotten what color it's supposed to be." | |
A sarcastic, green-haired girl first found inside an alleged 'poison gas bomb', sporting bondage gear and a big butt. C.C. (pronounced "C2" -- or "Shi-Tsu") grants the Geass power to Lelouch, who apparently can give her her mysterious greatest wish, and later stays with him to watch over him. It's later revealed that she gave another Geass to a man named Mao. She has been a close attendant to Zero and has helped him various times, leading him to ally himself with her: "If you're a witch, then I'm a demon."
Speaking of witches, her past and her name both remain a mystery. Rumor has it that she's been living for many years dating back to the era of Kings, and ever since then she's been repeatedly tortured or killed because of her powers (shot to the forehead, burned at the stake, put inside an Iron Maiden, etc.). She also has a penchant for pizza, and always orders some from Pizza Hut using Lelouch's credit card (not a problem, since he's filthy rich, but it's still an annoyance to him).
---
 Kallen: So you're stopping here huh? No choice then....You better come back or else...

C.C.: What are you doing saying farewell to the player like that?

Kallen: Then how do you suppose I do it?

C.C.: I guess I'll show you the ropes then...Erhmmm (in moe voice) Master, it's rather unfortunate that we have to part here, so please come back as soon as possible... And there you have it.

Kallen: What the heck was that just now?
Kallen Kozuki / Kallen Stadtfeld
| | | |
| --- | --- | --- |
| |  "If only you had justice on your side!" | |
Kallen is an outspoken half-Britannian, half-Japanese girl who is damn proud of her Japanese heritage and opposed to the hostile takeover of Britannia. She has a rather frail and gentle Japanese mother, whom she kind of despised at first, but eventually decided to make her the reason for fighting after directly witnessing how much she suffered for Kallen's sake. She also attends Ashford Academy with Lelouch, playing the Ill Girl role to avoid suspicion of her involvement with the movement against Britannia. She also has a rather nice pair of boobs.
Later, Kallen joins the Black Knights as the Ace Pilot of the Gurren Nishiki and becomes a bodyguard or sorts to Zero. She's one tough and tsun-tsun girl, but in front of Zero, she gets gushy and dere-dere.
---
Kallen embodies these tropes:
 C.C.: So how do you feel riding Guren, Kallen?

Kallen: "How"...?

Ester: Get back Kallen. DM extermination is my specialty.

Kallen: Ester...are you mad about something?

Ester: I'm not frustrated...I'm not frustrated!

Kallen: You brought your triangle into the cockpit...

Ester: You're piloting the Guren wearing a bunny suit, aren't you?! So I'm bringing my work tool into mine too!



C.C.: It looks like she really is that frustrated that she couldn't become a bunny (girl).

Kallen: Sure looks like it...

Kiderra: Woman's jealousy sure is scary...

Ester: I said I'm not frustrated! Even though I'm not that pretty, or elegant, or friendly, or good as serving...

C.C.: (to all the above points) To a destructive degree.

Ester: I'll live my life as a (DM) buster. So bring it on, DM's.

C.C.: Looks like everything got solved by itself.

Chirico: Here they come.
 Kallen: So you're stopping here huh? No choice then....You better come back or else...

C.C.: What are you doing saying farewell to the player like that?

Kallen: Then how do you suppose I do it?

C.C.: I guess I'll show you the ropes then...Erhmmm (in moe voice) Master, it's rather unfortunate that we have to part here, so please come back as soon as possible... And there you have it.

Kallen: What the heck was that just now?
Kallen (tomboy) and Shirley (girly girl).
Milly (tomboy) and Kallen (Ill Girl guise) (girly girl).
Kallen (tomboy) and Kaguya (girly girl).
Kallen (tomboy) and Euphemia (girly girl).

Tsundere: Tempermental, tough and badass at one moment, sweet and vulnerable at the other. In season one, she thinks Lelouch is an arrogant Jerkass, but adores his alter ego Zero as a brave freedom fighter.

After learning his identity, at the very end of season one, it takes her a while to adjust to the concept, but eventually she goes deredere for him in both roles and basically falls in love with the man behind the mask.

Undying Loyalty: Considering the extremes to which she goes for Lelouch, she can rival Jeremiah in the loyalty department. At least, until Lelouch starts acting like a Complete Monster and (intentionally) forces her to choose between her loyalty for him and her sense of justice.
Vitriolic Best Buds: With C.C. in R2 and all the material that takes place during its' timeframe.
Wake Up, Go to School, Save the World: Part of her taking the 'weak persona' cover up.
Waterfall Shower: On Kamine Island.
Well-Intentioned Extremist: In the beginning. Then she joins Zero, who makes her get better by comparison.
Who Wears Short Shorts?: Her combat outfits.
Worthy Opponent: To Suzaku. See also The Rival, above.
You Are Number Six: Is half-Japanese, which of course makes her something of a Number according to Britannia. (Do not call her this, though.) She gets a different sort of this treatment while she is imprisoned mid-season R2, and Suzaku refers to her by her prisoner number.
You Are Worth Hell: How she feels about Lelouch.
You Gotta Have Blue Hair: Her hair color is often described as "red." And it is. Mostly. But it's not any shade of red that humans would grow naturally in Real Life. It's a bit pink -- but not as outlandishly pink as Euphie's hair.
Nunnally Lamperouge / Princess Nunnally vi Britannia
| | | |
| --- | --- | --- |
| |  "My wish is for a gentler world." | |
The daughter of Emperor Charles and his consort Marianne, as well as Lelouch's younger sister. The messy death of her mother left her not only contained in a wheelchair, but also blind out of the trauma of having her mom bleeding all over her and dying. She's shown as a sweet, gentle, Ill Girl who attends Ashford Academy's middle school and serves as Lelouch's Morality Pet: she certainly doesn't know that her beloved and very overprotective big brother is willing to fulfill the promise of "making the world better before she can see" through bloodshed, Xanatos Gambits and Roulettes, and all that jazz.
In R2, after Lelouch is given Fake Memories and sent back to Ashford with Tyke Bomb Rolo in tow, Nunnally gets her Imperial Princess status back and is given the command of Area 11 aka Japan, like Cornelia and Euphemia. As the new Viceroy, Nunners works as hard as she can to make things better and ensure the Japanese are well treated, but with Lelouch recovering his memories and re-building La Résistance, it will NOT be easy.
In Nightmare of Nunnally, she is the main protagonist, who receives a Geass that allows her to see the future and an alternate personality derived from her anger and other negative emotions that can move and pilot a Knightmare Frame. She initially sets out to find Lelouch, but also expands her goal to stopping bloodshed between Britannians and the Japanese. At the end of the series, she saves the world by rejecting Charles and Marianne's Instrumentality plan by coming to terms with her feelings, resulting in her regaining her ability to see and walk, and their being erased from existence. She becomes a goodwill ambassador to Japan under Empress Euphemia.
---
Nunnally embodies these tropes:
Arranged Marriage: Midway through the first season, Lelouch toyed with the idea of betrothing Nunnally and Suzaku, before he realized he and Suzaku were enemies.

In the sound episode Stage 0.521, it's revealed that, before the war, the Japanese considered an engagement between Nunnally and Suzaku's father Genbu Kururugi. When Suzaku protested and offered himself instead, his dad pointed out that he was already spoken for -- engaged to his cousin Kaguya Sumeragi. It is revealed that Lelouch somehow dissuaded Genbu from an engagement to Nunnally, but it's not revealed how.

Awesome Moment of Crowning: After Lelouch's "assassination", she takes over and becomes Empress.
Break the Cutie: Happens several times, but she bounces back each time.

Even after Lulu's death, since she becomes a fairly cheerful and sweet-tempered Empress.

Brother-Sister Incest: Reciprocated at Lelouch,

if her final words to him are anything to go by

.
Calling the Old Man Out: In the climax of Nightmare of Nunnally, calls out Charles

and Marianne

for abandoning her and

trying to start Instrumentality

.
Clingy Jealous Girl: Just a very little bit, with her older brother Lelouch. Nonsexual example ... we think.
Cosmic Plaything: Hoo boy... I do not envy her.
Covert Pervert: According to the Picture Dramas and the Lost Color games.
Dead Little Sister: Strictly speaking, dead older siblings, all of whom are killed by Zero.

Including Lelouch.

Evil Cripple and Hero Antagonist: At the end of the series. She even gets a

"crawling on the ground helplessly"

scene.
Expy: Of the anime version of Suzuhara Shuuko, which Okouchi (co-creator) worked on as Series Composition. The original CLAMP version shares nothing in common with Nunnally.
Eyes Always Shut: As a symbol of her trauma-induced blindness. She opens them in episode 24 of R2, as the proof of her overcoming that particular side of herself ... through sheer willpower.
Fallen Princess: Oh, so much.
Girl with Psycho Weapon: How about a girl with a nuke detonator, huh?

Arguably taken even further in "Nightmare of Nunnally" when she gets her own Knightmare Frame that she can summon out of thin air.

Heroic Willpower: How she finally manages to open her eyes after her father geassed them shut for years.
Hey, It's That Voice!: Voiced by Rebecca Forstadt in the English dub, who also played a somewhat adorable tank-thing. This eventually earned Nunnally the Fan Nickname "Nunnakoma".
Horrible Judge of Character: A wee bit too trusting of Charles, and especially Schneizel. That she is able to find out that Lelouch and Suzaku have both lied to her and not Schneizel, who used her in one of the most insidious Batman Gambits in the entire series extending back to R2 18 and lasting the rest of the series against Lelouch (and ended up breaking him down), quite possibly makes her Too Dumb to Live.
How Dare You Die on Me!: Nunnally does this to Lelouch after the Zero Requiem plan is completed, partly because she figured out what Lelouch's plan was all along
I Am Your Opponent: To Lelouch and Suzaku at the end of Turn 22, after they have already started Zero Requiem.
Ill Girl: Unable to walk because of bullet injuries to her legs. Also suffers from psychosomatic blindness, evidently as a result of Post Traumatic Stress Disorder.

Well, It seems that way at first. But then we learn that the reason she never opens her eyes is because of her father's Mind Rape, which forced her to become blind.

In the end,

Nunners remains wheelchair-bound, but overcomes her blindness.

In Nightmare of Nunnally,

both are psychosomatic, and both are reversed by the end

.

I'm Taking Her Home with Me: The reaction she often provokes in fans of both sexes.
The Ingenue: For the first season. But this changes radically by the second.
Joshikousei: Of sorts.
Living Lie Detector: She can tell, thanks presumably to being able to sense pulse rate, sweating, and/or body temperature changes, if someone's lying if she's holding their hand.

However, there is one theory that appears in certain fanfics, and which is possibly supported in canon by her

seeing the whole Zero Requiem plan after touching Lelouch as he's dying

, which says that she has some sort of unexplained psychic abilities that work via touch. This theory does require a radical reinterpretation of her character and most of her actions in order to make it work, but it does address certain other inconsistencies.

Meaningful Name: Nunnally is an English given name and surname, but in Japanese it can sound a bit like "nunnery," i.e., convent. Perhaps intended to even further heighten the sense of her innocence.
The Messiah: To a degree.
Mind Rape: The source of her blindness. Inflicted to her by her father as a part of his and her mother's Gambit Roulette.
Morality Pet: For Lelouch, and to a lesser degree, for Suzaku and Cornelia.
Nice Girl: Always nice and polite to those with whom she interacts, and one of a very few non-racist Britannians.
No One Should Survive That: Some people still wonder how she survived

the F.L.E.I.J.A. blast in R2 Episode 18

, even though there arguably is a way to explain it.

Hint, count the planes.

Older Than They Look: She's a teenager but looks younger in several shots, and has a very youthful-looking hairstyle and school uniform.
The Pollyanna: You'd think the little girl would be a bit less of an ingenue after having her mom shot to death in front of her and die in her arms, causing her to go blind from apparent psychological trauma that has ONLY manifested as blindness, and having her mother's killers shoot her in the legs as well, paralyzing her. Seriously, any sane person would think that Nunnally would be the bug-fuck crazy 'All Kill Britannia' sibling, but she remains sweet and cute ... until Schneizel subjects her to More Than Mind Control and gives her control of the Damocles.

Semi-justified when it was revealed that said blindness and disability weren't caused by her mother's death, but by her parents modifying her memories and forcing blindness on her as a part of their Gambit Roulette.

She still seems very un-bitter considering everything, so some consider her to be a Stepford Smiler (though not necessarily the bad kind) who hides the extent of her damage. Certainly, such an apparently sweet girl being willing and able

to fire the FLEIJA warheads and wipe out entire armies

might suggest that she's not quite as gentle as she looks.

Princess Classic: Deconstructed big time.
Princesses Prefer Pink: Several of her outfits, including her school uniform

and her dress for when she's re-instated to the throne

are pink.
Purple Eyes: She used to have those before she became blind.

You can see them again more clearly later in the story.

Spanner in the Works: On more than one occasion, Lelouch's love for her has scuttled his plans.
Tomboy and Girly Girl: In the Nightmare of Nunnally manga, she plays girly girl to Extraordinarily Empowered Girl Alice's tomboy.

Nunnally is also arguably the tomboy when paired with Euphemia or Shirley (girly girls to the max). She is the girly girl when paired with Nina or Milly (not exactly tomboys, but still more physically active).

Too Dumb to Live: Seems to be completely oblivious to Charles' and Schneizel's true intentions.
The UnFavourites: Lelouch and Nunnally, apparently, probably as a side-effect of the rest of the court's disdain for Marianne.

This is subverted when we find about the truth in episode twenty-one of R2.

Well-Intentioned Extremist: Reveals in the finale that she planned something similar to the Zero Requiem plan, but doesn't go into more details than making the Sword Of Damocles the focus of the whole world's hate. It should be noted that she was making the best of a really bad situation, but whatever it is that it takes to piss off the whole world can hardly be small.
What the Hell, Hero?: She gave Lelouch one of these in the Grand Finale. When he tells her he's been doing everything for her, she yells at him that she never asked for him to change the world and was happy just being next to him in Ashford. Of course, it does fail to take into account a lot of the little reasons Lelouch did it. She does it to a lesser extent with Suzaku in Turn 16.
Wide-Eyed Idealist: Despite her Eyes Always Shut status, she's probably the second most Wide-Eyed Idealist on the show, after her half-sister Euphemia. (Shirley doesn't make the cut because of her willful lack of interest in politics.)
Wise Beyond Their Years: This becomes abundantly clear after she takes a major role in the plot in R2. Well, with a couple of critical exceptions.
World of Cardboard Speech: In chapter twenty-five of Nightmare of Nunnally, she admits that she has trapped herself in the past, refusing to move forward, and says that she now hopes for tomorrow.
Yamato Nadeshiko: Nunnally-chan is the most sweet, caring, considerate, well mannered and kind hearted little girl you'd ever meet, at least as far as this Crapsack World full of Anti-Heroes, traitors and Blood Knights is concerned. Ironically, she's British (well, Britannian), but otherwise she meets every other Yamato Nadeshiko criterion. The fact that she is painfully cute and huggable really helps too.
Zettai Ryouiki: In Nightmare of Nunnally she wears a Grade B, as it's a part of the Ashford middle school uniform.
Rolo Haliburton / Rolo Lamperouge
| | | |
| --- | --- | --- |
| |  "I can't remember how many people I've killed. Nobody counts the number of times they brush their teeth or eat a meal. Same with this." | |
This socially awkward, harmless-looking cute little boy is introduced at the beginning of R2. After Lelouch and the Ashford students are given Fake Memories (courtesy of Emperor Charles's Evil Eye) that erase Nunnally's image from their minds, Rolo was sent to pose as Lelouch's younger brother in the Academy. A boy raised by V.V.'s Geass cult members and trained as a Tyke Bomb, Rolo is perfect to keep an eye on Lelouch and kill him if it's needed. Or is he?.
In the Nightmare of Nunnally Alternate Universe manga, he is Lelouch's twin brother and a Cardinal in the Geass order. He despises Lelouch and seeks to gain C.C.'s power, but loses to Alice and dies when his body rots away from the side-effects of C.C.'s cells.
---
Rolo embodies these tropes:
Anti-Hero: Type V. In Nightmare of Nunnally, however, he's a straight-up villain
Becoming the Mask: Rolo comes to truly love Lelouch (as much as his mental instability lets him) during his time pretending to be his brother. Too bad Lelouch only sees him as Nunnally's Replacement Scrappy and later Rolo screws up REAL bad by killing Shirley. To make things even more dramatic... in episode 19, he dies for Lelouch.
Blessed with Suck:

His Geass is incredibly effective, but it stops his heart when used and this shortens his lifespan.

Cain and Abel: Despises his siblings

Nunnally and Lelouch

in Nightmare of Nunnally.
Cross-Dressing Voices: In the Tagalog dub.
Disproportionate Retribution: He killed one of the SIA... for touching the locket Lelouch gave him.

He also kills Shirley for suggesting reuniting Lelouch with Nunnally.

Enfante Terrible: He was trained as a remorseless assassin from a young age.
Evil Twin: In the Alternate Universe manga Nightmare of Nunnally, Rolo was Lelouch's twin brother and taken away from Marianne at birth. In this manga, he looks exactly like Lelouch, and uses that to fuck with everyone's minds. He also appears to be less of a Yandere and more of a Badass.
Expy: Subverted. At first glance, he appears to be one of Shinji Ikari (they even have the same voice actor) but once his true colours are revealed that theory goes out the window.
Freudian Excuse: Not only did the kid never know what a real and normal life was until he was appointed as Lelouch's fake brother, due to his Tyke Bomb training, but he was regarded as a mere "failed experiment" within the Geass Cult itself. That does NOT bode well for anyone.
Heroic RROD:

Overusing his Geass power to fight off/evade an entire army, to the point that his heart gives out.

He was actually given an award to "most heroic character in 2008" in Animedia for this.
Hey, It's That Voice!: It's NaGARsumi!
Jerkass Woobie: Too Ax Crazy to be The Woobie. Not horrible enough to be a Complete Monster, either. (But don't tell his rabid haters that, though.)
Lack of Empathy:

Poor Shirley.

Lightning Bruiser: His Knightmare Frame is the first to be qualified as one.

Is that his Knightmare Frame? I thought that was him using his Geass to make the other pilots think he was teleporting, (although this would solve the problem of how he appeared to teleport on long-distance scanners that shouldn't have been affected).

Love Makes You Evil: His devotion to Lelouch did not mix well with his mental and emotional unstability.
Meaningful Name: "Rolo" probably comes from "roloi", Greek word for "clock".
No Sense of Personal Space: Very obvious here. Might be justified, since he just watched Lelouch trying to do the same thing to Kallen, only to be denied. There is certainly enough Ho Yay in his attitude to Lelouch to suggest he might have been hoping for better luck.
Poisonous Friend: He's really zealous in his purposes.
Psycho Supporter: Looks cute, shy and sweet. Is an insecure, murderous wreck if his buttons are pushed.
Redemption Equals Death: Considering what he did? Of course.
Separated at Birth: From

Lelouch

in Nightmare of Nunnally.
Shoot the Dog: He ganks a fellow intelligence operative who accidentally walks in on him talking with Viletta about classified information.
The Starscream: In Nightmare of Nunnally, he intends to

steal C.C.'s power and rebel against the Emperor

.
Stepford Smiler: He seems like a perfectly normal and very nice kid ... until people start dropping dead around him.
Time Stands Still: His Geass makes you think this happens. And in Nightmare of Nunnally

It all but stops time for real

.
| | | |
| --- | --- | --- |
| |  "No one can live on the same time as me". | |
↑

The most correct form would be "Kōzuki", but since this is awkward to type, "Kouzuki" is also acceptable. "Kozuki" is technically incorrect since it doesn't reflect the long vowel, but is very common nevertheless.
Community content is available under
CC-BY-SA
unless otherwise noted.