"This is not happening. The cruel slow-motion laughter is just your imagination"

—Sue Sylvester, Glee
The inversion of Laughing Mad - a character's humiliation is depicted with a pan around a group of people laughing at them, often in slow motion. May be more or less fancifully depicted, ranging from a simple shot of a bunch of people pointing and laughing, to a Fish Eye Lens low-angle "swallowed up by the floor" shot Whip Panning from Grotesque sneering face to sneering face.
Can occur in Bad Dreams, or can just be an Imagine Spot. Every now and again it might even happen for real.
Can be used in Flash Back to set up They Called Me Mad and/or Who's Laughing Now?.
---
Examples:
Literature
Theatre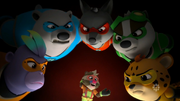 Community content is available under
CC-BY-SA
unless otherwise noted.