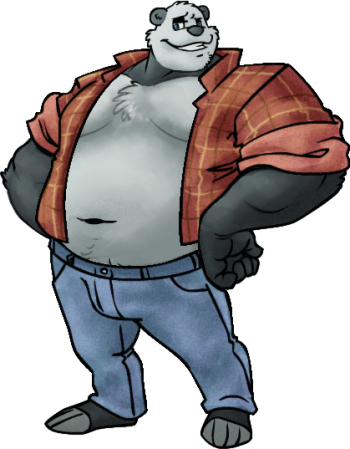 ChubPan is a homoerotic Flash Dating Sim by Geremy Walker, better known by his moniker CaptainGerBear. It is about a mysterious panda guy who crashes his plane in the countryside and loses his memory. He recovers in the modest hospital of a small remote logging town, whose townspeople have named him Pan in lieu of his unknown real name. Pan, a voluptuously chubby man, tries to make an improvised life for himself in this town as he tries to gradually recover his memory. It very quickly becomes evident that he is hopelessly randy for mansex. Needless to say, ChubPan is a Plot With Porn.
So far, only the demo version of ChubPan has been released, but its fan reaction has been swift and overwhelmingly positive. The final game remains in development. And considering how long it's been in development, there is no immediate timetable for its final release, but Captain Ger Bear has vowed that the game will be freeware. The demo has been released here.
---
Tropes used in ChubPan include:
Community content is available under
CC-BY-SA
unless otherwise noted.