Here is the character list of the Castlevania series, sorted according to their in-game timeline appearances. There be spoilers here!
But of course, the first to be listed here is...
Main Villains
Dracula
Good ol' Dracula, the King of Vampires you all know. In a twist, he doesn't start out as Vlad the Impaler, but a genius war strategist named Mathias Cronqvist. After his wife Elisabetha died, Mathias used his friend Leon Belmont in a Xanatos Gambit to steal the soul of a powerful vampire named Walter Bernhard with the Crimson Stone, gaining the allegiance of Death. He reveals that he has forsaken God, who took away his wife, and will continue to curse Him for eternity. He retreats and changes his name to Vlad Tepes, while Leon swears to kill an entire time of day.
He found a second chance at redemption after meeting a woman named Lisa Fahrenheit. They bonded and Lisa gave birth to half-vampire Adrian Fahrenheit Tepes aka Alucard. Unfortunately, Lisa ended up being crucified practicing medicine. Dracula snapped, declared that Humans Are Bastards and decided to wage war against the world, and God himself. Thankfully for humanity, Leon's oath lasted throughout the centuries, and the Belmont clan (with assistance from the Morris and Belnades families on occasion) have thwarted his undead armies every time.
Dracula's reign as the lord of Castlevania finally came to an end in the year 1999, when an alliance of various world armies, aided by the Catholic Church and the Hakuba Shinto shrine, succeeded in sealing Dracula away from his castle (the source of his power), with Julius Belmont finishing him off. At the moment, this has not been actually depicted in any game, possibly due to being entirely too awesome to do justice to.
In Aria of Sorrow and Dawn of Sorrow he is reincarnated as Soma Cruz, who unsurprisingly doesn't want to fulfill his destiny. With the help of Alucard and others, his fate is successfully averted.
Of course, that hasn't stopped him in the least. He always finds a way to come back, no matter what. It's gotten to the point where people see him as a god, or something of a god, as lampshaded by him in Rondo of Blood and Symphony of the Night.
Tropes associated with the Castlevania version of Dracula:
Affably Evil: Comes across as this in a few games. In particular, Order of Ecclesia has him literally extending an offer to Shanoa to join his forces as gratitude to her (unwitting) role in his resurrection.

In Dracula X Chronicles in Maria mode, Dracula seemed genuinely impressed that Maria Renard still retained innocence despite the dreary state of the world when defeated.

A Glass of Chianti: Naturally the vampire-specific version, A Glass Of Blood. He'll often toss the glass and let it shatter on the floor just before he rises from his throne to whoop ass.
As Long as There Is Evil: He loves to give this kind of speech after his defeats. He's right, too.
| | | |
| --- | --- | --- |
| |  Dracula: "It was not by my own hand that I am once again given flesh." | |
| | | |
| --- | --- | --- |
| |  Dracula: "I was called here by... hooominssssss... who wished to pay me tribute!" | |
Death
| | | |
| --- | --- | --- |
| |  "Then for the Master, I'll feast on your soul this night!" | |
The Grim Reaper, stealer of souls, possibly the ruler of Hell, and... apparently Dracula's best friend. If nothing else, his closest confidant. It's hard to say how this came about, although many suspect the Crimson Stone ever since that has been added to the continuity. A recent game has suggested that a higher power may be responsible.
As he is a god of death, one would expect the protagonists of the series to be incapable of killing him. Somehow, they manage it. Fortunately, he is never gone for long, ensuring a long career of Sinister Scythe battles that have made him beloved and feared by the fanbase.
Outside of battle, his role is inconsistent. At times, he is only there to fight. At other times, he drives the plot, bringing the revival of his lord to fruition by any means necessary. He has been known to interact with the protagonists more often than his lord, as he tries to dissuade Alucard from interfering, compares notes with Juste, manipulates Hector under a false identity, and shares a common enemy with the vampire hunters when Brauner arrives. He is always loyal to Dracula (although this not including Soma, his master reincarnated), and is Lawful Evil. Dialogue from Judgement and Curse of Darkness hint that he has strong hate toward time travellers.
Tropes associated with Death:
Lament of Innocence
Leon Belmont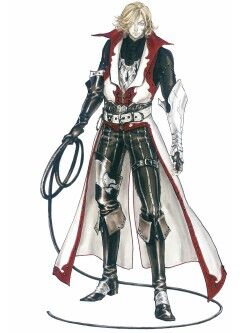 | | | |
| --- | --- | --- |
| |  "I'll kill YOU and the Night!!" | |
A near-invincible knight active during the medieval era, and along with Mathias Cronqvist, formed an invincible team. He abandoned his position when his fiancee Sara Trantoul was kidnapped (according to Mathias) by the vampire Walter Bernhard. Leon discards his sword and takes up the Whip of Alchemy from Rinaldo Gandolfi, and storms Walter's castle, only to find Sara in process of being vampirized. The only way to save her is to kill her. Leon does the job, changing the Whip of Alchemy into the legendary Vampire Killer.
Leon swears to kill Walter and the night. He almost succeeds, only to see Walter get backstabbed by Death, and Mathias reveal himself as the Magnificent Bastard behind the scenes. Leon refuses Mathias' offer to join him, survives a battle with Death, and swears that his family will always exist to oppose Mathias.
Tropes associated with Leon:
Walter Bernhard
| | | |
| --- | --- | --- |
| |  "Welcome. I have been waiting, Leon." | |
A powerful vampire who rules the forest called Eternal Night. As he finds his immortality to be boring, he seeks a challenge, playing life and death games with brave humans and upping the ante by stealing that which is most precious to them. His latest act is spiriting away Sara Trantoul, Leon Belmont's fiancee.
Tropes associated with Walter:
Joachim Armster
| | | |
| --- | --- | --- |
| |  "It's too bad... You aren't Walter." | |
Once a human, Joachim was turned into a vampire by Walter Bernhard. He now harbors an ambition to defeat Walter and become the new master of his castle, but was bested in combat by Walter and imprisoned in the castle's prison as punishment.
Tropes associated with Joachim:
Rinaldo Gandolfi
| | | |
| --- | --- | --- |
| |  "Don't you always? Ask away." | |
Rinaldo is an old man who lives near Walter Bernhard's castle. Walter turned Rinaldo's daughter, Justine, into a vampire, and she killed the rest of Rinaldo's family. Rinaldo was forced to create the Whip of Alchemy and he then killed her with it. When Leon Belmont came to rescue his fiancee Sara Trantoul from the clutches of Walter, Rinaldo gave Leon the Whip of Alchemy, and later helped him perform a ritual which unlocked the whip's true power and transformed it into the Vampire Killer. He also provided a shop where Leon could buy or sell items.
Tropes associated with Rinaldo:
Elisabetha Cronqvist
The deceased wife of Mathias Cronqvist.
Legends
Sonia Belmont
| | | |
| --- | --- | --- |
| |  "We all decide our own fate. It was you who taught me that, Alucard." | |
A woman who was gifted with strange magical power. When her land is ravaged by Dracula, she takes up the Vampire Killer whip and invades Dracula's castle, encountering her friend Alucard along the way. After her ordeal is over, she settles down and has a child, Trevor.
She was slated to appear again in Castlevania Resurrection, but the game's cancellation prevented that. On top of that, when IGA took over the series, he retconned Sonia from the Castlevania timeline entirely.
Up until her retcon, though, the tropes associated with her were:
Dracula's Curse
Trevor Belmont
| | | |
| --- | --- | --- |
| |   "No matter who may challenge, my clan will not falter." | |
Leon's descendant (with or without Sonia) and the first Belmont to succeed in killing Dracula. When Trevor was young, he went into exile as the people feared the Belmont clan's powers. But when Dracula strikes, Trevor takes up the Vampire Killer whip that was passed down through his ancestors, and travels around Wallachia to save the land and win the people's trust. It works, and the Belmonts are no longer feared. He also gets to marry one of his allies, Sypha Belnades.
He gets to reappear in Curse Of Darkness as an uneasy ally for Hector. He ends up getting wounded by Isaac, but survives the overall ordeal. Unfortunately, he loses his headband in the process.
Tropes associated with Trevor:
| | | |
| --- | --- | --- |
| |   I fought fair and won the day. If only that was true in the household. | |
Grant DaNasty
| | | |
| --- | --- | --- |
| |   "Ugly freak! Good thing my blades don't discriminate." | |
A pirate whose family was killed by Dracula. Grant opted to take revenge for his family, but was quickly beaten and turned into a monster that guards the clock tower. Trevor beats some sense into him and he ends up becoming his friend, fighting Dracula by his side. He later helps rebuild Wallachia. Can crawl on walls, throw knives, and bears an eerie resemblance to the Hunchback/Fleaman-type enemy, the Ripper.
Tropes associated with Grant:
Sypha Belnades
| | | |
| --- | --- | --- |
| |  "If you wish to see the power of the elements, it would be my pleasure." | |
A witch who disguised herself as a man, considering that at the time witches are meant to be burnt on a stake. She was eventually caught by Dracula and was turned to stone by... a cyclops (wasn't it Medusa's job to petrify people? Whatever). Later, she was freed from her curse when Trevor kicked the cyclops' ass and she ends up joining his quest, revealing her gender only in the end of battle. She fell in love with Trevor and ended up marrying him, thus augmenting the Belmont clan with magical power.
Tropes associated with Sypha:
| | | |
| --- | --- | --- |
| |  Sypha: Will you stop? These things only get in the way. | |
Adrian Fahrenheit Tepes (Alucard)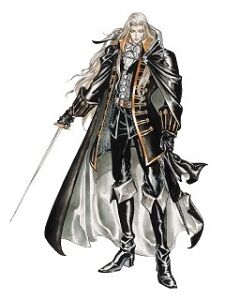 | | | |
| --- | --- | --- |
| |  "Dracula! In the name of my Mother, I will defeat you again!" | |
If there's someone else surpassing the Belmonts' popularity... it's this guy. Adrian is Dracula and Lisa's son. Unlike Dracula, he got to hear his mother's last words: to not hate humans. When his father begins his war on humanity, Adrian rebels and takes the name Alucard and... goes into a slumber, waiting for a potential ally to help him beat his father. This person happens to be Trevor Belmont, who swiftly kicked his ass and offered his services. After beating his father, Alucard prompted to get himself to his slumber again...
... only to awaken again after hearing of Richter Belmont's disappearance. Nobody's around to investigate Dracula's castle, so Alucard goes in himself. He meets up with Richter's ally Maria and they search for Richter. They find that he's been Brainwashed by the dark priest Shaft and used to resurrect Dracula. Alucard frees Richter and defeats his father once again and returns to his slumber, waiting again to oppose his father.
He resurfaces again in 1999, masterminding Julius Belmont's final defeat of Dracula. When the castle appears within an eclipse in 2035, Alucard (as his new identity of Japanese government agent Genya Arikado) goes in to help Soma Cruz and guide him in his discovery of his identity as Dracula's reincarnation.
Tropes associated with Alucard:
Curse of Darkness
Hector
| | | |
| --- | --- | --- |
| |  "Isaac! I will hunt you down like the beast you are!!" | |
Hector was once a servant of Dracula, a Devil Forgemaster. When Trevor beats Dracula, Hector decides to just settle down and live in peace with his wife Rosaly... until another Devil Forgemaster, Isaac, accused her of witchcraft and got her burnt at the stake, prompting Hector to pursue Isaac (who was already planning some sort of Xanatos Gambit to revive Dracula.)
Tropes associated with Hector:
Isaac
| | | |
| --- | --- | --- |
| |  "You will receive the most gruesome fate for the humiliation you brought upon me three years ago!..." | |
The other Forgemaster. Not particularly happy with Hector's betrayal of Dracula, blaming the man for the fact that Trevor was able to get to Dracula at all (he says this outright in the Tokyopop manga). He has a devious and original scheme with which to get back at Hector, but in truth it's not even really his scheme at all... Dracula is not the nicest of employers.
Tropes associated with Isaac:
Julia Laforeze
| | | |
| --- | --- | --- |
| |  "Be vigilant Hector. I have an ill feeling. It bodes not well." | |
Isaac's younger sister, she's a witch who managed to escape the witch hunt and aids Hector in his quest by healing him, setting up shop, and managing his Innocent Devils. Although she tries to convince Hector to not slay her brother, she is prepared for the worst.
Tropes associated with Julia:
St. Germain
A mysterious, eccentric man in a top hat who shows up as a neutral party. Nobody has a good concept of who or what he is, but he has some control over time. He at first seems to want to stop Hector from pursuing Isaac, but after a clash with Zead/Death, he changes his mind and leaves Hector to his own devices after dueling him in a rift where he can use some of his power. Fans suspect he may be in some sort of time watching organization with Aeon, if not the same person in a different form.
Tropes associated with St. Germain:
Adventure/Belmont's Revenge
Christopher Belmont
A Belmont descendant that takes on Dracula when he revives... that's all his story is about in Adventure. In Belmont's Revenge, his story was fleshed out a bit with the birth of his son Soleiyu]] (properly Soleil), who was about to inherit the Vampire Killer until Dracula possessed him. Chris jumps back into action to save his son and succeeds. There is a remake of Adventure, which seems to be rather different in content.
Tropes associated with Christopher:
Resurrection
Victor Belmont
Although Victor was born in the 1800s, the Powers That Be pulled him to the year 1666 to assist Sonia Belmont in destroying Dracula. When he was young, he decided that he wanted no part of the Belmont family's job as vampire hunters, and ran away from home. As he grew older, he took up gambling and also learned of the arts of warfare. One night in the 19th century, he got in a fight with another man when gambling. As Victor pulled out a knife, he was suddenly transported to the year 1666 by mysterious forces.
Victor was going to be one of the protagonists of Castlevania Resurrection, along with Sonia Belmont, but the game was unfortunately canceled.
Tropes associated with Victor:
Vampire Killer/Simon's Quest
Simon Belmont
| | | |
| --- | --- | --- |
| |  "On my honor as a Belmont, I will destroy you." | |
The very first Belmont, and probably the most popular next to Richter. At first, Simon's purpose is simple: Fulfill his family's legacy by entering Dracula's castle and defeating him. He did so. But, Dracula, in his dying breath, gave him a curse that would slowly kill him. He didn't count on Simon's Badass qualities, though, so despite being cursed, Simon travels around Transylvania, and collecting Dracula's body parts so he can revive and destroy him, ending the curse.
He also gets to appear in Captain N, but he's a completely different character; a bumbling Jerk with a Heart of Gold instead of the straightforward hero he usually is in the games.
Tropes associated with Simon:
Carmilla
| | | |
| --- | --- | --- |
| |   "But isn't this world hellish already? People are intrigued by darkness, and covet power and chaos." | |
A devoted servant and worshipper of the Dark Lord, she has been actively involved in his resurrection on several occasions.
In Circle of the Moon, she acts as the main antagonist. Carmilla manages to revive Dracula, but not to full power, so she planned to sacrifice the vampire hunter Morris Baldwin during a lunar eclipse of the full moon. She also enthralls Hugh Baldwin to her will to help prevent Nathan Graves' interference. While ultimately defeated, Carmilla still manages to complete the ritual to restore her master.
Tropes associated with Carmilla:
Harmony of Dissonance
Juste Belmont
| | | |
| --- | --- | --- |
| |  "Do not underestimate the power of Belmont..." | |
Simon's grandson, a prodigious warrior who inherits the Vampire Killer in his mere teens. Juste is unique that he has a LOT of the Belnades blood in him, making him a Magic Knight. For some reason, he likes decorating rooms. He is best buds with swordsman Maxim Kischine and is the lover of Lydie Erlanger. At one point, Lydie vanishes, Dracula's castle rises and Maxim leads him there (acting a bit strange in the meantime). Juste investigates the castle, finding out that Maxim is being possessed, and ends up repeating Simon's feat of gathering Dracula's parts and reviving him only to destroy him again. Juste saves Lydie and Maxim, and it's all good.
Tropes associated with Juste:
Maxim Kischine
| | | |
| --- | --- | --- |
| |  "Tha-that bracelet... so you wore it after all..." | |
Juste's best friend since childhood. The two share a Friendly Rivalry, with Maxim occasionally trying to prove that he is more talented than Juste. Maxim specializes in fighting with martial arts and bladed weapons. In 1748, Maxim was possessed by the dark power of Dracula's remains and kidnapped Lydie Erlanger, his friend and Juste's lover, and brought her to Castlevania. With help from Juste, Maxim was able to keep it from completely overcoming him, until it left his body. After Juste destroyed the dark entity, he, Maxim, and Lydie escaped the castle.
Tropes associated with Maxim:
Lydie Erlanger
A childhood friend of Juste and Maxim. She is kidnapped and taken to Dracula's Castle, which leads Juste and Maxim to going there in the first place.
Tropes associated with Lydie:
The Merchant
A mysterious merchant that got lost within Dracula's Castle, so set up a shop there.
Tropes associated with the Merchant:
Rondo of Blood/Dracula X
Richter Belmont
| | | |
| --- | --- | --- |
| |  "Die, monster! You don't belong in this world!" | |
One of the more infamous Belmonts (thanks to Symphony of the Night) and probably Juste's son or at least his grandson. Richter has a girlfriend named Annette, until Dracula suddenly takes an active stance and assaults his home, kidnapping Annette, her sister Maria, and several other women. Richter heads to the castle, saves the maidens, confronts Dracula and kicks his ass.
Four years later, due to a plan by the dark priest Shaft, Richter gets possessed and raises Dracula's castle, acting as its master. He's freed by Alucard, and leaves the rest to him. Since the release of Portrait of Ruin, he is canonically the last Belmont to wield the Vampire Killer until Julius Belmont in 1999.
Tropes associated with Richter:
Maria Renard
| | | |
| --- | --- | --- |
| |   "So you do know how to be a gentleman." | |
A distant relative of the Belmont clan, she was captured by Shaft due to her magical powers, but was saved by Richter. She assists him in battle and lives to see Dracula beaten. In the SNES version, she and Annette (Richter's fiancee) were made sisters, a relationship that did not exist in the PC Engine original (although it was mentioned again in the manual of Symphony of the Night, but this was because the translator was more familiar with the SNES version than the PC Engine original, which was a Japan only release at the time).
Four years later, when Richter vanishes, a grown up (and really hot) Maria tries to investigate the castle herself, but she ends up meeting Alucard and works together with him. She saves Richter, and develops feelings for Alucard but is unable to convince him to remain awake. (However, if you get the Best Ending, Maria runs after Alucard, leaving Richter on the cliff. In the audio drama Nocturne of Recollection, Maria and Alucard are living together.
Tropes associated with Maria:
Adaptational Wimp: Kind of. The SNES adaptation Dracula X reduces her to a mere Damsel in Distress that's required to be rescued to complete the game, and doesn't even imply she had any supernatural abilities, in contrast to Rondo of Blood, where she's shown to be a skilled magic user (and in fact, the reason she got captured was due to recklessly trying to play the hero), and she had her own playable mode.

Relationship Upgrade: Non-romantic version. In Dracula X, she was listed as being Annet's biological sister. In Rondo of Blood, she's instead closer to Richter Belmont's adopted sister, and Annette's sister-in-law.

A-Cup Angst: Only in Judgment; she's obsessed about her chest size and admires the other females' assets.
Fan Nickname: Misa Renard, her Judgment self.
The Four Gods: Four of her animals are cuter versions of them.
Full-Contact Magic: In Nocturne in the Moonlight (see "What Could Have Been"), Maria mainly uses punches and kicks to fight, but also fires energy blasts from her fingertips to strike long-distance enemies. She can cast spells normally though.
Gratuitous Japanese: The names of her attacks. We know that the Castlevania games are made in Japan, but the only game that has anything to do with Japan is Aria of Sorrow (and Dawn of Sorrow, by extension, though in even lesser aspects).
Gag Boobs: Kind of. In Rondo of Blood, she is depicted as having large breasts, especially compared to girls her age (being 12 at the time of the game's events). Averted in the game's remake Dracula X Chronicles as well as Symphony of the Night, which depicted her as more petite.
Hey, It's That Voice!: Yoko Teppouzuka (credited as "Yoko Teppotsuka"; she's better known as Yuko Asahina, Shie, and Ai) in Rondo of Blood, Chisa Yokoyama in SotN, Sawa Ishige in The Dracula X Chronicles, Miyu Matsuki in Nocturne of Recollection and Judgment. In English, Michelle Ruff voices her in The Dracula X Chronicles, while Philece Sampler provides Maria's voicework in Judgment.
Improbable Weapon User: Animals, including owls, doves, dragons, cats...
Incorruptible Pure Pureness: She's shown to retain a child-like innocence during the events of Rondo of Blood/Dracula X Chronicles. It says a lot when Dracula of all people comes across as genuinely impressed by her retained innocence despite the Crapsack World she lives in.
Kid Hero: In Rondo.
She's Got Legs: And Grade C Zettai Ryouiki to help flaunt 'em.
Sweet Tooth: Richter's health powerups are meat. Maria's are sweet cakes, candies, and ice cream.
Token Mini-Moe
What Could Have Been: Older Maria was meant to be playable in SotN, but was scrapped due to time constraints (voice files can still be found on the disk). Nocturne in the Moonlight, the Updated Rerelease for the Sega Saturn, among other things, made Maria playable.

They Changed It, Now It Sucks: Some were not pleased that the Maria in the PSP release of Symphony of the Night was not like the Saturn version of her in combat.
Annette
Richter Belmont's girlfriend. She gets kidnapped in Rondo of Blood.
Tropes associated with Annette:
Tera and Iris
Tera is a nun and Iris is the daughter of a doctor. Both were kidnapped along with Maria and Annette.
Tropes associated with Tera and Iris:
Shaft
 Who is the evil priest who is The Dragon to the lord of beasts?

SHAFT!

Ya damn right.

Who is the man that wouldn't risk his neck for his brother man?

SHAFT!

Ya damn right.

Can you dig it?
Now that that little obligation is out of the way, Shaft was an evil priest who was helping Dracula kidnap little girls. Later, he was instrumental in keeping Richter Brainwashed and Crazy during Symphony of the Night.
Tropes associated with Shaft:
Galamoth
An extremely large demonic-looking being who resembles a dinosaur. Though originally introduced as the Big Bad in the Kid Dracula games, he made his first proper appearance in the Castlevania series in Symphony of the Night, followed by a cameo in Aria of Sorrow and a significant yet unseen villainous role in Judgment. Not much has been confirmed about him, but from what has been clearly established, he directly opposes Dracula and seeks to replace him as the lord of darkness. For some reason, he has spent far more time fighting Dracula's offspring.
Tropes associated with Galamoth:
Lisa
Dracula's second wife and the mother of Alucard. Introduce in Symphony of the Night where it was revealed that her death provoked Dracula into a war with humanity.
Tropes associated with Lisa.
Master Librarian
The keeper of Dracula's Castle's library. He helps Alucard in his quest to find out why the Castle has reappeared by selling him items and equipment.
Circle of the Moon
Nathan Graves
Another non-Belmont (and White-Haired Pretty Boy), he is trained alongside Hugh Baldwin by Morris Baldwin, a member of a group of vampire hunters who defeated Dracula. He is chosen over Hugh to inherit the Hunter's Whip (not the Vampire Killer), which leads to resentment on Hugh's part. When Dracula is revived by Carmilla, Nathan and co. go to the castle to put him down. Dracula separates Hugh and Nathan from Morris, whom he kidnaps in order to use in a ritual to release his true power. Nathan and Hugh split up, and eventually come to blows when Hugh is put under More Than Mind Control by Dracula. Nathan beats him, frees Morris after a fight with Dracula, and everybody escapes the castle.
CotM was also retconned by Igarashi, but this didn't stop him from borrowing the card system and adapting it into HoD's spellbook system. Igarashi un-retconned Circle of the Moon a few years later, but called this an Alternate Continuity.
Tropes associated with Nathan:
Magic Knight: He has plenty of card-based magic skills to augment his whipping.
Parental Abandonment: Both his parents died in the sealing of Dracula ten years prior.
Morris Baldwin
A vampire hunter who sealed Dracula away along with Nathan's parents 10 years before Circle of the Moon. He chose Nathan as his successor, rather than his son, Hugh.
Tropes associated with Morris:
Hugh Baldwin
Morris' son and Nathan's rival. He is jealous of Nathan because Nathan was chosen as the successor to Morris. He also believes than Nathan is too weak to fight alongside him.
Tropes associated with Hugh:
"Well Done, Son" Guy: Hugh's father chose Nathan to be his successor instead of him. His jealosy over this is what allowed Dracula to corrupt him.
Order of Ecclesia
Shanoa
| | | |
| --- | --- | --- |
| |   "I am the blade to banish all evil, and I've come to see you annihilated." | |
A tall, dark, and beautiful member of the Order of Ecclesia, an organization trying to find a way to defeat Dracula without using the Belmonts (or so she thought), and she has to contain the Glyph which contains her magical power. Shanoa was chosen to host Dominus, a glyph containing a portion of Dracula's power to kill him, but the Glyph was stolen by her brother figure Albus, and in the process she loses her memories and emotions. She is told to hunt down Albus, but eventually smells a rat in her organization after Albus tells her the truth regarding Dominus. Albus was trying to protect Shanoa from Dominus, since anybody who uses its full power will have their soul consumed. It turns out Barlowe, Ecclesia's leader and Shanoa's adoptive father, has been corrupted by Dominus and is trying to revive Dracula. Shanoa defeats him but Barlowe manages to revive Dracula anyway. Shanoa goes to the castle and defeats Dracula with Dominus, but is spared death thanks to Albus, who uses his soul to save her. Shanoa vanishes after Dracula's defeat, and Ecclesia's achievements are lost to history.
Tropes associated with Shanoa:
Albus
| | | |
| --- | --- | --- |
| |   "What... kind of brother would I be... if I didn't protect you...? That's... my role." | |
A childhood friend of Shanoa's, whom he views as a younger sister.
Tropes associated with Albus:
| | | |
| --- | --- | --- |
| | | |
Barlowe
The leader of Ecclesia. Also a worshipper of Dracula.
Tropes associated with Barlowe:
Legacy of Darkness/64
The N64 Castlevanias are largely panned but have a dedicated cult following.
Cornell
| | | |
| --- | --- | --- |
| |   "No one will listen to reason from the mouth of a beast." | |
A man-beast from a clan of similar individuals who sealed away their transformation ability in order to live alongside humans. But through rigorous training, he managed to regain such abilities. He heads to Dracula's castle to find the ones responsible for kidnapping his "sister" Ada, a survivor from a previous man-beast attack. After a confrontation with his jealous rival Ortega, he destroys Dracula and saves Ada, but at the cost of his alternate form. A form that is used to revive Dracula again, stronger than ever...
Tropes associated with Cornell:
Reinhardt Schneider
| | | |
| --- | --- | --- |
| |   "The destiny of my blood means I must destroy Dracula." | |
A distant relation to the Belmont clan, though not distant enough to free him from his duty of destroying Dracula whenever he arises. He was raised in the ways of the church and abhors attacking women and children, a trait that comes into question when he comes across a female vampire named Rosa in the abbey grounds. Even after her demise at the hands of Death, he remains resolute, successfully destroying Dracula's new incarnation and proving that even the damned are worthy of forgiveness. Unfortunately, he's very difficult to play as, and thus only those with the maddest of superskills (and stubbornness aplenty) reach the end of his story. And if you think he's got a silly name, well--he was almost Schneider Belmont.
Tropes associated with Reinhardt:
Carrie Fernandez
| | | |
| --- | --- | --- |
| |   "While Dracula exists, children live in terror. I cannot desert them!" | |
A young descendant of the Belnades clan of witches, she lost her family when she was a child. Hearing of Dracula's return, she sets out to put an end to his evil. It is through these events that she rediscovers the importance of family, most directly through her confrontations with the Wicked Witch Actrise. (And that Actrise really was quite a piece of work...)
Tropes associated with Carrie:
Henry Oldrey
A young boy who was caught in the middle of Dracula's latest attack when his wealthy family's manor was occupied by vampires. With the blessing of his not-yet-vampirized mother and Cornell's assistance, he managed to escape with his life.
Years later, the forces of evil emerged yet again, abducting children to achieve their unholy goal. Henry decided that he would save the kids in the same way that he himself had been saved. Problem is, he's not a vampire hunter of any particular lineage. Solution? Wear a lot of armor and carry a gun.
Tropes associated with Henry:
Actrise
A witch who valued her beauty more then anything else in the world. She entered Dracula's service by sacrificing 100 children including her own child. Is defeated by Carrie Fernandez.
Tropes associated with Actrise:
Gilles de Rais
A vampire that was in service to Dracula. Like Dracula, he is also based on a real life figure, specifically an infamous Crusader who was excommunicated for practicing Dark Arts.
Tropes associated with Gilles de Rais:
Body Double: In the true ending,

it's revealed that he was the "Dracula" you fought against, and played the role to ensure that the real Dracula, Malus, could continue on.

French Jerk: He is based on a French Crusader named Gilles de Rais, who did several heinous acts such as demon summoning and murdering over a hundred children.
Undying Loyalty: Is shown to be loyal enough to Dracula to even pose as him in every way to ensure his master's survival, to say little about his role in Dracula being revived, not to mention reincarnated.
Bloodlines
John Morris
The son of Quincy Morris from Bram Stoker's Dracula novel. He witnessed his father's defeat of Dracula and swore to live up his name. When Elizabeth Bathory tries to revive Dracula, he sets out with his buddy Eric Lecarde, wielding the Vampire Killer, and successfully defeats both of them.
Unfortunately, since the Morrises are only distant relatives to the Belmont clan, the Vampire Killer drained his life away, and he was never able to fully heal the wounds that he received from Dracula. He trained his son Jonathan as best he could and gave him the whip, dying before he could explain the whip's true nature. Well, at least if you trust what Portrait of Ruin has to say about the matter.
Tropes associated with John:
Eric Lecarde
| | | |
| --- | --- | --- |
| |   "Witness the might of the Alucard Spear!" | |
Eric is a nobleman whose girlfriend was vampirized by Elizabeth Bartley (Erzsebet Bathory, really.). He goes along with John to defeat Dracula, using the Alcarde/Alucard Spear.
After learning that John became cursed, Eric opted to have his family become the guardians of the Vampire Killer, so the power and curse do not get misused. Unfortunately, when Eric investigates a recently raised castle before Portrait of Ruin, he gets ambushed by the vampire Brauner and is killed, and watches his daughters Stella and Loretta vampirized by Brauner. His spirit resides in the castle, and he helps out Jonathan and Charlotte in their quest.
His appearance is different in each game for some reason: in Bloodlines he's a Bishonen, in Portrait of Ruin he's a Cool Old Guy, and in Judgment he's a Wise Beyond Their Years child.
Tropes associated with Eric:
Portrait of Ruin
Jonathan Morris
| | | |
| --- | --- | --- |
| |  "We can take on anyone. No problem!" | |
Hotheaded son of John Morris and childhood friend of Charlotte Aulin. Jonathan dislikes his father for just teaching him the basic of combat, then leaving him to investigate Dracula's castle. However, he meets the ghost of his father's friend Eric and learns the truth behind his father's death and comes to respect him. He and Charlotte saved Eric's daughters from vampirization, and fought the memory of Vampire Killer (in the form of Richter Belmont), earning him the right to wield the Vampire Killer. Eventually, he confronts Brauner as well as Dracula (and Death at the same time!) and beats all three of them, with assistance from Charlotte.
Tropes associated with Jonathan:
Charlotte Aulin
| | | |
| --- | --- | --- |
| |  "I'll be with you, so relax. You'll be fine." | |
Originally named "Charlotte Orlean" during the beta period of the game's development, a Cute Witch deployed from the church to assist Jonathan in his task. Charlotte mostly acts as the intellectual foil to the hotheaded Jonathan. She eventually learns a spell that proves to be vital in curing the vampirization of Stella and Loretta, and later helps Jonathan out in defeating Dracula.
Tropes associated with Charlotte:
Stella and Loretta
Brauner's twin vampire daughters (not really) who appear occasionally to antagonize the duo.
Brauner
| | | |
| --- | --- | --- |
| | | |
An artist whose daughters were killed during World War I, Brauner went insane from the grief and decided to become a vampire and Kill All Humans. He decided to use Castlevania as his base of operations for this purpose, but also decided that Dracula's failure rate was too great for the Dark Lord to be allowed to join in on the fun, and used his paintings to keep Dracula's power sealed up and easily controllable. (Death was not amused.)
It is worth noting at this point that in the whole of the Castlevania series, Brauner is the only character to call out Dracula for dying so ridiculously often and never accomplishing anything.
Later, Brauner noticed an interloper within the castle halls. This interloper turned out to be Eric Lecarde. Brauner ambushed and killed him... just as Eric's daughters burst into the rooms, attempting a Big Damn Heroes moment. Brauner, noticing that they bore an uncanny resemblance to his own daughters, instantly concluded that they must be his own daughters reincarnated and vampirized them in order to convince them of the same (all while the dying Eric looked on helplessly.)
When Jonathan and Charlotte showed up some time later, Brauner wasn't happy about it, but underestimated the heroes. Unfortunately for him, Stella and Loretta were a bit too loyal to his cause, and tried to destroy Jonathan and Charlotte themselves (despite his repeatedly telling them to stay back, out of harm's way, and let him handle the situation.) This just ended up giving Charlotte and Jonathan the opportunity to cure the sisters of their vampirism and brainwashing.
When Brauner found out what had happened... well, he was rather upset. He promptly tried to destroy the heroes with his artistic powers, only to be crushed in battle. As he lay in his weakened state, he admitted that justice might not have been on his side after all, but adamantly refused to admit that his victorious opponents might have the moral high ground. That was all he got to say before Death showed up to finish him off and fully awaken the soul of Dracula.
Aria of Sorrow/Dawn of Sorrow
Soma Cruz
| | | |
| --- | --- | --- |
| |  "If I lose the battle... I want you to kill me." | |
A seemingly Ordinary High School Student caught in an eclipse which brought him to Dracula's castle. Guided by Genya Arikado, he ventures through the castle and later discovers the horrible truth: He is the reincarnation of Dracula. However, he resists his fate as the Dark Lord and manages to come out safely as a normal human.
Later, a cult confronts him, trying to revive Dracula, and chooses him as one of the candidates where Dracula could be revived. Soma confronts them and eventually prevails in resisting to become the new Dark Lord (again).
Tropes associated with Soma:
Julius Belmont
| | | |
| --- | --- | --- |
| |  "It seems that your dark power triggered the return of my memories." | |
The next Belmont after Richter to wield the Vampire Killer. Y'see, there was a prophecy that it wouldn't be wielded by the Belmonts again until a great battle in 1999, and when that magic time rolled around, Julius was the lucky one to be on Dracula duty. Julius has the honor of being the one who beat Dracula for good, sealing Castlevania in an eclipse (thereby denying Dracula's soul access to the stone that was keeping it out of the cycle of reincarnation long enough to resurrect), but the battle cost him his memory, and he lived as an amnesiac for over thirty years under the name "J".
Since the name "Dracula" filled him with dread for reasons he couldn't explain, he headed to Castlevania during its return at the solar eclipse to hopefully restore his memory. He meets up with Soma, and is eventually asked to kill him should Soma ever fall to The Dark Side.
Julius reappears to assist Soma in Dawn of Sorrow, and is the one to put him out of his misery in the bad ending of both games.
Tropes associated with Julius:
Yoko Belnades
| | | |
| --- | --- | --- |
| |  "Ha ha ha. It's so much fun to tease you. But this is not the time to be fooling around." | |
A descendant of Sypha. Yoko is a powerful witch, and is very skilled in the use of magic spells. She is a member of the church, and was sent to the Hakuba Shrine in 2035 to investigate the return of Castlevania, along with Genya Arikado. She was injured in the incident, but later recovered. In 2036, she assisted Julius, Arikado, and Soma in fighting the cult that was seeking to resurrect the dark lord.
Tropes associated with Yoko:
Hammer
| | | |
| --- | --- | --- |
| |  "You'll visit my shop again, won't ya? I'll be waitin' for ya." | |
Formerly a soldier in the U.S. Army, Hammer is one of Soma's friends and allies. He was sent by the army to investigate the Hakuba Shrine in 2035, and ended up inside Castlevania. After becoming friends with Soma, he decided to quit the army and get into the shopkeeping business. In 2036, he helped Soma find the base of the cult that was trying to revive the dark lord, and then unexpectedly showed up there to help Soma out by opening a shop. Hammer has a crush on Yoko Belnades, but seems to be too nervous to tell her.
Tropes associated with Hammer:
Mina Hakuba
| | | |
| --- | --- | --- |
| |  "No, not at all! At first we were shocked, but everyone believes you'll get through this." | |
Soma's classmate and best friend. Mina is the caretaker of the Hakuba Shrine. She is quite sociable, and makes friends easily. She and Soma are clearly romantically interested in each other, but neither of them will admit it. In 2035, she was going to watch the solar eclipse with Soma, but the two ended up inside Castlevania, where it was discovered that Soma is the reincarnation of Dracula. In 2036, after she and Soma were attacked by a cult seeking to resurrect Dracula, she was placed in the protective custody of Arikado's colleagues while he and Soma were off fighting the cult.
Tropes associated with Mina:
Graham Jones
| | | |
| --- | --- | --- |
| |   "I was born on the very day that Dracula was destroyed... So, in short, that means that I AM Dracula!" | |
The founder and missionary of a religious group who appears in Aria of Sorrow. He possesses magical powers due to having been born at the exact moment of Dracula's death, and thus believes that he is the reincarnation of Dracula.
Tropes associated with Graham:
Chaos
A monster that is the source of all of Dracula's power. It gets destroyed by Soma at the end of Aria of Sorrow.
Tropes associated with Chaos:
Celia Fortner
The head priestess of a cult known as "With Light". She fervently believes that good cannot exist in the universe without an equal evil to balance it. With this in mind, she seeks to find someone to step up to the position of lord of darkness in Dracula's absence, or coerce Soma to change his mind.
Tropes associated with Celia:
Dario Bossi
A potential dark lord candidate, he is a criminal born on the same day as Dracula's demise. He possesses the ability to control fire.
Tropes associated with Dario:
Dmitrii Blinov
A potential dark lord candidate who was born on the same day that Dracula died. He possesses the ability to mimic any attack with which he is hit.
Tropes associated with Dmitrii:
Affably Evil: He is far less malicious than Dario, and repeatedly states that he is merely interested in learning the meaning behind his abilities.

Until the end.

Did You Just Punch Out Cthulhu?: The first time we see him, although the creature is called Malachi in this game.
Evil Is Not a Toy: The dark lord's power overcomes him, killing him and turning his souls into Menace.
Grand Theft Me: Has his soul absorbed by Soma, copies his power of dominance, and then manages to possess a doppelganger to use as a new body.
My Soul Is Yours: When defeated, he promptly dies and Soma absorbs his soul, to his horror.
Offscreen Moment of Awesome:

He's the only villain in the series to ever defeat Alucard, with the help of human sacrifices and a "calamitous demon". Soma arrives after the battle is over.

Power Copying: His inherent ability.
Power-Up Letdown: His only available attack is the last soul ability with which he was hit. As a result, he can be forced to assume a particularly wimpy offense.
Judgment
Aeon
| | | |
| --- | --- | --- |
| |  "My name is Aeon. Shall we begin the first trial?" | |
A mysterious wanderer of time, and a member of a group of similar individuals. He's the one responsible for gathering a large number of Dracula-related individuals from history to further his own goals.
Tropes associated with Aeon:
Golem
| | | |
| --- | --- | --- |
| | | |
An artificial being originally created by Carmilla to mindlessly guard ruins. Somehow, its arrival in the time rift granted it sapience, along with the ability to question its lot in life.
Tropes associated with the golem:
Lords of Shadow
Gabriel Belmont
A warrior from the Brotherhood of Light who seeks the powers of the lords of shadow to resurect his dead wife.
Anti-Hero: Becomes type IV, but after Pan forces Gabriel to kill him he becomes a type II.
Byronic Hero: Well-spoken, if not as demonstrably intelligent as many examples of the trope. Prone to brooding and "dark moods." He fights vampires and werewolves, but more for his own reasons than those of the Brotherhood, and while he admits that he has done "questionable things" throughout his quest, circumstances continue to force him to perform more. Also, he's willing to commit countless murder in order to achieve their goals - primarily his own interests rather than the greater good even though he has inherent good on him and do commit himself in achieving the greater good.
Dark Is Not Evil: While Shadow Magic is slightly corrupting, Gabriel can control it with the right discipline.

He ultimately becomes "Dracul", however...

Heroic BSOD: Experiences this after killing Pan.
Made of Iron: Manages to shrug off normally fatal injuries from Carmilla and Satan.
The Only One: Gabriel is the only one who can defeat the Lords of Shadow, yada yada.
Unexplained Recovery: Is actually killed at one point, but brought back.
Wham! Episode:

He becomes Dracul.

Who Wants to Live Forever??: Implied in the ending, where he, as "Dracul," states that he cannot die, but also cannot live.
You Don't Look Like You: His in-game design is very different from his appearance on the cover art.
Zobek
Gabriel's mentor and ally; also the Lord of the Necromancers.
Satan
The real big bad of the game.
Carmilla
The lord of the Vampires
Laura
Carmilla's "daughter" who was abducted and turned into a vampire.
| | | |
| --- | --- | --- |
| |  Claudia: I envy you. I envy you both... I don't want to play anymore. | |
Cornell
Lord of the Lycans.
Claudia
A mute girl and the last of her kind. Zobek manipulates Gabriel into killing her.
Black Knight
Claudia's protector; a giant golem infused with the soul of a murderer.
↑

Although, ironically enough, not for the actual Dracula, but his body double Gilles de Rais.
Community content is available under
CC-BY-SA
unless otherwise noted.