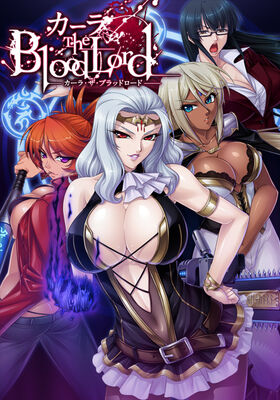 A secret feud between humans and vampires is now a thing of the past and peace has been achieved under the beautiful vampire queen, Cara the Bloodlord.
However, there are those that protest against this peace between humans and vampire. The biggest objector is Gram, Cara's uncle, who despises humans and treats them like livestock. Gram's illegal business of human trafficking was brought to light by Cara and he was seemly killed by him. However, Gram narrowly escaped with his life. Gram swore revenge against Cara even when allowing himself to a host to demonic "bugs" in order to achieve the powers he needs for his revenge. He plots to infiltrates Japan, the land where the treaty for peace between humans and vampires is set to be sealed forevermore.
Using the forbidden manipulation of "bugs", Gram targets Cara and her allies. Using these "bugs" to Secretly infect their bodies, the heroines are subjected to a slow and ghastly brainwashing and 'training' without them even being aware of it. And as these strong heroines guarding the vampire queen falls one by one, will Cara's noble body itself becomes vulnerable to the wicked hands of revenge...!?
Cara the Bloodlord is a Hentai Visual Novel created by Lilith-Soft. Its story follow Gram Derrick, the Evil Uncle to the vampire queen Cara Cromwell. Gram plans to brainwash his niece and her allies just weeks before she is about to negotiate the terms of a treaty between humans and vampires, which threatens to puts an end to his human trafficking ring. Gram has to covertly brainwash Cara's allies to get to his niece using his magical parasitic bugs, all the while keeping up the disguises that he is a mild- mannered teacher of a High School for vampire slayers.
The game was praised for its unique characters and artwork, but was criticized for being a standard Lilith-Soft game that borrowed heavily story-line elements from their previous works, particularly the Kangoku Senkan franchise. Still the game manages to be one of their more popular works and its characters were even included in the Crossover game, Taimanin Asagi -Battle Arena. Despite the game's popularity, as of now there is no plans to make an anime adaptation of the game.
Cara the Bloodlord has examples of:
Community content is available under
CC-BY-SA
unless otherwise noted.