This page contains the characters of Camp Buddy. Beware of Spoilers!
Protagonist
Keitaro Nagame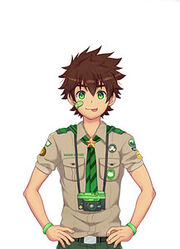 The game's protagonist and one of the newest arrivals at the camp.
Voiced by: Kiba Walker.
Yoshinori Nagira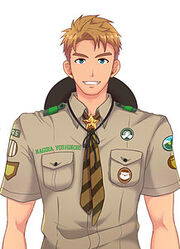 The camp instructor and the main protagonist of the upcoming DLC.
Voiced by: Kiba Walker.
The Love Interests
These are the five boys whom Keitaro can potentially establish a relationship with. Tropes shared by all five love interests:
Hiro Akiba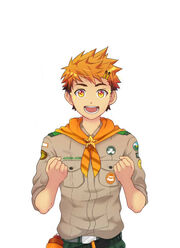 Keitaro's childhood friend and fellow member of the camp.
Voiced by: Shouta Sensei
Hunter Springfield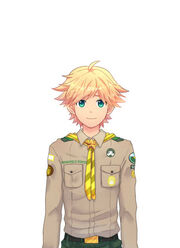 A shy bookworm boy who joins the camp under a certain circumstance.
Voiced by: Kolton Nation
Yoichi Yukimura
The wildest member of the camp.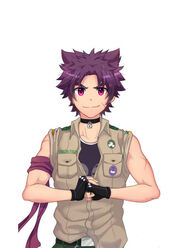 Voiced by: Shouta Sensei
Abusive Parents: His mother abused him because of his resemblance to his father whom he never met, and some time later she abandoned him. Kick the Dog indeed.
Alliterative Name: Yoichi Yukimura.
Animal Motifs: Wolf. It is also his party costume motif, but in Stripperiffic.
Astonishingly Appropriate Appearance: His spiky hair is shaped like wolf's ears.
Barely-There Swimwear: His swimsuit is so tiny that it barely covers his treasure trail.
The Big Guy: The most muscular of the boys and the group's main powerhouse.
Bigger Is Better in Bed: Occasionally flaunts his huge equipment size to the gang, notably toward his Vitriolic Best Bud Hiro, knowing the latter's possessiveness of Keitaro. However, in his bottoming scene, he does acknowledge that Keitaro's more average size perfectly satisfies him.
Break the Haughty: Poor Yoichi doesn't take Yuki's death well in his route (And that is without mentioning all the crap he was put through when he was younger).
But Liquor Is Quicker: In the sex scene at the end of Arc 3 in his route, Yoichi is drunk.
Catchphrase: "LAAAME!"
Chivalrous Pervert: While he enjoys making lewd remarks about pretty much everyone's sex life and is the most flirtatious of the love interets, he cares about his friends and will help and protect them when they need it the most.

In his route, it gets even more accentuated thanks to his dog, Yuki. He is always looking after her whenever he can.

Comical Angry Face: He is prone to make these kind of expressions.
Cute Little Fangs: Yoichi's canines are way more noticebale and pointier compared to the other characters.
Dark and Troubled Past:

He was abandoned by his mother at young age, left to fend and live for himself on the street until he met Yuki. The two lived by stealing and pick-pocketing until they were caught by Yoshinori, who invited them to stay with him at the camp.

Deadpan Snarker: It gets to the point in which it is actually easier to tell the scenes in which he doesn't let out any sarcastic remarks.
Disappeared Dad: Yoichi never met his father and he has no idea of who he was either, as he left Yoichi's mother before he was born. She wasn't any better than him though, if anything she was WAY worse than him.
Good Scars, Evil Scars: Has scars on the various parts of his body,

presumably from the time that he and Yuki still lived on the street and possibly from his mother's abuse

.
Hates Baths: Played with. He doesn't dislike taking baths per se, he just takes long gaps between showers. (During the seventh day, before the Shower Scene, Yoichi states that the last time he took a bath was three days ago.)
Heroes Love Dogs: He absolutely adores his dog Yuki. The same goes for the four pups she gives birth to during his route. Sadly their birth costed her her life.
Heroic Bastard: Implied. He never knew who his father was, and his biological mother abused him for his resemblance to him and called him a curse.
Hunk: A shounen variation. He still looks more realistically proportioned than any of the adult scoutmasters though.
Hypocrite: He is not amused with Yuri's perverted tendencies (moreover because he is usually her primary target) but he is not far from being a pervert himself, in his defense however his tendencies aren't as extreme as Yuri's.

At the end of the third arc, during Yuri's costume party he laughs at Hunter for his Stripperiffic Playboy Bunny costume, which he was forced to wear by Yuri, even though his own costume doesn't cover up much either.

In-Series Nickname: He's the absolute king of them and Hiro nicknames him "Wolfboy".
Jerk with a Heart of Gold: He may be rude and a pervert, but also loyal and reliable toward those that earned his trust.
Leitmotif: "Winter Wolf".
Lethal Chef: During Taiga's route he tries to make cookies... and uses ketchup as an ingredient.
Malaproper: In Taiga's route, he purposely calls out on Keitaro's for having "Cockhome Syndrome", not only on him for being an Extreme Doormate but also being addicted on Taiga's "dick and dickiness".
My Friends and Zoidberg: There's this conversation after the four main boys give Keitaro a box with cookies during the cookie exchange event in Taiga's route:

Keitaro: "They're all so cute together- I don't even want to eat them!"
Hiro: "Haha, you should take a picture before you do! You'll be able to remember them all that way! Even Wolfboy's monstrosity."

The Nicknamer: Gives everyone a nickname based on their appearance, animal motif and various gay stereotypes.

Keitaro = "Frogboy"
Hiro = "Torch-Head"
Natsumi = "Mr. Perfect"
Hunter = "Twinkerbell"
Taiga = "Dynamite"
Yoshinori = "Sheriff Brokeback"
Aiden = "Buttcheeks"
Eduard = "Spaghetti-Boy"
Lee = "Four-Eyes"
Felix = "Snowball"
Yuri = "Crazy Lady"
Goro = "Silver Fox"

By the end of his route he names Yuki's pups the nicknames he gave his friends ("Torch-head", "Twinkerbell", "Mr. Perfect"). Instead of naming the remaining pup Frogboy he names it Keichi; the ship name for Keitaro and Yoichi.

No Social Skills: His introduction scene involves threatning Hunter over food and smelling both Hiro and Keitaro. Later on during the game, Yoichi admits not bothering trying making friends before the current summer term. Even Natsumi states that it was difficult for him to become friends with Yoichi.
Only Sane Man: Ironically enough.
OOC Is Serious Business: If Yoichi isn't being... well, Yoichi, then that means that the situation that is happening at the moment is not Played for Laughs. In these situations he can look as more Closer to Earth than any other character.
Pet the Dog: Sure, Yoichi is an anti-social guy who claims that everything is "lame" and is always teasing his friends for his own amusment, but he does have a soft spot for them and will not tolerate it when someone is treating them badly. This is also quite done literally with his dog Yuki, as she is one of the most important things in his life. One of his his biggest Pet the Dog moments is in Hiro's route: while they both would usually be arguing, Yoichi instead gives Hiro advice to manage his relationship with Keitaro, as he is struggling with Keitaro being Oblivious to Love. Helps a lot that they both share plenty of Ship Tease moments to begin with.
Pitbull Dates Puppy: If Keitaro pursues him.
Puppy Dog Eyes: Surprisingly, this comes from him of all people during the third act in his route.
Purple Is Powerful: His color motif is purple and he is the strongest among the love interests and the campers.
Red Oni, Blue Oni: Red Oni to Natsumi's Blue.
Screams Like a Little Girl: When he gets terrified of Hiro's horror story early in the game. Lampshaded by Hunter.
Seme: The Seme to Keitaro's Uke in his route. Inverted during the the time Keitaro is sick in which he bottoms.
Ship Tease: With Hiro. Their relationship as the Vitriolic Best Buds can sometimes (a lot of times, actually) reach the point in which they look Like an Old Married Couple. They are usually seen together in the routes in which none of them are Keitaro's love interest.
Strong Family Resemblance: Apparently Yoichi resembles his father a lot, which is the reason for his mother's abuse and also the reason why she abandoned him at a young age. Given that Yoichi never met his father is hard to tell how accurate this information is.
Sir Swearsalot: Yoichi is the most foul-mouthed of the love interests.
Stripperiffic: You have his sports uniform, which consists in just a pair of shorts (which also happen to show a bit of his pubic hair), his swimsuit, which is a bit tiny for him and finally His wolf costume during the Costume Party.
Sweet Tooth: Throughout the game, it became clear that Yoichi is not indifferent to sweets, especially to marshmallows.
The Tease: He sexually teases Keitaro in his route, especially during the beach trip.
Tsundere: Type B. Playful and energetic most of the time, yet easily teased by Keitaro and/or Hiro on various occasions. He even lets out the typical Tsundere catchphrases in more than one occasion during his route.

Yoichi: "Don't get the wrong idea! I'm just gonna do this because you're so persistent! I have nothing else to do, got that?"

Tragic Keepsake: The artbook reveals that the key and lock pair of chokers are

the only thing that he has left of his father, whom he never met and knows nothing about

. Double once more with

Keitaro inheriting the key half following Yuki's death and wearing it as a symbol of him and Yoichi starting a new "family" (with Yuki's four pups) together

.
Undying Loyalty: At the end of the day, even though Yoichi knows fully well that

neither of his parents cared about him

, he still can't bring himself to hate them.
Vitriolic Best Buds: With Hiro on most routes, as they cannot stop arguing with each other. On Hiro's route, however, he's more on the "best bud" side than the "vitriolic" one.

This can also lead them to potentially hook up if you get a bad ending with either of them.

You Gotta Have Blue Hair: Has purple hair.
Natsumi Hamasaki
Considered to be the best scout in Camp Buddy by many.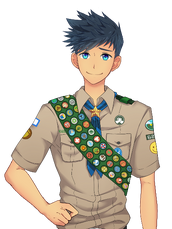 Voiced by: Dempster Riksa Lee
Taiga Akatora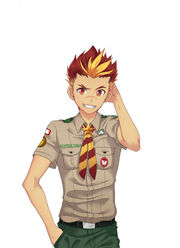 A troublesome member of the camp who is at odds with Keitaro.
Voiced by: Ezra Payne
The Instructors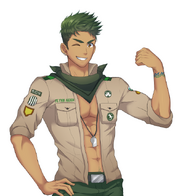 Aiden Flynn
One of the instructors and the cook at the camp. Also one of the two possible love interests for Yoshinori.
Voiced by: Sean Chiplock
Yuri Nomoru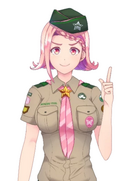 The only female instructor, camp member, and Goro's daughter. She enjoys male-on-male romance.
Voiced by: Kawtsuki
Goro Nomoru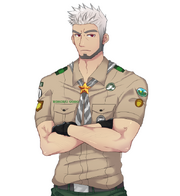 Yuri's father and the headmaster of the camp. One of the two possible love interests for Yoshinori.
Voiced by: Ian Pabito
Other Campers
Shintaro "Seto" Aihara
Felix Clermont
Eduard Fitzpatrick
Leonard "Lee" Kurosawa
A smart boy with sharp tongue and the other half of Taiga's lackey
Outsiders
These characters are usually exclusive to a specific route and have some connection to the Love Interest of said route.
Naoto Hamasaki
Natsumi's older brother
Archer and Heather Springfield
Hunter's parents.
Hina Akiba
Hiro's mother.
Kieran Moreno
Someone who once attended Camp Buddy with Taiga.
Ambiguously Brown: His skin color is darker than the rest of the cast (even more than Aiden's) but his ethnicity is never brought up. However, judging from his full name, it could be possible that he is bi-racial.
Animal Motifs: Lion.
The Atoner:

He feels (and is) responsible for everything that happened to Taiga and for ruining Camp Buddy's reputation to the point where it almost shut down for good, so after seeing Taiga again, he decided to volunteer for the Camp's Fundraiser in order to make up for his mistakes and apologize to Taiga.

Beware the Quiet Ones: According to Eduard and Lee, Kieran rarely interacted with anyone other than Taiga during the previous summer term.

Then there's what happened at the Sportsfest.

Crazy Jealous Guy: Taiga only wanted to spend time with his new friends. Kieran was having none of that and decided to get back at him for not spending time with him. Props to him for feeling guilty for his actions later on however.
Didn't Think This Through: Sure Kieran, OF COURSE betraying your best friend and lover is the best solution to you guys falling apart because you don't want to be around him and his friends at the same time! I'm pretty sure that will fix all of your problems in no time.
Driven by Envy: 

The reason for he decided to plot "revenge" against Taiga is because Taiga decided to spend more time with New friends instead of him.

First Love: He was Taiga's first boyfriend before the latter got together with Keitaro. Their relationship ended very badly though.
Foil: To Hiro. Both Hiro and Kieran have a very close relationship with the ones they are in love with (Keitaro and Taiga respectively), have a Single-Target Sexuality towards them and are both prone to jealousy when they spend time with someone else. However, Kieran does not appreciate Taiga spending time with other people instead of him whereas Hiro, while still upset about it, knows how to respect Keitaro's wishes. Kieran also managed to get in a relationship with Taiga whereas Hiro has only remained as Keitaro's best friend due to him being Oblivious to Love (unless Keitaro decides to choose him as his Love Interest). On the other side of things, Hiro is outgoing and very friendly while Kieran barely spoke with anyone and was not interested in making any other friends besides Taiga.
The Friend Nobody Likes: Inverted. Is not that he dislikes other people, but other than Taiga during the previous summer, it didn't look like he cared about whether people accepted him or not. And when Taiga decided to spend time with new friends instead of him...
Freudian Excuse:

As much as he regrets it, what he did to Taiga is not pretty nor justified.

If I Can't Have You: Downplayed. Seeing as Taiga seemingly prefered the company of his friends to his, he decided to plot "revenge" by ruining his reputation with the help of the Camp's bullies. However it seems like he Didn't Think This Through as he never thought it would escalate to the point it would become an incident that would ruin Camp Buddy's reputation or that it would cause his relationship with Taiga to end in disaster. He regrets every minute of it.
In-Series Nickname: "Eyebags" by, you guessed it, Yoichi.
Meaningful Name: Fitting for his appearence, his last name, Moreno, is spanish for "brown" or "tan" depending on the context.
My Friends and Zoidberg: Kieran grew more distant with Taiga due to him not wanting to socialize with anyone else other than him, as a result Taiga teamed up with Yoichi, Natsumi, Eduard and Lee for the previous year's Sports fest, excluding Kieran. That was the final straw for him.
My God, What Have I Done?: Blaming Taiga of something he didn't or would never do (beating up another camper) and then assaulting him, giving him the scar he has on his face. He deeply regrets all of this.
My Greatest Failure:

Making the Sportsfest a disaster of a event due to his jealousy, destroying his relationship with Taiga, giving him the scar he has and ruining Camp Buddy's reputation. We can at least give him credit for acknowledging his mistakes and try to make up for all of them.

Only Friend: Okay, he and Taiga were more than friends, but Kieran never bothered to make friends with anyone else during the time he spent at Camp Buddy prior to the game's events.
Single-Target Sexuality:

Seems to have one towards Taiga. Subverted at the end of Taiga's route, as he has found someone else. Maybe...

Tears of Remorse:

When he propertly apologizes to Taiga for what happened the previous year.

Walking Spoiler: It is very difficult to talk about him without giving away major spoilers for Taiga's route.
We Used to Be Friends: More than just friends actually. Taiga doesn't like talking about him that much and never brings him up during conversations.

It is for a good reason, as Kieran reminds Taiga of a past he is trying to forget and make up for. At the end of his route however, they are back on good terms with each other.

Yandere: Downplayed. See Crazy Jealous Guy avobe.
Community content is available under
CC-BY-SA
unless otherwise noted.