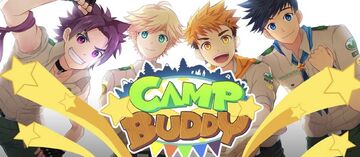 Camp Buddy is a Boys Love Visual Novel by BLits. The offical game was released on Sunday, November 11, 2018.
Keitaro and his best friend Hiro join the summer scout 'Camp Buddy', making new friends out of the colorful casts of the members.
However, when the headmaster of the camp threaten to close it down, it is now up to Keitaro to find out its cause and prevent it before everything is too late while also perhaps romancing one the members and finding a boyfriend at the same time. No matter the option, this summer is going to be the one that he won't be able to forget easily.
The main game is currently released. An expansion pack featuring Taiga as the fifth love interest and Yoshinori as the main protagonist will be released at later date. As of November 27th 2019, Taiga's route is finally released for playing to everyone who had purchased the game as free DLC and is also bundled with the current version. An expansion pack with Yoshinori's as the protagonist is currently in production, and will be released at later date some time in 2020.
Tropes used in Camp Buddy include:
Community content is available under
CC-BY-SA
unless otherwise noted.