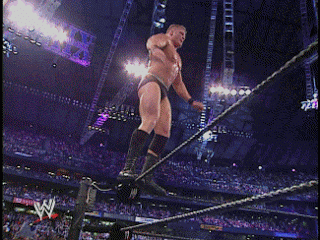 The day when Brock superplexed The Big Show, leading to the ring collapsing, is still one of the most memorable moments from WWE Smackdown.
His Iron Man match with Kurt Angle in 2003 which won the match of the year. He won. Generally most of his matches with Angle, but this is the best.
He's back. The day after Wrestlemania 28, Lesnar interrupts John Cena's promo, and hits the F-5 on Cena, and in Michael Cole's words, "drastically changed the landscape of the WWE."
The next week on Raw, Lesnar gets into a fight with Cena at the top of the show, and manages to land a punch hard enough to make Cena bleed from the mouth.
One of his finishing moves in OVW was the SHOOTING STAR PRESS. There's a guy like Evan Bourne doing that...and then there's Brock freaking Lesnar doing that. Death From Above, anyone?

Pictured on the right, the last time Lesnar doing a Shooting Press was on his match against Kurt Angle in their match in Wrestlemania XIX. Sadly, Lesnar's SSP missed its mark, giving the big guy a concussion and nearly broke his neck, which could paralyze him or worse. Luckily, Lesnar was able to beat Angle and win the WWE Championship.
Tazz: Lesnar did not hit that whole Shooting Star Press, that was obvious. And Lesnar landed on the back of his head; that's 290 pounds coming down on your neck!
His return match at Extreme Rules 2012 that was a 20-minute No-Holds-Barred Beatdown of Cena, busting him open (hardway) 30 seconds in with elbow strikes, doling out stiff clotheslines, chaining Cena's feet together and dumping him upside down off the turnbuckle, wiping Cena's blood on his chest then tasting it, even laughing off a knee injury when taking a nasty spill outside.

Although he came up short,

there was no denying Brock still had a badass aura in spades unseen in the company in ages.

What's more awesome is that the outcome of the match was part of Brock's Xanatos Gambit, which is to hurt Cena and bring legitimacy not seen in years!

He broke The Undertaker's Wrestlemania Streak at Wrestlemania 30. He is "The One in 21-1"
Lesnar trashing J&J Security's Cadillac right in front of Seth Rollins and J&J Security, with a freaking axe before breaking Jamie Noble's arm and sending Joey Mercury to Suplex City. Looks like Brock's been playing old-school Street Fighter.
Royal Rumble 2020: On top of being the first entrant, Lesnar dominates 13 competitors in the eponymous Royal Rumble match in just 34 minutes to the point of turning the match into a Hopeless Boss Fight! Not even powerhouses Braun Strowman and Keith Lee could not stand against him. It only took a miraculous low blow from Ricochet and a Claymore Kick from Drew McIntyre to finally send Lesnar out of the ring. No wonder Drew ended up winning the Rumble?
UFC
Brock Lesnar hitting Heath Herring with a single punch to the face so hard that he spun backwards!
Brock's fight with Shane Carwin. Carwin was 12-0 in the UFC by that point, with every fight lasting only one round. Lesnar was (IIRC) 4-1 at the time, trying to make his way back after his initial loss to Frank Mir. In the fight itself, Carwin pounded Lesnar to within an inch of his life. Most fighters would have been completely done for not long into the match. Referee Mario Yamazaki realized that Lesnar was still defending himself, and didn't stop the fight. And for the first time in Shane Carwin's career, the first round ended. As it turned out, Carwin had exhausted himself in the first round, while Lesnar in fact was still comparatively fresh (how, don't ask). Lesnar took Carwin down quickly in the second round and ended the fight.
Community content is available under
CC-BY-SA
unless otherwise noted.