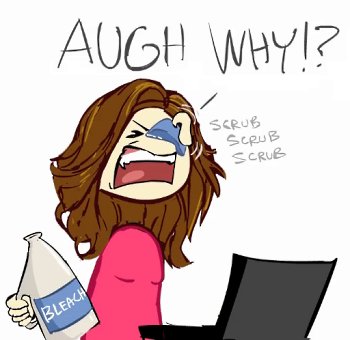 "

Of what a strange nature is knowledge! It clings to the mind, when it has once seized on it, like a lichen on the rock.

"
"I don't know what the shit that was, but thank you so much, Man's Best Friend, for teaching the world this was possible! I don't know what I would have done, living in the blissful ignorance of dog rape!"

A character has just witnessed something so icky, so unsettling, so horrific, that he must express his disapproval. This Is Wrong on So Many Levels that a simple "That's gross" won't suffice — only Brain Bleach can make things right.
The character informs the world that the continued knowledge of this subject is an unbearable affront to his sanity. He will not be at peace until he can remove his brain from his skull, proceed to scrub the offending mental image out with steel wool and mental floss, then disinfect the entire area with bleach (disinfecting his eyes or ears with fire is optional).
In the sporking/MS Ting/mocking community, there exists an offspring named Bleeprin which is a mixture of industrial-strength Brain Bleach and Aspirin — Aspirin against the headache, Brain Bleach against the Badfic. Also Bleepka, which combines Brain Bleach and vodka. Its application is obvious.
A Super-Trope to Screaming At Squick (a specific reaction to this).
Compare with Out, Damned Spot! (characters try to scrub away their guilt) and Kill It with Fire.
For those subjects that make you or the audience want to reach for the Brain Bleach, don't list them here. This is for in-universe reactions only.
Will probably be necessary after seeing No Yay, Glurge, a Gainax Ending, a Shock Site, Squick, and Fan Disservice (among many other things). Often the result of Schmuck Bait.
This item is available in the Trope Co catalog.
Examples of Brain Bleach include:
Advertising
This video of Inochi-Kun, some weird ... alien ... cyborg ... thingy that gets boners. Just ... watch.
Anime & Manga
After the reveal of "The Event" in episode 10 of Kamen no Maid Guy, God goes for the Brain Bleach and smothers the entire scene in heavy downpour, presumably to wash away the memories of having ever seen it.
In One Piece, most of the male crewmembers suppressed their memories of seeing Kokoro in her mermaid form, which is later acknowledged when they claim Camie was the first mermaid they've met.

For those who don't know, Kokoro looks like this.
Lampshaded by Chopper, who notices that peoples memories about Kokoro disappear when they meet Camie.

Bleach: Yumichika reacts to Charlotte Cuulhorne as if Cuulhorne's appearance is this. When trying to close his eyes to block out the horror fails, he decides the only solution is to wipe Charlotte out of existence.
Azusa of K-On reacts this way to a video of an unfortunate incident at the band's previous performance; in the English dub, she actually says "I can't unsee it!"
In Fairy Tail, Mirajane decides to imagine what Elfman and Evergreen's child would look like, then is traumatized.

In the first OVA, Natsu, Gray, and Gajeel accidentally see Makarov naked, with accompanying horror and disgust. "My eyes!"

In the Daily Lives of High School Boys skit High School Boys and Panties, Motoharu pretty much cried out for brain bleach after peeping Ringo-chan's panties--not that her panties were any special, but out of Heel Realization about doing thing that can't be undone. Specifically, he (and the rest of student council) tricked Ringo into flaunting her panties. There was so much Heroic BSOD that he skipped school for three days.
In To Aru Majutsu no Index, during the Freaky Friday Flip incident, this is Touma's reaction to his mother in Index's body and Index in Aogami Pierce's body.
Comics
Spider-Man goes to shower after seeing J. Jonah Jameson Sr. in bed with his Aunt May.
Happened before during J. Michael Straczynski's run on Amazing; Peter visits L.A and accidentally sees a man (a rather heavy-set man, no less) cross-dressed in lingerie. He thinks to himself:
 "Just keep going, Peter, it's nothing that gouging out your eyes and washing them in sulphuric acid won't fix..."
 "Image...scarred into...forebrain...Scarred..."
X-Men has a few during Joss Whedon's run, the most specifically invoking this trope being:
 Emma Frost: J. Jonah Jameson'll be tongue-kissing Spider-Man before the X-Men catch a little public favor.

Shadowcat: Why do you insist on saying things I can never unhear?
A truly horrific example: Alan Moore's "Love and Death" arc on Swamp Thing started with Abby Arcane Cable ripping off her clothes, trying unsuccessfully to burn them ("She had become a little crazy by this time.") showering heavily and then scrubbing herself bloody with a vegetable brush after she learned that

her husband Matt was really an animated corpse containing the spirit of her evil uncle Anton Arcane. Unintended necrophilia and incest? Yeah, all the brain bleach in the world won't wash that away.
 And she thinks, "How long have I been married to...?" And she thinks, "How many times did...?" And she knows what the bad thing is, and where the stench is coming from.
To give people ample warning on that spoiler: scrubbing her flesh until she passes out with horror and blood loss is so far removed from what's under the spoiler, that people reading the comic frequently forget that Abby likely mutilated herself in an unsuccessful attempt to get clean after her realization. You have been warned.

Amelia Rules is kind enough to offer the readers time to apply Brain Bleach to erase what images Ninja Joan's story about how she caught her fellow ninjas skinny dipping might have conjured in their minds:
 Ninja Joan: They were N-U-D-E naked, and swimming in this pond. So I get an eyeful of this scene, and like, totally freak. Aaagh! My eyes! My eyes! So they all go running behind this shrub, screaming Get out of here! Get out!

Amelia: Wait a second, if they were in the water and then behind a shrub, you didn't really see anything, right?

Ninja Joan: Weeell...it was a very small shrub.

(beat)

Amelia: (voice over) Why don't I give you a minute to erase that horrible image...Okay, ready?
Zits has a moment like this in one strip where a bored Jeremy complains that "nothing ever happens around here," which prompts his dad to take his shirt off and dance around (all 300-some pounds of him) singing, "Shake your bon-bon!" Afterward Jeremy goes to wash his eyeballs out.

In another example, Jeremy peeks around the corner only to catch his mother in a leotard practicing for her Zumba dance class (with her boobs jiggling in the air). He promptly asks his dad if there's a way to erase an image burned into his retina.
And the time his mother commented on an oldie he was strumming on his guitar: his parents had that song playing when he was conceived. Cue Jeremy with his head under the tap, running hot water into his ear.

Victor from Runaways can actually do this to himself, being a Ridiculously Human Robot. He's damn lucky.
  "Only death can release me!"
Sweden in this comic, from Scandinavia and the World.
Fan Works
Gaara's response to Rock Lee and Guy's student-teacher bonding in Naruto the Abridged Series: "Wow. I think I'm gonna need mind soap."

And Team Seven when Gai came out of the scroll:
 "Oh God wHy!" "My Eyes!" "Jesus Christ, somebody gouge out my eyes!"
  Vegeta: This is like looking at Freeza in the shower, Wait he's always naked....*Vegeta screams in disgust at the mental image*
 Erik:"...can't unsee..." *whimper*
One really funny FanFiction involves Batman, Barbara Gordon, Alfred, and Robin discovering someone had posted disturbing Joker/Batman slashfic online for everyone to read. Barbara and Dick react very badly to reading it (and no doubt the reader as well, unless they like that sort of thing):
 Barbara: Someone sent me some kind of…sick…gay…porn story, starring Batman and the Joker. And now I can't get it off my screen!

Dick: Eased out of his violet pants…fingers through green hair…tight against the wet spandex…Oh GOD! 'His turgid ivory white manhood'? Jesus! I think I'm gonna be sick!
 Utsuho (referring to Nitori): She's really shy! It's so cute! You have to see it sometime!

Ryan (thoughts): Well, now you have a whole bunch of images of shy lolis running through my mind. Oh, that can not be healthy. Brain bleach, gooooooo!

*THWACK!*

Utsuho: Ah! Y-you just punched yourself!

Ryan (thoughts): Yep. Brain bleach tastes suspiciously like copper, by the way.
 Sam: Your parents...well, our parents...are all upstairs.

Jet: "Upstairs? but there's nothing you've got upstairs but... (Fridge Horror as Jet realizes what their parents are doing...) Get over here, Sam. You fucking owe me vodka.
Due to it's infamious nature, Cupcakes tends to appear in other fanfics as a story In-Universe, a nightmare of one of the characters, or a horror movie. Most of the time, it'll get this reaction from the characters who witnessed it in some way, shape, or form.

In a Meta example, this fic has gained a reputation among the fandom for being used as effective Brain Bleach if one is still suffering psychological trama from reading Cupcakes.
Another example in Once Bitten, Twice Shy. After Applejack learns...through experiment...the significance of a unicorn's horn, she sprints away from Rarity planning to scrub clean her hoof and her brain. It takes the poor girl several pages before she can look a unicorn in the face without flinching.

In The Hill of Swords, Louise has this reaction after seeing her sister acting out a sexual fantasy while calling Shirou's name.
A non-squicky version appears in Turnabout Storm. Before the trial starts, Phoenix wonders what would Edgeworth do if he was in his shoes (that is, stuck in Equestria). Cue a mental image of Edgeworth gleefully playing with the ponies as we get this gem:
 Edgeworth: This is just like that one episode of the Steel Samurai where he meets the Pink Princess! WHEEEEEEE!!!!

[Back to the real world]

Phoenix: (Doctor, I'd like the part of my brain responsible for that image lobotomized, please...)
In the Harry Potter/Sailor Moon/Ranma One Half crossover The Girl Who Loved, Harry happened to fall into a Jusenkyo spring shortly after Sailor Moon had drowned in it. Her spirit came out of the pool and after spotting girl-Harry and briefly thinking how hot her body looked on somebody else, she equated it to perving on your twin and wondered if ghosts could use brain bleach.
Films -- Live-Action
One of most famous, and oft-referenced, examples is from Hardcore, when Jake VanDorn (George C. Scott) sees his own daughter doing porn on the screen in front of him.
 Jake: Turn it off, TURN IT OFF, TURN IT OFF!
Jack Carter, in the 1970 version of Get Carter, accidentally discovers that his niece - who is quite possibly his daughter - was cajoled into porn, when he idly turns on a projector in the house of a local gangster's moll. As the film runs, tears well in his eyes; he takes his mind off this by embarking on an orgy of revenge.
In Ace Ventura: Pet Detective, Ace reacts to the realization that a woman who he was sexually attracted to used to be a man by vomiting his entire stomach's contents into the toilet (using a plunger on his face), burning his clothes, and then scrubbing himself down in the shower while sobbing.

That scene was a spoof of The Crying Game. And even came with the song (as sung by Boy George) in the background.
The next scene, he's in his car, chewing a whole package of Big Red gum.

"Your gun is sticking into my hip. Eyuh!"

"It wasn't a gun! IT WASN'T A GUN!"

Oh, it gets better. When he reveals the fact to entire SWAT squad, the whole group starts spitting and puking.

SO DOES THE GODDAMN DOLPHIN! (er, both of them, as in Dan Marino and Snowflake.)
There's more to that. When Ace strips her down to her underwear but she still appears to lack the evidence, Dan Marino calls his attention to reveal one more detail. Ace strolls back to her and turns her around, revealing that she still has her equipment...on her ass. Cue the SWATs doing the retching routine. And they even put in the same music as when he had his own revelation!

Taken to its Cronenbergian conclusion by Darryl Revok in Scanners, who drilled a hole in his forehead to let out all the voices. The scar becomes his Red Right Hand.

This is homaged in X 2 X Men United, where Brian Cox's character reveals that his wife drilled a hole in her temple to let out some different voices. Unlike Revok, she died.

Eternal Sunshine of the Spotless Mind is about what it would be like if Brain Bleach really existed. Note that Jim Carrey, responsible for the Ace Ventura example above, plays it painfully straight here.
The neuralyzers in Men in Black, while normally used to brain bleach others, can also be used on yourself.
 K: I've just been down the gullet of an interstellar cockroach. That's one of a hundred memories I don't want.
Quick Change. After witnessing a faux-medieval event in a poor Hispanic neighborhood with two men jousting on bicycles with rakes, Loomis sums up the mood perfectly.
 Loomis: It's bad luck just seeing something like that!
In 8mm, after being told that the snuff tape is real, Mrs. Christian

commits suicide

.
In Whip It, Pash is incredibly drunk and about to puke, but it won't come out. Bliss tells her to imagine her dad naked. It works.
Inland Empire: The face.....th............th-THE FACE!
Johnny's reaction to Sue stripping down in Fantastic Four: "I'm gonna need therapy."
Played dead straight in the Korean revenge thriller Oldboy. Near the end, Oh Dae-su learns the horrific extent to which he has been manipulated throughout the story. He undergoes hypnosis in order to forget it.
Serenity: he doesn't witness it, but Mal is nonetheless horrified by Kaylee's description of her, um, dry spell:
Jason's reaction to Greg

putting milk up his butt

in Mystery Team. Charlie had a similar reaction.
Literature
In JRR Tolkien's The Silmarillion, the dragon Glaurung seems to posess very effective brain bleach, especially applied on Nienor.
In Breaking Dawn after Jacob sees Bella

apparently dead after giving birth

, he contemplates literally bleaching his brain to remove the image from his mind, deciding the potential for brain damage didn't outweigh his desire to forget everything.
In a Star Trek: New Frontier novel, after Calhoun and the bridge crew have been informed by a sentient computer that a level 3 diagnostic is like a head to toe gynecological exam, Soleta raises her hand and asks the captain for permission to forget she just heard that.
Done heartbreakingly in the Revenge of the Sith novelization, where Obi-Wan wishes he could tear his eyes out after seeing Anakin's Face Heel Turn (particularly, his murder of the younglings).
In Paths Not Taken, John Taylor intuits what disturbing source the Time Tower draws its power from. Having learned this, he says that he's seriously considering scrubbing out his frontal lobes with steel wool.
In the Magic the Gathering novel Planeswalker, Phyrexian newt Xantcha tells something-close-to-omnipotent Planeswalker Urza that knowing the name of the Ineffable (

Yawgmoth

) is something so terrible he ought to have it burnt out of his mind. So he does. Literally. With fire. In his mind.
Theon Greyjoy/Asha Greyjoy. Groping, near-sex. Poor Theon needs some Brain Bleach, stat!
In Unseen Academicals, Glenda views a stored memory of Ax Crazy orcs in battle at the Department of Post-Mortem Communications. The memory is three seconds long, and she spends the several seconds to follow trying to excise the previous three seconds from her own.

Played with in The Truth, when a Personal Dis-Organizer imp asks if it should erase its memory of events recorded for its previous owner. While holding a cotton-tipped swab to its ear.

The protagonist of Algernon Blackwood's "The Man Who Found Out" learned something so repellent from an ancient tablet that he literally had his brain bleached, demanding that a hypnotist eliminate the abhorrent knowledge via Laser-Guided Amnesia.
The Dresden Files the description of shagnasty. Unfortunately for Harry he'll never forget what it looked like.
In the Manly Wade Wellman story "The Desrick on Yandro", there's a creature called a Behinder. Nobody knows what it looks like, for it always attacks its victims from behind. John happens to be looking at Yandro when one makes its move:
 "The Behinder flung itself on his shoulders. Then I knew why nobody's supposed to see one. I wish I hadn't. To this day I can see it, as plain as a fence at noon, and forever will I be able to see it. But talking about it's another matter. Thank you, I won't try."
Live-Action TV
The page header quote, from Frasier, is his reaction to his brother mentioning he's only packing sunscreen for his honeymoon.

Frasier makes many statements like this in the series. Another example:
 Roz: Gosh, mine was this lifeguard. He had long blond hair and the bluest eyes. He used to get so sunburned, I'd spend hours just peeling the skin off his back. What was his name? Rick? Nick! I know there was an "ick" sound.

Frasier: I was about to make one of those myself.
 Roz: Big news. Gertie Oldson is leaving the station.

Daphne: What, from "Gertie's Grab Bag"? I love that show.

Frasier: Oh please, that homily-spouting Hausfrau? It's the most embarrassing thing on the air. So, she finally got canned, eh?

Roz: No, she got a million-dollar TV deal.

Frasier: (chokes on his sherry, then mock-calmly mutters) Well, good news for Gertie and for the many atheists who will welcome this new proof of their theory!
 Frasier: (after seeing his mentor Dr. Tewksbury wearing only Roz's robe) I've gone blind. And ten seconds too late.
"Slow Tango in South Seattle":
 Frasier: (reading the opening of Roz's new favorite romance novel) There are tangos that come flowing from the wine-colored seas, from the rust of a hundred sunken ships. This is one of those dances.

Roz: Well?

Frasier: There are books that make your stomach lurch, and rumble, and thrust your lunch ever upwards. This is one of those books!
In "Lilith Needs A Favor", Niles demands the Cafe Nervosa waiter use Brain Bleach to forget about what Niles thinks is a picture of Daphne's nipple.
 Waiter: Hey, where'd you get the nipple shot?

Frasier: Good lord!

Niles: (frantic) You are to erase that from your mind!

Frasier: Is it Daphne?

Waiter: (smiling broadly) Nice.

Niles: (to waiter) You're not erasing! ERASE!
Later, Niles finds out that it's a pic of Martin's nipple. Niles' horror is hysterical as he tries to forget ever seeing the pic. Martin's poor choice of words doesn't help.
 Martin: Oh, I can't wait to get to Bogart's. I know just what I'm going to get: the barbecue chicken breast. (Niles reacts in horror) They have the juiciest one in town. Or, or the lamb. They serve an enormous rack. (Niles cringes again)

Niles: (flustered) Great.

Martin: You might want to get an overcoat of Frasier's out of there. It's supposed to be pretty nippy tonight. (Niles cringes yet again)
The episode "Momma Mia" when Frasier finally realises that his girlfriend is identical to his late mother, and Martin thinks that he has further followed suit of Oedipus.
 Niles: [running for his bug spray:] Frasier, you didn't do anything wrong, your feelings for Mia stem from perfectly natural Oedipal desires.

Frasier: Yes, but Oedipal desires are supposed to resolve themselves by the age of six!

[Niles starts with the bug spray.]

Frasier: Oh for God's sake, give me that, you idiot!

[Frasier takes the spray and "blinds" himself with it accidentally.]

Frasier: [screams] I've blinded myself!

[Martin enters with water and sees the commotion.]

Martin: I leave you alone with him for two seconds!
ICarly: In the episode "iDate a Bad Boy":
 Sam: Check out this new video I found called Neck Infection.

Carly: Okay.

Freddie: Whatever.

Freddie & Carly: AAAAAAAAAH!

Carly: EWW EWW EWW EWW!!! (Runs away screaming)

Sam: Wait, Freddie, I want to show you this next part. It's really funny.

Freddie: (screams) MOMMY! (runs away)
Cheers: Diane reacts to Coach's daughter Lisa's fiancé's ideal sport: "all-nude full-contact female kickboxing":
 Diane: Excuse me, I have to go floss my brain.
On Friends, the Central Perk manager hates Phoebe's singing so much it makes him want to "push my finger through my eye, into my brain, and swirl it around."

In "The One with the Butt", Joey gets a gig as a butt double; he goes into Monica's bathroom to put lotion on his rear end in preparation for the "part". Chandler comes in with the phone in his hand:
 Chandler: Where's Joey? His mom's on the phone.

Monica: In the bathroom. I don't think you wanna go in there right now!

Chandler: Oh come on, we're roommates. (enters bathroom, runs out screaming) GAAAAAAH! MY EYES! MY EYES!
In "The One Where Everyone Finds Out", Phoebe sees Chandler and Monica having sex, and screams the exact same dialogue.

The Class: Kat shows them pictures taken of body parts from a cadaver.
 Ethan: Dear God, what is this?!

Kat: It's a tongue!

Ethan: It's not in a mouth!
In Supernatural, Sam catches Dean having a threesome in a motel room. Back in the Impala, he asks Dean for his knife. "...So I can gouge out my eyes!"
CSI gives a rather chilling instance of this in Season 3, Episode 2 (The Accused is Entitled), when the killer was so disgusted by the fact that the "woman" he slept with was a man, he killed him in a violent rage.

There was another episode, "Two and A Half Deaths", wherein a man accidentally sees a man and a woman get down to business in front of him (he was hiding in a closet with wooden-slat doors).
 "Some things, once you see 'em, you can't unsee."
NCIS has an episode, "Dead and Unburied", where Tony asked to see the body of a deceased Casanova to determine whether the man had had a large penis. Ducky obliged. Unfortunately for Tony, that particular body part was in an advanced state of decomposition.
 Tony: Is there a way you can psychologically unsee something?
There aren't enough handywipes in the world to clean Monk's brain after reading the innuendo-filled memoirs of an actress from the only TV show he ever watched as a kid. A certain page is so disgusting his assistant rips it out before he can read it and at the end Monk returns the book, the page replaced with a page from Charles Dickens.
In Hannah Montana, after finding out that

the reason Oliver calls Lily "Lilypop"

is because

he liked her even when she had a pimple

, Miley replies, "I could have lived my whole life without knowing that."
A 2004 episode of Saturday Night Live featured Lindsay Lohan in a Harry Potter sketch. Lohan played Hermione, who had obviously "blossomed" over the summer away from Hogwarts, which Hagrid notices, to his chagrin:
 Hagrid: (to Hermione) Hello, who are you?

Hermione: Hagrid, it's Hermione.

Hagrid: (eyes widen) Yikes. What happened? Take it out of my brain, take it out! Doot-doot-doot-doot-doot! Okay, well, all right, I'd better go out to the woods and tame my dragon.

Harry: Ah, you got a new pet?

Hagrid: (pause) Nope.
Web Soup offers a "Palate Cleanser" clip (usually cute animals acting cute) to serve as much-needed Brain Bleach following the disturbing "Things You Can't Unsee" segment.
Whose Line Is It Anyway occasionally featured calls for the brain bleach:
 Greg has just performed a song about vacuum cleaners as a German cabaret girl

Drew: $1,000 to whoever can find me a brain scrubber, so that I can get the image of that tongue-wagging out of my head so I can sleep tonight...
The Office: Michael, after having walked in on the hospital room where Pam is giving birth.
 Michael: Gotta go wash my eyes...
True Blood: Tara, faced with watching

a doctor aspirate Jason to treat acute priapism (i.e. stick a big needle into his swollen pee-pee)

, informs the world at large that "I ain't never gonna be the same after this."
Tensou Sentai Goseiger has the Mind Wash card, exclusive to the Blue Ranger, which functions in the same context as neuralysers in MIB (both are uniformed groups who must keep large-scale activities secret from the public). One difference though - a small boy named Nozomu is immune to it, which kicks off the series proper.
Wizards of Waverly Place: Everyone's reaction when they find out that Shakira is really a man.
 Max: Our dad kisses your poster!
The Doctor Who episode "The Beast Below" had the characters receiving horrified messages from themselves, recorded just before they applied Brain Bleach to themselves. The ship they were on could only keep its inhabitants alive by torturing the last surviving Star Whale, and anyone who got in trouble in sight of the Monster Clowns, not including children, was fed to the whale to keep on a perpetual motion device of suffering.
At one point in Married... with Children, Al accidentally sees Peg's mother naked. His response is to stumble backwards, clutching his eyes. "I've gone blind!"

Another episode sees Al after a seeing a fat woman's underwear at the shoe store.
 Al: First thing they teach you when you're a rookie salesman is never look up. I looked up, Peg. I saw underwear. It said Saturday.

Peg: So what?

Al: TODAY'S WEDNESDAY!
On The Daily Show, during a January 2011 segment on how all the zodiac signs have changed, Jason Jones reveals a rather...Um...Revealing tattoo. Jon Stewart replied that he'd probably have to get the image burned from his brain by laser.
In an episode of Being Human, upon visiting a vampire party, full of humans willingly offering themselves as food sources to rather underdressed vampires, George turns to Nina and requests that when they get home, she remind him to "gouge out his brain, with a spoon".
Everybody Loves Raymond: Upon hearing about his father swimming nude at the lodge, Ray says, "I'm gonna gouge out my eyes." Which in turn prompts Robert to reply, "But you can't gouge out your mind's eye."
Quoth Sean of Hustle, after seeing Eddie pretending to be a stripper: "I'm gonna wash my eyes out, with mouthwash."
Community: Annie wishes she had some after questioning a lawyer about which room his office is in.
 Annie: First, he said it was 69. I wanna rub Purell on my brain.
Dollhouse recruited its doll volunteers from people who were desperate to forget something.
Buffy the Vampire Slayer - Willow's offhand statements start coming true - so Giles is struck blind, and Spike and Buffy start making wedding plans. Xander sees the two all lovey-dovey and asks "Can I be blind too?"
Scrubs - This dialogue between Dr. Cox and Carla:
 Dr. Cox: Just the organs, Bob, don't need the visual of old men with erections.

Carla: And now it's in my head forever.
That 70s Show: Eric Forman walks onto his parents having sex, and spends the rest of the episode acting like a zombie.
The L Word: Final Season. All the brain bleach on earth...
Mystery Science Theater 3000
 Tom: I'm being punished for something, I know it. What did I do? I DIDN'T ASK TO SEE THIS MOVIE!
 Crow: Mike, I'm going to ask you to kill me now... Mike, please kill me.
 Crow: How can we make a sketch when we have to watch...uh...uh...uh...MANOS! THE HANDS OF FATE...
 Tom: Mike, if I run out of vomit can I have some of yours?
 Crow: To be dead...To be nothing...To watch Neptune Men no more...
  Crow: [mocking the narration] There was no dignity for anyone who worked on this film!
"Robot Rumpus", a Gumby cartoon short preceding The Screaming Skull, after the Bots seeing a robot's head hung on a wall:
 Crow: Now I need years of powerful Adlerian therapy.

Tom: They hung his head! This is worse than Seven.
 Servo: Smolkin's naked sometimes, Mike.

Mike: (cringing) Damn you, Servo!
There's also Mike and the 'Bots' cries of horror whenever the camera pans down during Prince of Space, revealing that the Chicken-Men of Krankor are going commando.
 Mike: (disgusted) What gets into some civilizations?!
And during the sex scene between Linda Evans (yay!) and Joe Don Baker (oh sweet merciful Bahamut) in Mitchell:
 Joel: BABY OIL?! AAAAAAAAAAAHHHHH!!!

Hoyt Axton: (singing the background music) My, my, my, my, Mitchell...

Crow: My, my, my, my GOD no!!
The sequence begins with a bizarre shot of a bulge slowly sliding down the inside of Joe Don Baker's trouser leg. It turns out to be his snubnosed Colt revolver, but for a second...

Even worse, the implication in context is that it was dislodged by Joe Don Baker's...no.

Attack Of The The Eye Creatures. The final scene with the the Covert Pervert Scrappy Military Officers:
 Tom: Joel, I demand you take my head off.
Soultaker. Robert Z'Dar's crotch is thrust in Crow's face.
 Crow: Wh-wha-WHOA! That took my soul, right there!
 Servo: I don't know how, but I just became sterile!

Mike: (utterly defeated) Oh my, what a...what a handsome man.
Making matters worse, Dan then chases his nubile niece around a table threatening to spank her.
 Mike: Aaaaand the movie ramps up the repulsion.

Crow: Yeah. This movie hates us, doesn't it?
The Sinister Urge, written by Ed Wood, featured a scene in which porn director Johnny Ride gave mannish porn mogul Gloria Henderson a long kiss.
 Servo: Please, Mike, cover my eyes.

Crow: That's it. I'm gonna be a monk.

(Crow and Servo make gagging noises as they kiss.)
 Crow: Now, wait a minute -- how did she turn into a bat? The only contact she had with him was in the hotel, and... [long, awkward pause] ...Oh my God.

Tom: Gahh!

Crow: Oh my God! I get the shower first!

Tom: No, me first!

Mike: Urgh.
Not all the examples come from the experiments. One host segment of Bride of the Monster featured Tom Servo dressed in a nurse's outfit while Joel used an invention to see what Crow was dreaming of: a sexual fantasy with Tom dressed in the same nurse's outfit. Tom's reaction was identical to VanDorn's in Hardcore.
 Servo: Turn it off! Turn it off! Turn it off!!!
A similar occurrence happened when Mike decided to contact the Mads without permission, resulting in them stumbling into a disturbingly domestic, loving scene that left Mike, Crow, and Servo with their mouths widely agape.
 Mike: So...we can contact the Mads when we like...but...I don't think I'm going to do that anymore.
 Crow: Part of me will never be back. Part of me is gone forever.
The tradition continues on in Riff Trax.

For example, in the Riff Trax of Attack of the Clones, Kevin tells Mike during the Greasy Spoon scene regarding slovenly cook Dexter, "Mike, I invite you to think about his underpants." Mike understandably reacts in horror: "Why, Kevin?!" Kevin subverts the trope by telling him that so long as he's thinking about Dexter's underpants, he's forgetting the rest of the movie. Mike's response. "[sigh of relief] You're right. Ah, his underpants..."

Special Mention goes to Child Bride. When watching this movie, the producers decided that they would never use it in their show. There's a hilarious moment in one interview.
 Kevin: "I remember now that hillbilly... teenage..."

Mike: "Oh, no!"

Kevin: "I don't want to tell the name, because some of you freaks out there will try to find that film. And that's just wrong! I don't remember how we got it, but we got it out of the place as fast as possible. It was about child brides, and it was..."

Mike: "That should give you a clue about the title."

Kevin: "Stop! Psshh! Psshh!"

Kevin: "And it was all said in crackabill, like they actually hired people who lived there rather than actors. And I had a good cry after that one. And then a shower."

Mike: "You should take a shower right after that."
Mythology
In the Greek tragedy King Oedipus, when Oedipus learned that he had murdered the King on the road before marrying the Queen, oh, and also that they're his mom and dad, which means his kids are the product of incest, he literally gouged out his own eyes in horror on finding her dead by her own hand (using the pin used to secure his cloak, no less), and then went Walking the Earth to atone for what he had done, making this Older Than Feudalism.
There's also nepenthe, which really is Brain Bleach.
This is the express purpose of the waters of the river Lethe -- to utterly remove one's memories of his or her past life.
At the siege of Thebes, Athena is just about to bring Tydeus immortality, when she finds him chewing on the brains of the guy he just killed. Before she can go back home, she has to scrub her brain out with a ceremonial fire of purification and water from a special river. Needless to say, no immortality for you, Tydeus.
Tabletop Games
Video Games
Early in Sam and Max Freelance Police: Culture Shock, Jimmy Two-Teeth the rat steals the duo's phone. When they catch him and make him return it, he vomits it up. Sam's reaction is a stunned "Oh, for the love 'a - I wish I could unsee that!"

Speaking of Sam and Max, in one of their comic book adventures, Max, in the previous panel having been unarmed, is suddenly waving around a rather large firearm. Sam asks, "Where did you have that thing hidden, li'l buddy?" Max's response exemplifies this trope: "None of your damn business."
Happens again in Beyond The Alley Of The Dolls. Flint Paper leaves to go "kill a few neurons" after seeing

Girl Stinky kiss Sam.

In Ice Station Santa, Sam and Max both want their eyes clawed out after seeing Bosco's latest disguise.

He's not wearing one.

In Dragon Age II, at one point Hawke can comment on some dirty image Isabela apparently saw in the Amell family crest, and when s/he finds it s/he says "Oh, Maker! I can't unsee it!"

Another, and possibly funnier, exchange occurs when you accept a male hooker's invitation with Bethany in the party, but decline when she protests
 Bethany: Maker's breath! Can't you...do this when I'm not around?

Hawke: Fine. I'll do this some other day.

Bethany: It's too late. The images are already in my mind and they will never, ever go away.
Tales of Monkey Island, Episode 1: Guybrush Threepwood goes to open a cabinet, which the Voodoo Lady yells for him not to open. He asks her what's in it, and she replies, "My unmentionables." Guybrush shudders, and the cabinet from then on is named "The Scariest Cabinet In the World."
Planescape: Torment accentuates not only the use of Brain Bleach but also the importance of keeping a note of doing so. A story is told in-game about a man who at one moment came to consciousness with no memory of himself. He then encounters a woman, who tells him that he has "one more wish". She then explains that she granted him three wishes earlier and that he already made two of them. The man wishes to know who he is. The witch cackles and remarks that "That was your first wish".
Phoenix Wright: Ace Attorney: Trials and Tribulations has Jean Armstrong rubbing lotion on himself. It elicits a call for brain bleach by Phoenix.
 Phoenix: So the particular feature you recognize about the waitress is...her outfit!? But anyone could wear just such a uniform! Even me!

Judge: Mr. Wright! Please spare the court of any further mental anguish from that image.
 Kott: "'The sky boils, the sea burns, the soil begs forgiveness.' You ever heard anything like that?"

Qualstio: "No, but, it's pretty creepy. I wish I could un-hear it."
On one episode of Help Me! Professor Kokonoe!, Makoto runs right on in with a tone in her voice and a facial expression that suggests she needs the biggest glass of the stuff the titular professor can offer. Considering that the bad ending required to get here is Demon Path lite, can you really blame her?
Web Animation
 (ten seconds [or so] of screaming)

Oxhorn: It's horrible!

Staghorn: Oh god, why?

Oxhorn: I can't see! I'm blind!

Staghorn: Never will I be able to love another woman again!

Oxhorn: Beat the images out of my eyes!

Staghorn: We gotta run! RUN!

Oxhorn: RETREAT TO THUNDER BLUFF!



They retreat to Thunder Bluff, shouting various things like "Run like your mama!"
Homestar Runner and Strong Bad are bemoaning the fact that The Cheat and Marzipan are going on a date.
 Homestar Runner: Mainly, I just want to keep 'em from making out.

Strong Bad: Ewww! The disgust! It won't wash off!
In Sonic Shorts, quite a few of the shorts involving Eggman involves this. The worst of them all is arguably his "ultimate weapon."
Web Comics
 Dream James Joyce: I wrote you a letter.

Hark: Get away from me, James Joyce!
 "My stomach is in my throat now. It's trying to spit acid on the parts of my brain that remember reading his message."
The incident during the cloning of General Hugo Matsui Xinchub in an effort to be paid five times for one job. Clones are grown in slime-filled People Jars and do not have clothing. This frequently elicits minor comments of disgust when main characters are being partially cloned as an extreme medical measure -- but Xinchub is morbidly obese, to boot.
 Kevyn: If I get drunk right now I might be able to shut down my long-term memory before the next write transaction.
Der Trihs, staring into his (iced) drink after learning adult kreelies had been mating in the freezer (via external fertilization):
 Der Trihs: I need a tall glass of bleach right now.
 Kevyn: That's overkill. I'm shooting for "Don't think about Elf." and you're taking us all the way to "I need to gouge out my eyes."
 Roy: Excuse me, I need to soak my brain in acid now....Maybe my ears, too.
It should be noted that this was fully intentional on Belkar's part. He could tell that it was Roy by the scent, and is apparently secure in his masculinity — not to mention extremely sadistic.
On a related note, Belkar himself has a tendency to go blind, or at least wish aloud that he'd done so, when he sees other male characters naked. See for example, #25
Roy and Belkar thinking that Haley was talking about Elan's penis when she's really talking about the new rapier she found for him.
  Haley: Vaarsuvius checked it out too, naturally [...] I mean, it's awfully skinny, but he uses it so masterfully.
This is then subverted when Haley says:
  Haley: Well anyway, V says Elan has been running around naked, so I'm off to see what his 18 Charisma is worth "under the hood".
Roy needed some Brain Bleach after he died and saw his mother in the afterlife, and realized that her spirit manifests there as a hot chick several years younger than he. He needed more Brain Bleach when he saw that she was sleeping around.)
The Oracle of the Sunken Valley needed Brain Bleach after (apparently) having witnessed, in a vision, Roy and Celia having sex.
"Am I drunk enough yet that I won't remember getting out-logicked by Elan?"
753 has Belkar attacking Roy mentally once again. He's definitely getting a lot out of that feat level in Craft Disturbing Mental Image.

In Gunnerkrigg Court, Kat tries to be polite upon meeting Ketrak, the Psychopomp of insects, and as soon as he's gone...
 Kat: Ugh! I need new eyes and a new brain!
Annie was shocked merely by observing two kissing Merostomatozons ("very distantly related to eurypterids and xiphosura").

In Cass Toons, this is Robin's reaction after Starfire shares with him the details of just how she cheered up the eternally depressed Nightwing:
 Robin: I don't care if trepanning is no longer considered a valid medical procedure. I need you to cut a hole in my skull and pour in this bleach.
This strip of Loserz.
Freefall:

When a security guard saw Helix's topiary rendition of Sam as a reclining nude, he had to be physically restrained: "My eyes! I have to pull out my eyes! If I don't I might see it again! I have to pull out my eyes!"
Robots commit data from short term memory to long term memory about every 24 hours in a procedure similar to sleep. Thus "staying awake" for extra 24 hours after a particularly nasty day will overwrite that day's memories and experiences, serving as general purpose Brain Bleach.
Organic AIs were created with several safeguards, control and shutdown mechanisms hard-coded into their DNA. One of those works with a chemical that disables short to long term memory data transfer; another allows to wipe recent direct orders from the AI's memory.
Bowman AI architecture works via neural pathways. Pruning those pathways indiscriminately wipes information associated with them, be it memory, skill or attitude. The "Gardener in the Dark" neural pruning software, which blindly cuts all pathways above certain length, reduces self-aware A Is to sub-sentient robots, leaving only their primary purposes intact.

Eight Bit Theater: When the Light Warriors learn of Bahamut and Matoya's relationship. And that the quest item they had just fetched for Bahamut was actually the last ingredient for a virility drug.
 Black Mage: I'm going to throw up now. On the off chance that there's a kind and loving God, I will choke on my own vomit. Do not help. (after vomiting for several panels) Oh God, I'm ejecting things I haven't eaten yet.

(a few pages later)

Black Mage: Right now, I'd be happy with the power to stab out my mind's eye.

Red Mage: Can we get a full round of that?
In a later scene, Thief is unimpressed with a so-called dark, mysterious woods the party has entered, and makes an aside remark about having seen "darker wood in Elf porn." It's enough to make Black Mage projectile-vomit in the background. His analogy certainly didn't help matters...or the readers' sanity...
 Black Mage: Man, and I didn't lose it when I caught sight of an elder god defecating.

Fighter: (looking down) You got some of it on my shoes.

Black Mage: It shat out advertising executives. They're the bowel obstruction that killed the old universe.
When Red Mage proposes animal husbandry as a solution:
 Red Mage: Yeah. Two words for you. Animal. Husbandry.

Fighter: I don't know what he means.

Thief: God, I envy you.
Characters in Umlaut House do it from time to time. Given that most of them have quite a few implants in their brains, this is apparently a pretty trivial thing for them to do.
Mark from Sexy Losers plaintive cry (brought on by the antics of his roommate and his roommate's sister) of "I don't want my eyes anymore!"

In one guest comic, he goes for a more "realistic" solution when his roommate

uses him as masturbation fodder

-- incredible amounts of cocaine.

VG Cats: when Aeris saw "Democrat Dance Revolution" game intro.
 Aeris: SWEET HOLY HELL! SOMEONE GOUGE OUT MY EYES!
 Evil Soldier #???: AAAGH! The goggles! They do nothing!

Evil Soldier #565: Okay, I'm going to go dump chemically potent cleaning solutions into my eyes now. Join me if the mood arises.
 Cypress: Doing any better down there?

Jigsaw: (weakly) My brain wants bleach please...
 Riff: Whisky double straight up.

Bun-Bun: Alfalfa margarita, hold the alfalfa.

(gulp!)

Riff: It's that he came back from the doctor's with that announcement that freaks--

Bun-Bun: Never speak of it again.
The full Nightmare Fuel potential is explored here.
Also try checking out Aylee explaining about feminine things.
Riff's reaction to Bert possessed by a ghostly women who is married to the ghost possessing Torg counts as this.
And now we have Lau in response to Dr. Nofun explaining how even dating is better without women.
In "Safehouse", Riff is looking a way to undo the effects of a hypnotic pattern spread via the Internet, and in the process runs across some zombie pornography on its creator's computer. When he does manage to send out hypnotic patterns to undo the previous ones, he also includes the command "unsee the zombie porn".

In the female dominant webcomic Girly, the most important male character, Officer Policeguy, has a clear sign of brain bleach. He begins the comic with long hair and bishounen looks. During the beginning of the comic, he almost has sex with El Chupacabre, a man with the ability to attract any woman or man that looks somewhat like a woman, even if they are straight. He is traumatized, cuts his hair shorter, and blocks out the event completely from his mind when questioned about it later. However, when El Chupacabre accidentally falls on him later on, the horrible memory comes rushing back and starts cursing dramatically at him.
Used in a rhyming Captain SNES non-canon Wonderful Life-ish storyline (the angel was drunk, so she took him to the wrong "what if" universe) when Alex realizes that the chick he's been checking out is his own opposite-gendered parallel universe equivalent.
 Alexis (to her friends): I left them there on the street as black stains.

Alex (to the drunk angel): I'd like to go home to buy bleach for my brain.
  Mimic: Goal: Achieved! Also...Brain: Scarred!
 Citizen: Thank the Lord I brought my lucky pliers today! Nothing for it but to pull out my own eyeballs and stamp on them...Only way to be sure I never see that again.

Citizen #2: Hey, after you with those pliers?
 "Hm...maybe I can destroy this memory by drinking turpentine."
 Nick: Note to self...install bleach dispenser in brain tank...
 Princess Peonie: It's only by sheer will that I'm not jamming a spoon up my nostril to scoop out the mental image in my head.
Web Original
 Axel: Xigbar?

Larxene: *nods* Uh-huh.

Axel: Tell you what, I'll be back in about a half an hour, there's some stuff I really, quite desperately need to bleach, so if you would please—* leaves the room followed by screams of pain*
Any Shock Site inspires videos or photographs of reaction videos, mostly of people asking for this.
Boing Boing follows particularly disturbing posts with a "unicorn chaser."
Tink in The Guild has this response to Bladezz joking about releasing a sex tape.
From Attack of the Clones review by Red Letter Media: "You know, they make a magic potion that makes you forget about The Phantom Menace when you drink it... it's called bleach!"
Western Animation
Similar to the Real Life example below, in a recent episode of Family Guy, Brian showed Stewie 2 Girls 1 Cup. His reaction is marvellous.

"Oh, I'm never gonna be able to eat ice cream aga-OH MY GOD!"
"Can you imagine if two GUYS did that!? Let's Google it and see what comes up!"
Lets not and say we did. PLEASE!
After he saw a picture of Meg in a two-piece, he prayed it wasn't his first memory.
Upon seeing Brian dressed like Lois he said, "All right, so, uh, I'm just gonna go out in the hallway and throw up about something else."

The Venture Brothers: During the trial of the Monarch, the judge wants the Monarch's comments about Phantom Limb "pounding his invisible meat" stricken from the record AND his memory.

Hank voluntarily had his memory wiped after finding out that

the woman he lost his virginity to slept with his father and gave birth to his best friend.

Following a particularly unpleasant "Tale of Interest" on Futurama the announcer informs us, "You watched it, you can't un-watch it!"
Used in one episode of The Simpsons. Homer is hired by Mr. Burns to help him write an important speech. At the time he was hired, Homer had been using medical marijuana and found everything funny. Since he was clean now, and no longer found Burns funny, Marge suggests Homer picture Mr. Burns naked, resulting in him screaming. Trying to make the situation better, she then changes it to picturing him in a funny hat. This idea is worse, causing Homer to curl up in a ball shuddering.
 Flanders: "Feels like I'm wearing nothing at all!"

Homer: "MUST WASH EYES!"
The Simpsons universe has its own Brain Bleach: Moe developed a drink out of various boozes and the poison of a certain butterfly that wipes the last 24 hours out of it's drinker's memory. Homer drank it once because

he found out that his family had planned him a surprise birthday party, and didn't want to ruin all their work.

Also in the episode "Tales From the Public Domain" in The Simpsons, Discus Stu reveals he's not a suitor for Marge, but for Bart. Bart shudders in disgust.
Later in the same episode, Odysseus's crew see the sirens (Patty and Selma); one yells Someone, gouge out my eyes!
Aunt Patty declared herself a lesbian ("There goes the last lingering thread of my heterosexuality!") after seeing Homer run naked through the kitchen in the "Treehouse of Horror" segment, "Clown Without Pity."
The police charge into Comic Book Guy's place and see him and Mrs. Skinner having sex -- Eddie promptly vomits at the sight, and Lou reassures him "It's okay, you wouldn't be human if you didn't react like that."
 Wiggum: Uh, Comic Book Guy, you're under arrest for the possession of illegal videos. But we'll reduce your sentence if you put your pants on -- fast!
Hysterically inverted when Bart Simpsons sees what really goes on at Mad.
 Bart: (dreamily) I'll never wash these eyes again.
One episode opens at a talent show put on by the school teachers. Mrs. Krabappel's act is performing a striptease with a balloon-covered costume while singing "Fever" and popping the balloons one by one. The audience is visibly disgusted, and Bart mutters "Kill me..." After everyone's left, Homer has an armful of concessions; Marge asks if he paid for them and he responds "I saw Krabappel's butt; I paid."

One instance in American Dad involves his boss, his (college age) daughter, and kills his appetite.
 Stan: Oh, come on! [Bullock] rode me like an animal for three hours! Do you have any idea what that's like?!

(Hayley folds her arms and cocks an eyebrow at her father)

Stan: (discards restaurant menu) And now I'm not hungry.
King of the Hill. Hank goes hysterically blind after seeing his elderly mother completely nude and making love to an elderly man - with wrinkled flesh galore.

Bobby turns into a miserable zombie when he accidentally sees his cousin Luanne naked.
 Bobby: I can't get the image out of my head!

Joseph: Put it in mine!
In an episode of The Oblongs, after Biff and Chip walk in on their parents having sex in the kitchen, they rush to the bathroom and vigorously scrub their eyeballs.

In "Bucketheads" during Milo's fashion show, Helga eats her bacon dress off her body and ends up naked. One of the Hill kids yells, "Please, God, someone poke my eyes out!"

An example in Codename: Kids Next Door. Many fans had long wondered when characters Kuki and Wally would have their first kiss. In the tv movie Operation: Zero they finally do, after being transformed into wrinkled, elderly zombies. Cut to a scene of Number 2, Number 362 and Number 86 watching, horrified, on a monitor. 362 begs for someone to end the transmission. Finally, 86 pulls out a gun and shoots the monitor.

If that doesn't double as a Writer Revolt, I don't know what does.

The Time Squad episode "The Prime Minister Has No Clothes":
 Sheen: I have seen things so horrible they will never ever go away no matter how much I think of soap.
Real Life
Brain Bleach actually exists in real life. However, it is not available to the general public, and only administered to make people forget about traumatic operations, and for scientific experiments.

This is as close to a MIB neuralizer that we have. After about two or three minutes for it to kick in, you will not be able to form any new memories for as long as the drug is in your system. It is in the same class of drugs as the infamous Rohypnol, or "roofies" except that it is much more powerful. Having been given it for a very painful joint realignment, the experience can be described basically like a "missing reel" to a film. One minute you're watching the nurse push the medication, the next you are groggily staring at your feet in the recovery room with your joints in proper position, and the clock reads about an hour later. As you can imagine, the evil uses for such a drug are considerable, and it is kept under very tight security and stringent regulations.
Community content is available under
CC-BY-SA
unless otherwise noted.