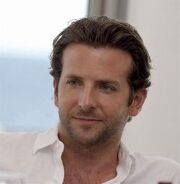 Bradley Charles Cooper (born January 5, 1975) is an American actor and film producer who first gained recognition in the television shows Alias and Jack & Bobby. He later appeared in a supporting role in Wedding Crashers, Yes-Man, and He's Just Not That Into You. He achieved fame with his roles in The Hangover trilogy, The A-Team, Limitless, Silver Linings Playbook, The Place Beyond the Pines, American Hustle, Guardians of the Galaxy, American Sniper, and A Star is Born.
---
Selected filmography:
Television
Film
As producer
---
He provides examples of:
Actor-Inspired Element: He came up with the idea for Richie to have a perm in American Hustle, and also for him to be seen with curlers in the scene in his apartment.
The Alcoholic: His characters in Burnt and A Star is Born. In fact, he even suffered from substance abuse until becoming a teetotaler in 2004.
Author Appeal: He wanted to be a chef when he was younger, and jumped at the chance to play ones in Kitchen Confidential and Burnt.
Badass Beard: He can grow an impressive one.
Dream Team: With Lady Gaga prior to the release of A Star is Born.
Dyeing for Your Art:
Everything Sounds Sexier in French: He is surprisingly fluent in French and frequently makes interviews in this language.
Lovable Rogue: The role he most frequently plays.
Missed A Spot Check: Per his interview on Ellen, he has come to fully identify with the image of Rocket Raccoon. He told of a time he once got super exited about seeing himself on a billboard, only to later realize that it was Rocket.
Mr. Fanservice: He definitely earned that Sexiest Man Alive title.
Perma-Stubble: Frequently dons these.
Playing Against Type:

Early on in his career, he played the scarily abusive Jerkass boyfriend in Wedding Crashers. This character is also more shallow and two dimensional than his other roles.
Rocket from Guardians of the Galaxy is a surprising role for a guy who usually stars in realistic fiction, but is an aversion. Rocket plays a lot into Bradley's type when it comes to his most famous roles, being a guy who seems to have it together, but has a ton of emotional and mental baggage like Pat Solitano, Chris Kyle, and his later role Jackson Maine. Except as a raccoon in space.

Playing with Character Type: In American Hustle he starts off within his usual type, but the devious Jerkass qualities eventually come to the forefront - to the point where he beats up his superior with a phone.
Production Posse: Him, David O. Russell and Jennifer Lawrence are a very effective team.
Promoted Fanboy: He has made four films with his idol Robert De Niro.
Self-Deprecation:

On one episode of The Graham Norton Show he happily makes fun of being voted the Sexiest Man Alive, saying he compared pictures of himself and Ryan Gosling."He looks like he just came from a photo shoot...while I look like that neighbor that never comes out of his house."
Also makes fun of an audition tape he sent in for a show about MMA fighters - claiming he wore biker shorts and filmed himself kicking trash cans in his backyard.
He had about as much fun as everyone else did in noting how jarring the infamous fake baby in American Sniper looked. During an appearance on The Ellen DeGeneres Show, she showed him a clip of Sienna Miller making fun of his attempts to hold the prop, and Cooper ended up laughing loudly when Miller pointed out that he wiggled the baby's arm with his thumb to get it to move.

Star-Making Role: The Hangover gave him name recognition in the eyes of the public, and his Oscar-nominated performance in Silver Linings Playbook solidified his status as a leading man.
Tall, Dark, and Handsome: Stands 6'1", has brown hair and was named Sexiest Man Alive by People Magazine in 2011.
Tall, Dark, and Snarky: Many of his roles tend to be these.
The Teetotaler: Cooper hasn't had a drink of alcohol since he was 29. Pretty ironic indeed.
Those Two Actors:
Typecasting: After his roles in Alias he found himself typecast as a Nice Guy Pretty Boy, joking that he only got into Wedding Crashers because the director had never seen Alias. His typecast has shifted since, usually playing guys who are just barely holding themselves together with a ton of emotional and mental baggage under the surface (Pat Solitano, Chris Kyle, Rocket Raccoon, Jackson Maine).
What Beautiful Eyes!: His blue eyes are quite striking.
What Could Have Been: He auditioned for the title role in Green Lantern and was Martin Campbell's choice but the studio wanted Ryan Reynolds. He also put his name forward for Batman in Batman v Superman: Dawn of Justice before Ben Affleck was cast. Given his two close calls, many are hoping to see him finally get a shot at playing GL in a future film.
---
Community content is available under
CC-BY-SA
unless otherwise noted.