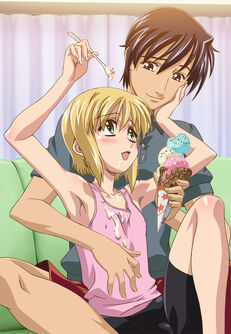 Boku no Pico (My Pico) is a shotacon OVA series, produced by the pornographic company Natural High. The series is infamous for being the first official[1] animated example of its genre, as well as its copious amounts of cross-dressing. It shares creators with various other works, such as Yoshiten, the character designer for Bible Black, and Katsuyoshi Yatabe, the episode/storyboard director for series such as Gundam Seed Destiny and Gakuen Alice.
In the first installment, we are introduced to a pre-teen boy named Pico during the summer, who is working at his grandfather's bar. His grandfather asks regular Tamotsu (nicknamed "Mokkun" by Pico) to spend time with Pico because he has no friends in the area... and then Tamotsu introduces Pico to many more things.
In the next installments, Pico meets Chico in Pico to Chico ("Pico and Chico"), who becomes his lover, and then Coco in Pico x Coco x Chico, where more similar shotacon antics carry on.
in 2019, the OVA received an HD Remaster for the very first time, released on December 13.
---
Community content is available under
CC-BY-SA
unless otherwise noted.