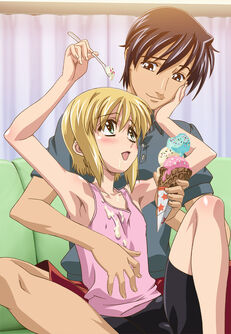 Boku no Pico (My Pico) is a shotacon OVA series, produced by the pornographic company Natural High. The series is infamous for being the first official[1] animated example of its genre, as well as its copious amounts of cross-dressing. It shares creators with various other works, such as Yoshiten, the character designer for Bible Black, and Katsuyoshi Yatabe, the episode/storyboard director for series such as Gundam Seed Destiny and Gakuen Alice.
In the first installment, we are introduced to a pre-teen boy named Pico during the summer, who is working at his grandfather's bar. His grandfather asks regular Tamotsu (nicknamed "Mokkun" by Pico) to spend time with Pico because he has no friends in the area... and then Tamotsu introduces Pico to many more things.
In the next installments, Pico meets Chico in Pico to Chico ("Pico and Chico"), who becomes his lover, and then Coco in Pico x Coco x Chico, where more similar shotacon antics carry on.
In 2019, the OVA received an HD Remaster for the very first time, released on December 13.
Tropes used in Boku no Pico include:
Brother-Sister Incest: None directly, but Chico would watch his sister masturbate, though innocently since he had little idea what was happening, and

she watched him have sex with Pico and got off on that

.
Buxom Is Better: Chico's sister.
Cast Full of Gay: More like Cast Full of Bi since Pico, Chico, and Tamotsu have shown interest in girls and women too.
Cat Boy: Pico, in this picture. NSFW
Caught with Your Pants Down: In Pico to Chico, the two watch Chico's older sister masturbate with a banana. In the third OVA, Pico catches Coco playing with himself.
Chuck Cunningham Syndrome: Mokkun (at least in the anime), and to a lesser extent, Pico's grandfather and Chico's sister.
Crossover: There's a radio show at Japanese ero-website Galge.com hosted by Pico and Curo-kun (the protagonist of a series of S&M, crossdressing, shotacon manga), despite the fact that they're from from different creators and that those characters never meet in their canonical media. There are also Yonkoma drawn by the latter's creator featuring the characters interacting with each other.
Cute Shotaro Boy: Three so far.
Dropped a Bridget On Him: Pico in the first OVA, Coco in the third OVA.
Dude Looks Like a Lady: Coco, whom Pico mistakes for a girl at first.
Elegant Gothic Lolita: Chico while playing dress up.
Eroge: Stars Pico and Chico as idol singers, and the player assumes the role of their manager.
Erotic Eating: Pico does this with ice cream in the first OVA.
Expository Hairstyle Change: Pico cuts his hair to make himself more boyish-looking towards the end of the first OVA.
Expy/Captain Ersatz: Several have pointed out the similarities between Pico and Bridget, as well as Cuilan. Also, Pico's original designer, Saigado, made doujin ero-parodies of both characters before being hired by Natural High.
Fan Service with a Smile: In the opening for Pico and Chico. Also, Pico is dressed more than cutely while working at his grandfather's bar.
Female Gaze: Since the main focus on this anime are boys rather than females. Starts being blatant in the second installment. This is actually a good example of "Male Gays".
Free-Range Children: The boys, who seem around ten - thirteen, are allowed to basically roam where they want and do what they want. Whether it's innocent or not.
Gender Blender Name: Coco.
Ghost City: Tokyo in the third OVA.
Hair Color Dissonance: Chico's older sister and Coco have silver/blue/violet hair that looks black/grey.
Hime Cut: Coco.
Invisible Parents: None of the kids' parents are ever shown or even mentioned; Pico has a grandfather (although we don't know if he's his guardian), Chico lives with his older sister, and Coco well...
Joshikousei and Meido: Both are seen in the same picture (the school scene only happening in the opening credits).
Love Triangle: It's resolved in the end of Pico x Coco x Chico.
Maybe Magic, Maybe Mundane: Was Coco a ghost, an alien, a fairy, or just a crazy transvestite who just happened to move everything from his home to the top of Tokyo Tower? Who cares, it's just porn.
Community content is available under
CC-BY-SA
unless otherwise noted.