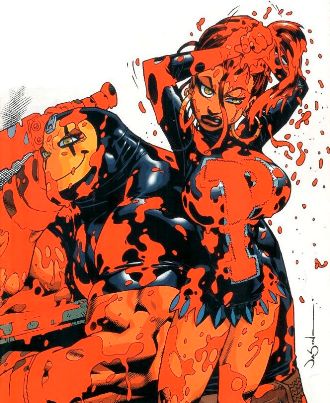 "A despicable man-monster is visited by his slut of a daughter. They spend 'quality' time together stabbing and shooting despicable people. Ugly and violent, this technically well drawn and written comic is moral garbage."

—Review by Michael V., circa 1996 - from the back cover of the Father's Day trade paperback
Body Bags is a comic book by Jason Pearson and indie publisher 12 Gauge Comics. It's set in Twenty Minutes Into the Future Georgia, in the city of Terminus. Mack "Clownface" Delgado and Iran "Pops" Sekula are Body Baggers - government-sanctioned "bounty officials" who capture or more often kill individuals with bounties on their heads. The bounties can apparently be posted by the government or by other citizens. Clownface and Pops are in the middle of a violent feud with another Body Bagger when Clownface's daughter Panda shows up on his doorstep unannounced and uninvited. Panda wants to be a Body Bagger just like her dad. Mack has other ideas, and Pops just wants them to get along.
So far one volume has been published jointly by 12-Gauge and Image in trade paperback form, as well as two "one-shot" paperbacks - the aptly-named Body Bags One-Shot and Body Bags: 3 The Hard Way. Unusually for such a short-running series, a set of Clownface and Panda action figures have also been produced.
---
Body Bags contains examples of:
 Pops: Mack learned how to throw a knife at a velocity that makes its impact like a mortar round. He's the only one on earth who has that ability. You don't need a gun when you can do that.

Community content is available under
CC-BY-SA
unless otherwise noted.