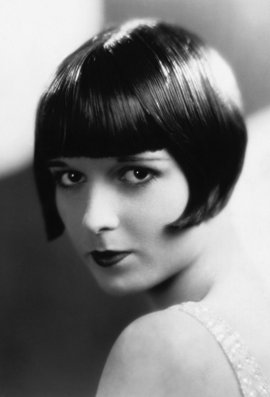 A type of haircut, usually for women, of short-to-medium length with sharp lines. In one variety, the hair is cut off at about jaw length all the way around. Alternately, it may taper downwards from the back to the sides. It is similar to but distinct from the bowl cut (a.k.a. pudding basin cut). Some versions are known as a "pageboy" haircut. Fringe/bangs are optional. Can be Fetish Fuel for some men.
A feature of The Roaring Twenties; it's generally non-existent in The West before then, first appearing in fashion magazines in the late 1910s. Initially it was associated with "bad girls", and many men at the time were upset to see their wives and girlfriends with short, boyish hair. Many government and religious institutions opposed the bob and although they couldn't stop it, did their best to make life hell for women who happened to like having short hair. However, by the late 20s the bob was not only accepted, but embraced, even by men. Its heyday was about 1922-1932, but it had a comeback in The Fifties and The Sixties as a popular girl's haircut, but the reputation changed. They were no longer associated with "bad girls" but innocent (at least on the surface) Malt Shop dwelling bubblegum chewing teenage girls that used words like "Dreamboat" and "swell". The association has bounced around since The Seventies back and forth from "trendy" to "dowdy" with the current opinion being trendy but still shaking the dowdy association.
When applied to boys, this might be a subject to Viewer Gender Confusion. Surprisingly, this type of hair, even the longer varieties, was associated with young men between about 12 and 25,
Examples of Bob Haircut include:
Anime & Manga
Characters with the longer-in-front/forelocks version:
Tsukasa from Lucky Star.
Rei Ayanami from Neon Genesis Evangelion.
Akito, Yuki, and Kisa from Fruits Basket.
Hazumu from Kashimashi: Girl Meets Girl.
Natsumi Tsujimoto from You're Under Arrest
Clare from Claymore.
Satoko and Chie-sensei from Higurashi no Naku Koro ni.
Maruko and other characters from Chibi Maruko Chan. There is some variation in this haircut, but they are all meant to be o-kappa the standard haircut for girls in Japan. Maruko has choppy bangs with a standard jaw length cut which is the same length in the sides and back.
Fiore from Chrono Crusade, a series set in The Roaring Twenties. Flashbacks show that Rosette had a bob as a young teen too, before she grew her hair longer.
From Kaleido Star, Layla's manager Cathy Taymor has an asymmetrical version. The left side of her haircut is longer than the right side, and the sides are longer than the back.
Madoka from Mahou Sensei Negima Nodoka would qualify, but her bangs are too long. Numerous minor characters also sport the look.
Mukahi Gakuto from The Prince of Tennis. Also, Yanagi Renji when he was younger, now he has a bowlcut.
Yamamoto Yohko from Starship Girl Yamamoto Yohko.
Miyashita Sakura from Oniichan to Issho (official English title: Me & My Brothers).
Lavie from Last Exile, and also Dio (also another male example).
Male example: Arguably, Mello from Death Note would qualify since his hair originally looked like this, which is what probably caused the Viewer Gender Confusion.
Jungle wa Itsumo Hale Nochi Guu: Guu has a pink hair bob haircut.

Not the case for her adult half

.
Kinon from Tengen Toppa Gurren Lagann pre-timeskip.
Poland from Axis Powers Hetalia.
Male example: Akira Touya of Hikaru no Go. Cross-Dressing Voices only added to the Viewer Gender Confusion.
Lyra from the first Fullmetal Alchemist anime has one of these, as well.

Dante inherits it once she takes over her body, but it looks like she grows it out more near the end of the series

.
Ken Ichijouji from Digimon Adventure 02.
Seiji and Sono from Sensitive Pornograph.
Hotaru from Sailor Moon, as well as the Starlights' early designs sported this.
Lisanna from Fairy Tail.

Erza Knightwalker also gets her hair cut like this towards the end of the Edolas arc.

Yuuno of Magical Girl Lyrical Nanoha having this haircut is likely one of the reasons why several first-time viewers mistook him for a female.
Sonia Shalfnarz from Hayate the Combat Butler, and Kazuki Nishizawa (also another male example).
Male example: Waver Velvet from Fate/Zero.
Miyoshi Sumako from Karakuridouji Ultimo has one. One of the doji, Pardone, has this cut too.
The artist's muse in Radio City Fantasy has a blunt black bob.
Shuichi from Wandering Son had one for a while.

She later had it cut into a pixie cut, but due to puberty setting in it seemed more masculine then intended.

Her sister Maho has a bob cut by default and has never changed it.
This became Talho's style by way of an Important Haircut in Eureka Seven in the later episodes.
Farnese's Important Haircut came out this way in Berserk.
Urara Kasuga from Sakura Diaries.
Reika Kitami from Bible Black
Another male example: Xelloss from Slayers.
Siesta from Zero no Tsukaima.
Shinji Hirako of Bleach is another rare male version, though this applies for his current self, as a member of the Vaizords. In his days as a court guard squad Captain he had Rapunzel Hair with blunt bangs. And in the last arc, Shinji lets it grow a little so it reaches his shoulders; coincidentally, by that time he's taken Momo Hinamori under his wing, and she has cut her Odango Hair into this style.
Shuri Kurosaki from Asura Cryin.
Comic Books
Silhouette from Watchmen.
Holly Short in the Artemis Fowl graphic novels. In the original books she's described as having a crew-cut.
Comic Strips
Films -- Animation
Films -- Live-Action
Literature
Kel from the Protector of the Small series by Tamora Pierce. Probably has a great deal to do with the fact that she's, well, an actual page.
Crabbe from Harry Potter is described as having a pudding basin haircut. It's from Chamber of Secrets, from the Polyjuice Potion bit.
Sabriel from The Abhorsen Trilogy is described as having this type of haircut in the first book, although the cover illustration shows her with long hair.
In Cheaper By the Dozen, this is one of the battles the older girls fight with their parents as the Jazz Age begins. Eventually Anne, the oldest, bites the bullet and cuts her own hair. Because she "looks like she backed into a lawnmower," it has to be trimmed by a professional, and the parents relent and let all the other girls go along and get theirs done too.
F. Scott Fitzgerald's short story "Bernice Bobs Her Hair."
Francie from A Tree Grows in Brooklyn wants one, but her mother won't let her.
The title character of Jodi Lynn Anderson's May Bird series has this hairstyle.
Tiphaine d'Ath of the Emberverse wears this style. She would prefer to wear her hair shorter, but that isn't an acceptable option for a woman in the neo-medieval Portland Protective Association.
Live-Action TV
Purdey from The New Avengers.
Geraldine Granger from The Vicar of Dibley.
Scully of The X-Files sports a red-haired bob from roughly season four to season eight.
Stephanie from LazyTown has one, in bright pink. The actress's real hair at the time was long and dark brown, and the bob shape was presumably so the wig was long enough to cover her real hairline well, but not so long as to be unbelievable that this active little girl would be running around with untied hair. It was also long enough to be useful when it came to incorporating Stunt Doubles.
Male example: Coconut Head from Ned's Declassified School Survival Guide.
Julie (Mackenzie Phillips) from One Day At a Time.
Dorothy "Tootie" Ramsey (Kim Fields) sometimes has this hairstyle in a few episodes from The Facts of Life.
Angela from My So-Called Life.
The sixties versions are seen on Mad Men, including Peggy's Important Haircut. Eleven-year-old Sally has to get one after she accidentally hacks off some of her own hair; it makes her look much older suddenly, as part of her Growing Up Sucks arc.
C.J. on The West Wing has a pageboy haircut.
Dr. K from Power Rangers RPM sports a mildly messy variation.
Quite a lot of female characters on Jeeves and Wooster, due to its Genteel Interbellum Setting.
Julianna Cox wore her hair like this on Homicide: Life On the Street. It seems to be a personal preference of actress Michelle Forbes.
In Mighty Morphin Power Rangers, Kimberly usually had shoulder length hair, but late in season 1 and early season 2, she had a pageboy which was longer than most examples here, but you could (barely) see her neck from the sides and the back, so it qualifies.
A few Super Sentai heroines, including Megumi from Choujuu Sentai Liveman, Moune from Tensou Sentai Goseiger, and Mitsuki from Hikonin Sentai Akibaranger.
Music Videos
Lady Gaga in her video "Alejandro".
Meiko the Vocaloid. Gumi has a bob-type cut but it looks more like the typical flip.
Lily Allen sported one in the video for "22".
Tabletop Games
Appears to be part of the uniform for Sisters of Battle in Warhammer 40000.
Theater
In most recent major productions of the musical Spring Awakening, the character of Ilse, when possible.
Video Games
Visual Novels
Web Comics
Web Original
Western Animation
Real Life
Dorothy Hamill. By winning the gold in Innsbruck in '76, her version of the bob became a fashion staple in the U.S.
Karen O from the Yeah Yeah Yeahs.
Editor of American Vogue, Anna Wintour.
Jessie J is famous for hers.
Colleen Moore the silent film actress, in her films.
Community content is available under
CC-BY-SA
unless otherwise noted.