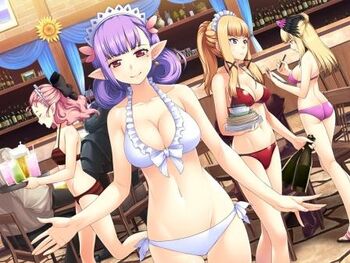 Where does a single (or sometimes married) man go on American TV when he wants to see some female flesh? Why, he goes to the Bikini Bar, where he can see young ladies dancing about in their lingerie, swimsuits, or wet T-shirts that suspiciously lack nipples. Cages are optional.
In case you haven't realized, strippers never go topless (let alone fully nude) on American TV shows, even though such practices are commonplace in Real Life. Even the dance moves are practically ballet compared to what real strippers do to "pay for college." Post-Watershed British TV has no such problems. Some characters are rich enough to have this as Paid Harem.
Examples of Bikini Bar include:
---
Community content is available under
CC-BY-SA
unless otherwise noted.