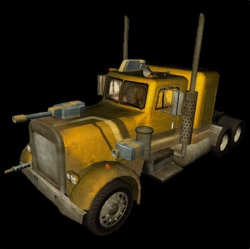 A Big Brother Bully Trope to Cool Car, this is the kind where even four wheels isn't enough, you need the deisel fumes and huge smoking pipes and... well, you have the big rig truck that tends to be a mainstay in action movies and the like.
Examples of Big Badass Rig include:
Anime
Daimos in his Tranzer form.
The Mammoth Car from Speed Racer, essentially a train on wheels.
Power Rangers: Done with the latter-year Disney-owned seasons.

The truck in Dino Thunder was nearly identical to the one in the previous season, Ninja Storm, but the next season, SPD, went with an original design.
Rig-styled mecha would show up about half the time in vehicle-teamed seasons, even in the Super Sentai precursors:

B.J. and the Bear. B.J. (Billie Joe) McKay drove a big rig truck. His sidekick was a chimpanzee named "Bear".
A late '80s action series called The Highwayman involved frontier lawmen traveling the roads in big black rigs. The lead character's cab even turned into a helicopter.
The original Knight Rider had one for a mobile base-cum-garage.
The Supernatural episode "Route 666" has a possessed truck.
The premise behind the game Big Rigs Over the Road Racing.
The Vehicular Combat trucks from Gear Grinder.
Convoy from Vigilante 8 drives a large yellow Mack truck. The sequel gives him the ability to attach a trailer to the back of it.
Darkside in it's many iterations from Twisted Metal.
PlanetSide and the upcoming sequel have the Sunderer APC, more popularly known as the bang bus. The original Sunderer is absolutely huge, being almost two stories tall. A patch later gave it a cattle-catcher to the front. The sequel's version looks more like a giant APC than the original.
"Road trains" in Australia, essentially one truck pulling up to eight trailers at once.
Community content is available under
CC-BY-SA
unless otherwise noted.