Wiki Targeted (Entertainment)
Play Sound

YMMV •

Radar

•

Quotes

• (

Funny

•

Heartwarming

•
Awesome

) •

Fridge •

Characters

•

Fanfic Recs

•

Nightmare Fuel •
Shout Out

•

Plot

•

Tear Jerker

•

Headscratchers

•
Trivia •

WMG

•

Recap

•

Ho Yay

•

Image Links

•

Memes

•

Haiku

•

Laconic

•
Source

•

Setting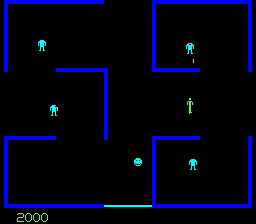 | | | |
| --- | --- | --- |
| | Intruder alert! Intruder alert! | |
A forgotten classic of The Golden Age of Video Games. The player controls a humanoid, who must shoot robots and/or escape the room.
Berzerk was one of the first video games to have voice synthesis, which it put to good use. It compels passers-by to play by saying, "Coin detected in pocket"; spurs its computerized cohorts to victory with, "Stop the humanoid. Stop the intruder"; expresses its consternation with the player's success by saying, "The humanoid must not escape", and, most famously, insults a fleeing player with, "Chicken. Fight like a robot."
Also noteworthy for being one of the first video games that afforded the player non-linear ways of achieving goals. The AI robots could be goaded into shooting each other, walking into deadly walls or otherwise killing themselves without the player firing a shot.
Berzerk was even blamed for two deaths. Two teenagers in separate arcades had heart attacks after achieving high scores, causing Moral Guardians to wonder whether arcade video games were too much excitement for people to handle. Even in 1980, most people didn't take them seriously.
The game received a sequel, Frenzy, which introduces two styles of robots (skeletons and tanks, who act the same, but the skeletons are slightly harder to hit from above or below), a temporarily-destroyable Evil Otto, destructible and reflective walls, and "Special" rooms with some feature that adds a twist to the normal game (the Robot Factory constantly sends out new robots, shooting the Power Plant immobilizes all robots in the room, shooting the Central Computer causes all robots in the room to go crazy and destroy each other, and Big Otto gets very very angry if you destroy Evil Otto in his chamber).
May have inspired Castle Wolfenstein and its update, Wolfenstein 3D. Unrelated to the manga Berserk (except for the whole endless, futile war thing).
Tropes used in Berzerk include: