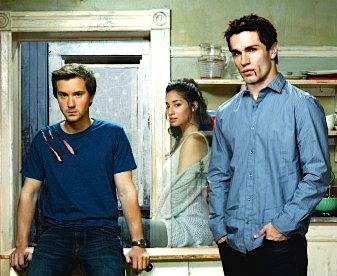 ~~Dramatic Hour Long, Magic Realism~~
 Aidan: Hey, you know--there's a better way to do this.

Josh: Do what, be a better monster? No thank you.
Being Human is a North American remake of The BBC's Being Human, created by Toby Whithouse. It debuted in January 2011. As with the original British show, it centres around a pair of friends: Aidan, a Friendly Neighborhood Vampire, and Josh, a geeky and uptight Wolf Man. They decide to get a place together, thinking that it will help them set up the routine and structure each of them needs to live as normally as possible. However, on moving to a new house, they discover that it is haunted-—by the ghost of a young woman called Sally, who is unclear on the circumstances of her death.
The news of the remake wasn't met with much applause, as most American remakes of British works seem to be somewhat lacking. However, the show has been quite successful, and has been renewed for a third season.
Tropes used in Being Human Remake include:
| | | |
| --- | --- | --- |
| |  Sally: Right before a big storm, I used to go with my dad to the harbor. To look at the clouds, feel the air. There's an eerie stillness before the sky cracks open, a hush. You can feel the storm gathering, smell the flood on its way. When you know you're going to die a violent death, when that's the only way you can die, it's all about the waiting for that final storm … if the waiting doesn't kill you first. | |
| | | |
| --- | --- | --- |
| |  Nora: You're like an artist and awkwardness is your medium. | |
| | | |
| --- | --- | --- |
| |  Emily: God, what if [Josh] never even gets to meet Jackie? ...I really wanted to rub it in his face that I ended up with a shiksa goddess. | |
Shoot the Dog:

Aidan kills a recently turned Bernie because the latter can't control himself

. And he's not taking it well.

Done a second time with Rebecca. Poor guy cant catch a break.
 Sally: Oh, ladies and gentlemen, The Bobbsey Twins. I am God, I am everywhere! I drive all night just to get back home!

Aidan: Are you trying to scare us...with Bon Jovi?
Also Twilight, as seen above.
There's another Supernatural show where

a vampire is beheaded using barbed wire.

Sliding Scale of Comedy and Horror: While most character fantasies involving bodily harm to their enemies are inherently funny, it is simultaneously sad, and appalling that

Danny made some level of his fiance's consciousness

want to see Aidan tearing at the guy's throat.

It's even a little bit cute that Sally imagines that Aidan thinks of her as "their girl."

Sliding Scale of Vampire Friendliness - In the lower middle. It's possible to be good... but it's like going off a hard drug while it walks around you. Aidan talkes about it a bit in season two and the show continues to emphasize the comparision to drugs: feeding 'live' is fairly euphoric and stopping cold turkey is... bad.
Snuff Film: Aidan receives a DVD from Rebecca which features her having sex with a man and then killing him.
Stalker with a Crush: The Reaper to Sally though it turns out to be more of a case of Screw Yourself.
The Starscream: Henry plays this role with Aidan early in life, but later subverts the trope by defending Aidan from other vampires when he runs off with Suren.
Status Quo Is God: Sally seems to find her true love... and then he disappears, with a 2 second mention in the next episode of how they broke up off-screen. An odd example in a show like this, especially considering the roles the other characters' love interests play.
Supernatural Angst - The entire show is this trope...
Stronger with Age: Both vampires and werewolves are implied to grow stronger as time passes in this series.
Tainted Veins: Sally displays these after surviving an exorcism.
 Sally: Are you guys going to go all Twilight on each other at some point, or...?

Josh: Excuse me?!

Sally: It's all you guys ever talk about. "I want to be normal, but I can't, 'cause I eat people!" Et cetera.
Notes
↑

This only applies if the house belongs to a living human (werewolves count).

↑ It's possible that the use of Wintersleep's "Weighty Ghost" earlier in the episode is a Musical Gag referring to this. "Oh, have you seen my ghost / Seen my ghost, seen my ghost..."
Community content is available under
CC-BY-SA
unless otherwise noted.