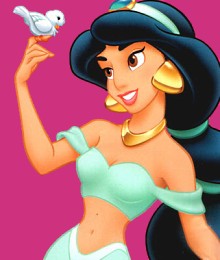 Midriff-baring outfits are popular and have been for centuries. Since then, they've been a hit, with outfits ranging from tube tops to two-piece swimsuits. So this is a trope about costumes showing the curvy area around a woman's waist. Note that simply showing the belly and a little skin around it, like a slightly open shirt, does not count. But a dress with a large section around the belly cut out does.
Note that showing the belly and a little bit of skin, like a sightly opened shirt doesn't count. But a dress with a large section cut out around the belly does.
Automatically comes with a Fur Bikini, Lingerie Scene (provided the lingerie is bra and/or panties), and Black Bra and Panties. Can come with a Mini-Dress of Power, Chainmail Bikini or Sexy Santa Dress if any of them is a two-piece. It can also be a Walking Swimsuit Scene as long as the swimsuit's either a two-piece bikini or a topless monokini.
Anime & Manga
Sisters Patty and Liz in Soul Eater.

Mizune sister combination.
Blair sometimes.
Ino in Shippuden also shows her midriff.

Prior to Shippuden she subverted the trope. She wore a separate top and bottom that left her midriff exposed... but covered that with form-fitting wraps.

Karin is a partial example: her lab coat hangs all the way down on the sides, but goes up towards to middle to the point that you can see part of her belly.
Sakura bares hers in the entirety of the third Naruto movie, Guardians of the Crescent Moon Kingdom.

Lampshaded in Koihime Musou, by Aisha, Rinrin and even Shuri, commenting that almost all the female generals from the Wu kingdom are showing their bellies.
Another example would have to be Rukia, whose street clothes always seem to expose her belly if she does so much as lift her arms.

Other examples for Bleach: Halibel, Neliel, Mila-Rose, Lilynette, and Loly.

Cures Black, Dream (and Dark Dream), Milky Rose, Berry, Sunshine, and Melody.
Subaru's Barrier Jacket and all of Arf's outfits in Lyrical Nanoha. Also, Tohma's Super-Powered Evil Side in Magical Record Lyrical Nanoha Force.
Kurausoras' outfit during her final duel with Argent in Iono the Fanatics.
Mahou Sensei Negima has one of these somewhere, amidst all the other various forms of Fan Service.

Yue's outfit bares her midriff after the fight in the Governor's ball. Reminding you that her ally was written out by a shot that passed through Yue, destroying that part of her shirt along with Emily.

Eva from Karneval bares it. And damn she bares it well.

Envy wouldn't seem nearly as androgynous without her bared midriff.
Winry in her mechanic clothes.

Rosetta Passel in "Kaleido Star".
Divergence Eve and it's second season has Kotoko, both the piloting outfits she wears are very Stripperific starting just below the chest area.
Mobile Suit Gundam 00's Nena Trinity... in addition to ridiculously short shorts.

But then, one might argue that Nena walks around in her underwear, when not busy killing innocents.
Johanna also does this... though Nena shows more for the purpose of Fanservice.

Nami, and to a degree Robin, of One Piece are prime examples.

Almost all of the female characters in "One Piece" get this trope.

Michiko from Michiko to Hatchin does this a lot, drawing attention to the big tattoo on her stomach.
Nadie's outfit in El Cazador de la Bruja.
Nadia: The Secret of Blue Water: Nadia's acrobat outfit.
In Sailor Moon, Ves Ves, Cere Cere, and Jun Jun (known better in the anime as Besu Besu, Cele Cele, and Jun Jun) of the Amazons Quartet wear outfits that predominantly bare their midriffs. Only Palla Palla (Para Para) has hers obscured.

The Sailor Starlights and a good chuck of the female Monsters of the Week do this too.
Early concept art which had the original five with more individual costumes, had this for all of them save Mercury. Moon and Venus with shirts that stopped just short of the belts, Mars with a similar one, though the material was long in the front to pass the waist, and Jupiter going all out with basically a halter-top and the V-waistline.

In Galaxy Angel, Ranpha initially wears a dress with a large section cut out to reveal her midriff. In sequels Galaxy Angel Z, A, etc., however, this section is covered up.

The outfits of both Lily C. Sherbet and Anise Azeat of the Rune Angel Troupe.

Obviously, Lum from Urusei Yatsura, whose Memetic Outfit is a tiger-print bikini'.
Weda from Haré+Guu wears a similar outfit to Lum's.

Villager Rebecca wears a midriff-baring outfit as well.
Played with by Guu herself. She always wears the same long pink skirt and yellow tube top, but it only shows off her midriff in her adult-form.

Mink from Dragon Half.
Amalla Su from Love Hina: her default outfit is rather revealing tribal garb. Kaolla Su (and later the rest of the girls) wears a similar outfit for her wedding dress.
Misty from Pokémon wears a midriff-baring top in the anime, but shows a lot more skin in one of the manga series, donning a higher-cut shirt and lower-cut shorts.
Yoko from Gurren Lagann wears a bikini top and shorts.

She actually wears so little that during the Beach Episode, her swimsuit covered more skin than her usual outfit. Ms. Fanservice indeed.
Also, Leyte. Her Fan Nickname is even "Professor Midriff".

Kallen Kozuki ~Terrorist Version~ wears this early on in the first series. Complete with giant belts, straps, obvious breasts, and Zettai Ryouki!
Juri from Yu Yu Hakusho wears a one-piece outfit with a large section around her belly cut out.
Raichou's Magical Girl costume in Kyouran Kazoku Nikki has a big gap, through which she shows off her stomach. In one episode she dresses up Kyouka in a costume that reveals even more in that department.
Ahiru in Princess Tutu wears a midriff-exposing sweater when she's not in her school uniform -- although on her it has more of a silly effect than a sexy one. The Dark Magical Girl, Kraehe, also has a dress that covers her chest (barely), but not much else, including exposing her navel.
Pico in the first OVA of the Boku no Pico series.
Kirara in Samurai 7. As well as a most of the women from their village
Mai from the Yu-Gi-Oh anime adaptation.

Tea and Mai wear outfits that do this too.

Both Yunyun and Alphard from Canaan dress this way, although in Yunyun's case it stresses her tomboyish nature, whereas with Alphard it is used more to emphasize her extreme badassery.
As often as not, Tina Foster in Ai Yori Aoshi. Miyabi wore a midriff-baring halter top (often under an even shorter jacket and with a miniskirt) early in the manga, including her first appearance.
Éclair from Kiddy Grade shows off her midriff through a cross-shaped opening in her costume--which also makes it an example of Impossibly Cool Clothes.
Erza Scarlet from Fairy Tail has the ability to change into different armors, many of them showing off her stomach (which some might describe as 'taut').

Most of Lucy's outfits count as well as Clothing Damage.
Cana wears a bikini top.
Mirajane before the disappearance of her sister used to wear this.
Juvia after being possessed by Vidaldus Taka.

Wendy and Mirajane on other does expose their in the anime while Lucy doesn't
And if it not exposed already it will be.

Somewhat Lampshaded in Magic Knight Rayearth: The ship from Chizeta is full of young women wearing such an outfit. When Umi is captured, since her clothes disappear (offscreen, unfortunately), she's given the same kind of outfit, which makes her complain about her bare tummy.
Zakuro and Kisshu from Tokyo Mew Mew fit this trope a little too much.
Konata from Lucky Star did this once. Her dad didn't like it because young, impressionable Yutaka might imitate her.
Revy from Black Lagoon.
Elie from Rave Master.
The girls of Hidamari Sketch rarely wear outfits that do this outside the context of swimwear, but one time, when they were taking pictures of each other with Sae's new used Polaroid camera, Hiro lent Yuno an outfit that showed her tummy. Sae was surprised she even had something like that (with a skull and crossbones on it), but Miyako guesses that Hiro wanted to be bold, so she bought it, then decided she couldn't wear it.

Yoshinoya-sensei wore a midriff-baring outfit on stage during the opening ceremony in volume 4, and later to her class, helping her illustrate the three elective enrichment classes available to second-year students. She invited the ones who had already decided to touch the part of her that indicated the class they wanted: her tummy for 2-D, her breasts for 3-D (!), and her head for information.

While the girls of Ichigo Mashimaro don't seem to wear these in the main story outside of swimsuits, Nobue and Miu do on some episode pages and interstitial pages.
In Gakuen Alice, the main character (10 years old) has a midriff-baring cheerleader's costume in the OP, and bared it again in a I Dream of Jeannie-style costume for the School Festival.
In Cardcaptor Sakura, Sakura Kinomoto has a midriff-baring outfit in 3 episodes.
In Angelic Layer, Tamayo Kizaki bare with her casual clothes and a blue swimsuit.

Misaki Suzuhara did not bare her midriff in the anime, but she bared with her another swimsuit in the official anime picture that shows a group picture of her, Tamayo, Hatoko, Sai, and Kaede in their swimsuits.
The round girls of this anime wore a midriff-baring outfits.
A cameo of Misaki who appeared in the episode 10 of an anime Kobato. wore a midriff-baring blue promotional outfit during the end of an exam along with Tamayo. This is the first appearance of Misaki Suzuhara who bare her midriff in the other CLAMP anime.

Urd, Belldandy, and Skuld's loli form in Ah! My Goddess have all worn midriff-baring outfits.
This outfit worn by Sylia Stingray in the Bubblegum Crisis OVAs, sometimes with a suit jacket over it. The first episode was released in 1987, but with the passage of time her fashion starts looking less and less ridiculous.
Tsume from Wolf'sRain. Fangirls are pleased.
Lisa Sakakino from éX-Driver.
In Eureka Seven, Gidget, Hilda and Talho all have outfits that bare their midriffs to various degrees. Talho, however, switches to a full-body costume later on.
Yumekui Merry: Merry, one of the more recent examples. Notable in that they're not trying to "sneak" anything past the radar -- in fact, the animators appear to be actively trying to put in as many shots of Merry's bellybutton as they can.
Infinite Stratos: Houki, Cecilia, Laura, Kanzashi, Tatenashi, Rin, and Charlotte's' IS suits are like this.
Runo Misaki and Julie Makimoto in the first series of Bakugan.
Community content is available under
CC-BY-SA
unless otherwise noted.