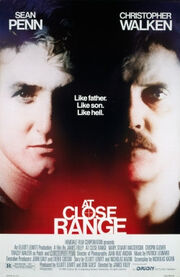 At Close Range is a 1986 American crime drama film directed by James Foley, based on the real life rural Pennsylvania crime family led by Bruce Johnston Sr . which operated during the 1960s and 1970s. It stars Sean Penn and Christopher Walken, with Mary Stuart Masterson, Sean's brother Chris Penn, David Strathairn, Crispin Glover, Kiefer Sutherland, and Eileen Ryan (the Penns' real-life mother) in supporting roles. Sean Penn's real-life wife at the time, Madonna, both sang and wrote the lyrics for the song Live to Tell which features in the film's soundtrack.
The story begins with Brad Whitewood Jr. (Sean Penn), an impoverished teenager who lives in the country with his brother Tommy (Chris Penn), his mother Julie (Millie Perkins), grandmother (Eileen Ryan) and mother's boyfriend. A fight with his mom gets Brad Jr. near kicked out of home, and in comes his biological father Brad Whitewood Sr. (Christopher Walken), a charismatic career criminal who seeks to get his son involved in his dirty businesses. Feeling lost and trying to change his boring life into something else, Brad Jr. accepts and then gets both Tommy and their friends into said crime business. But things turn out to be much harder and crueler than Brad Jr. believed, and with help of his girlfriend Terry (Mary Stuart Masterson) he attempts to get the HELL out of the gang, which will cause massive tragedies from then on...
This work is under construction
Community content is available under
CC-BY-SA
unless otherwise noted.