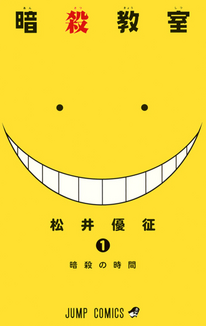 After destroying 70% of the Moon, an inhuman nigh unkillable creature has decided to destroy the earth in less than a year. For some reason, he has decided to spend the year itself as a junior high teacher and under no circumstances will harm his students... and now said students have to find a way kill their teacher before he destroys the planet. This will be more difficult than expected, however, as not only Koro-sensei (the name they decided to call the creature) night unkillable, he also is the best teacher they have ever had. Especially since these 14-15 year old kiddos are the members of 3-E, the Black Sheep class of the super prestigious Kunugigaoka Junior High in Tokyo, and many of them have... severe troubles. And then it turns out Koro-sensei has his own and massive issues, including the Dark and Troubled Past that led him to become a "night-unkillable creature" to begin with...
Assassination Classroom (Japanese: 暗殺教室 Hepburn: Ansatsu Kyōshitsu) is a manga series written and illustrated by Yūsei Matsui. It originally ran in Shonen Jump from July 2012 to March 2016, compiled in 21 volumes, and is licensed in North America by Viz Media. It has had three anime adaptations: a VOMIC (video comic, which basically mix drawn images with voice acting) from 2013, a single OVA episode aired during the Jump Super Anime Tour of 2013, and finally a TV series in 2015 and its second season from 2016. It also has two live-action adaptations, released in 2015 and 2016.
Tropes used in Assassination Classroom include:
Abusive Parents: The Principal of the school isn't too kind to his son, and is basically to blame for Gakushuu being a male Academic Alpha Bitch.

Nagisa

's mother is terrible to her son. She's a highly frustrated and bitter woman with lots of broken dreams...

so when she had a son instead of the daughter she badly wanted, Hiromi forced Nagisa to keep his hair long and dress up as a girl, beating him up and verbally abusing him if he resisted.

Ascended Fanboy: Inverted. The "God of Death" was inspired by another hitman to become a hitman. Which hitman?

The one who killed his father

.
Asshole Victim: How the "God of Death" describes his father. Considering he is a jerkass in the present even by hitman standards, it sort of falls in Unreliable Narrator territory.
Babies Ever After: Hinted at the very end. It's implied that Kaede (who's back to her acting career as "Haruna Mase") is pregnant. It's not mentioned who's the father of her baby, but it might be Nagisa.
Berserk Button: Koro-sensei goes to Brazil during the 2014 FIFA World Cup, and accidentally mentions the numbers 7 and 1 several times. The thing is, Brazil just lost the semifinal match of the cup in their home by a humiliating score of Brazil 1 x 7 Germany. The result is lot of pissed off brazilians.
Cloudcuckoolander: Koro-sensei says some odd things sometimes. Like saying that dressing as a dog makes him more able to feel scents.
Damsel in Distress: Irina "Bitch-sensei" Jelevic, one of the two other teachers of Class 3-E aside of Koro-sensei, is kidnapped by the hitman Shinigami, who forces the heroes to try to rescue since otherwise the Shinigami will cut her into pieces.
Detonation Moon: And Earth is next if Koro-sensei isn't killed soon enough. As it turns out, he didn't exactly blow up the Moon.
Dissimile: In Chapter 104, Yukiko says Bitch-sensei don't would be the kind of person to go through a Face Heel Turn. She begins to describe her, but then realizes Irina is the Token Evil Teammate and agrees she's exactly the kind of person that would betray the class.
Dude Looks Like a Lady: Nagisa, and how. Less funny when one finds out why he looks so girly: his abusive mother, Hitomi, always wanted a girl and not a boy.
Earn Your Happy Ending: On one hand, Koro-sensei DOES die at the hands of the students and they (plus Karasuma and Irina) are logically quite unhappy about it. On the other Earth is saved, the 3-E kids have hope to live better lives from now on (plus they invert the bounty on Korosensei rather well), and the E class system is abolished so no other kids will be ostracized at their school from then on. The last two chapters have the students enjoying their happier lives as much as they can - and as a plus, Irina and Karasuma are Happily Married.
Even Evil Has Standards:

The VERY evil Takaoka sends out a group of assassins after Korosensei. They're very willing to fight and kill him, but do NOT want to kill the teenagers from Class 3-E - as much, they give the kids some non-fatal (though still nasty) case of food poisoning.

Principal Asano's son Gakushuu is a male Academic Alpha Bitch and a gigantic Jerkass, but little by little starts to see how wretched his dad's methods are...

I Fight for the Strongest Side: Inverted. Bitch-sensei goes through a Face Heel Turn because she believes the "God of Death" has more chances of killing Koro-sensei than the class. She's not too happy about it, however..
Improbable Aiming Skills: The "God of Death" can hit someone's aorta with a very small bullet.
Innocently Insensitive: Koro-sensei accidently starts a riot against himself by mentioning 7 and 1 out loud a lot of times to grieving brazilian supporters. They try to beat him up.
Groin Attack: To put it in simple terms, Karasuma kicks the "Shinigami" in the groin.
Honey Trap: Irina aka Bitch-sensei, and how. Hinano and Touka have potential to be this as well, and Irina teaches them some of her tricks.
Implied Love Interest: Kaede, for Nagisa.
Kryptonite Is Everywhere: To be fair, the threat that is Koro-sensei is a closely guarded secret and anyone other than world leaders let in on that secret is more likely than not supposed to kill him and has been supplied special weapons suitable solely for the task of killing him (in fact often these weapons are unsuitable for killing humans).
Mini-Dress of Power: At first seems inverted, since Bitch-sensei is wearing a mini-dress after being kidnapped by the "God of Death".

Then she revealed she was allied to him all the time, and proceeds to fight her students

.
Names to Run Away From Really Fast: A hitman called "God of Death/Shinigami", period.
Nigh Invulnerability: Koro-sensei.
No Endor Holocaust: Considering that 'only' blowing up the Moon to the extent that it was rendered a permanent crescent would be enough to initiate at least a Class 3 Apocalypse in Real Life, the inhabitants of the Assassination Classroom universe sure are lucky to be anime characters.

And that Koro-sensei didn't really want to kill any of them, least of all his precious students.

Nosebleed: Irina gets one when see Karasuma without a shirt.
Playing Possum: Downplayed. In Chapter 104,

Irina pretends to have tripped and injured herself to attack a group of students that still think of her as her weird, kind of a jerk, but still goofy teacher

.
The Promise: Korosensei's Star-Crossed Lover Aguri Yukimura, who once taught Class 3-E, asked him in her Last Request to look after her students. That's why Korosensei became their teacher.
Ragtag Bunch of Misfits: Class 3-E.
Raven Hair, Ivory Skin: Yukiko, the local Yamato Nadeshiko.

Surprisingly, Korosensei used to be this. Before being mutated into the yellow-skinned and tentacled creature he is now, he was a lovely-looking man with dark hair/eyes and pale skin.
Karasuma looks a bit more serious and stoic than usual for the trope, but some Class 3-E girls (and Irina) consider him to be this.

Shipper on Deck: The Class 3-E kids ship Karasuma-sensei and "Bitch"-sensei. There are also some Nagisa/Kaede fans there too.
Stepford Smiler: The Shinigami talks in a friendly, calm tone towards the class. Hinano even thinks he may be a good guy. Karma, however, says that is just a way of seducing his targets before he goes for the kill.
The Needs of the Many:

The "God of Death" creates an assasination plan for Koro-sensei that would end with the students also killed. Karasuma is caught between his responsibility towards Earth and his love to the kids but, ultimely, decides they're worthy the risk the possible future destruction of Earth

.
Unwitting Pawn: The "God of Death" is said to use only this kind of ally to execute his assassinations.
Would Hit a Girl: The "God of Death" would kill it even.
You Killed My Father:

Or, in Kaede/Akari's case, "YOU KILLED MY SISTER!"
Community content is available under
CC-BY-SA
unless otherwise noted.