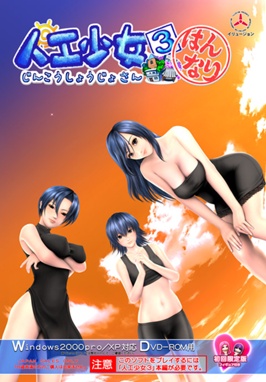 Artificial Girl is a series of three H-games (and an expansion pack) made by the Japanese gaming company Illusion. It allows the player to design from scratch an ideal girl, picking hair color, eye color, voice, and bust size. From 3 onward, one could also choose certain personality traits to add. Having created said character, the game allows you to walk around in a visually unimpressive virtual world and, well, interact with the girl that was just created.
After creating the girl and entering the world, the only thing that can be changed about the girl (barring anything done through mods) is the clothing she wears, though the available options are quite in depth.
Obviously never gonna see an international release, as is Illusion's policy.
Tropes used in Artificial Girl include:
Community content is available under
CC-BY-SA
unless otherwise noted.