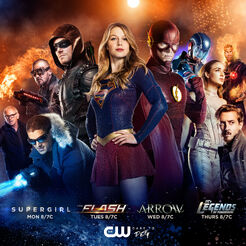 In 2012, a Live Action Adaptation of Green Arrow, dubbed Arrow, aired on The CW before it got a Spin-Off, The Flash, in 2014, creating what became known as the Arrowverse.
Most of the Arrowverse originally took place on Earth-1 before the adaptation of Crisis on Infinite Earths created a new reality that merged all of the main shows into one reality dubbed "Earth-Prime." The list of shows is as follows:
Taking place on Earth-Prime:
Constantine (2014)[2]
Vixen (2015-2016)
Legends of Tomorrow (2016-)[4]
Black Lightning (2018-)[5]
Superman & Lois (2021-)
Green Arrow and the Canaries (TBA)
Other Earths:
Tropes used in Arrowverse include:
Community content is available under
CC-BY-SA
unless otherwise noted.