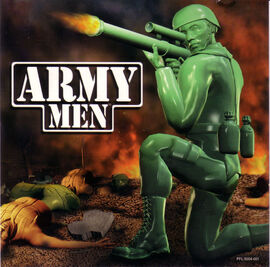 A world exists that's quite different from our own. There, a battle rages out of control. A battle between good and evil...Green and Tan.

—Intro to Army Men: Sarge's Heroes
Army Men was a popular series of Video Games by the now defunct software company 3DO, about a war among several factions of plastic Army Men. The game was inspired by the developers' childhood memories of playing with miniature Army Men. The series lasted from 1998 to 2003, when 3DO went bankrupt. Many fans of the series laud the initial games' more "family oriented" take on the shooter genre. After Army Men: Air Attack, the brand started suffering from lower quality sequels and spinoffs (let's not talk about a certain game starring Sarge's girlfriend). Since 3DO went under in 2003, various other companies have since tried to make games based on the Army Men brand, to even lower results than 3DO's later games.
---
This series has examples of:
 Plastro: Burn it all, starting with her blasted Blue homeland.

Vikki: Plastro! How could you?

Plastro: Well, somebody's not paying attention. I'm the bad guy!
Community content is available under
CC-BY-SA
unless otherwise noted.