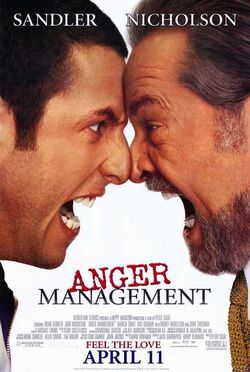 Anger Management is a 2003 comedy film, starring & executive produced by Adam Sandler, with Jack Nicholson and Marisa Tomei.
The story is about a timid man, David Buznik (Sandler), who is enrolled in Anger Management after he incurs the wrath of Selective Enforcement by lightly tapping a flight attendant on the arm. Hilarity Ensues when the judge assigns him a Cloudcuckoolander named Buddy Rydell (Jack Nicholson, whom he met on the airplane) as his therapist.
---
Tropes used in Anger Management include:
Community content is available under
CC-BY-SA
unless otherwise noted.