Wiki Targeted (Entertainment)
Play Sound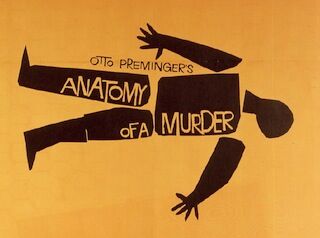 Anatomy of a Murder, produced in 1959 is an American trial court drama film directed by Otto Preminger and written by Wendell Mayes based on the novel of the same name written by Michigan Supreme Court Justice John D. Voelker, based the novel on a 1952 murder case in which he was the defense attorney.
The plot of the film follows lawyer Paul Biegler (James Stewart), who is one day called to defend the loutish US Army Lieutenant Frederick "Manny" Manion (Ben Gazzara), who was arrested for first degree murder, having killed innkeeper Barney Quill. Manion does not deny the murder, which was committed when his wife Laura (Lee Remick) claimed to have been raped by Quill. The story follows Biegler's attempts to justify Manion's actions in court, opposed by a prosecution team headed by assistant Attorney General Claude Dancer (George C. Scott, appearing in only his second film.)
The soundtrack was composed and performed by Duke Ellington, who also makes a Cameo Appearance.
This movie was named to the National Film Registry in 2012.
---
Tropes used in Anatomy of a Murder include:
Dancer: When I was overseas during the war, Your Honor, I learned a French word. I'm afraid that might be slightly suggestive.
Judge Weaver: Most French words are.
| | | |
| --- | --- | --- |
| | Judge Weaver: For the benefit of the jury - but more especially for the spectators - the undergarment referred to in the testimony was, to be exact, [the victim's] panties. (courtroom spectators laugh for several seconds; the judge then restores order) I wanted you to get your snickering over and done with. This pair of panties will be mentioned again in the course of this trial, and when it happens, there will not be one laugh, one snicker, one giggle, or even one smirk in my courtroom. There isn't anything comic about a pair of panties which figure in the violent death of one man and the possible incarceration of another. | |
Community content is available under
CC-BY-SA
unless otherwise noted.