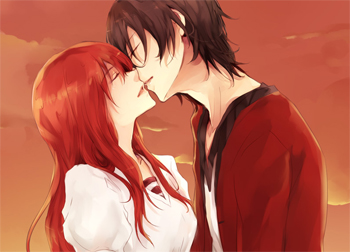 Always Remember Me is an Otome Dating Sim released by Winter Wolves in 2011.
Amy is an average college student working at an ice cream shop over the summer to pay off tuition; when she's not working, she's spending time with Aaron, her steady boyfriend. One night, after an unsuccessful dinner with Aaron's father, and a subsequent romantic walk on the beach, Amy and Aaron decide to head off on Aaron's motorcycle. On their way to the ice cream shop, they get into an accident involving a drunk driver.
The next morning, when Amy wakes up, she's told that neither she nor Aaron have sustained any serious injuries. However, as a result of his attempt to shield Amy and protect her, Aaron suffered a head injury causing amnesia. Although he has most of his childhood memories, Aaron's forgotten most of the past few years—including his relationship with Amy.
Amy must now nurse Aaron back to health and gradually revive his memories of their relationship…however, given the fine selection of bachelors in her hometown, Amy may just as well discover her affections developing elsewhere.
You can download the demo or purchase the game here.
---
This game provides examples of:
Community content is available under
CC-BY-SA
unless otherwise noted.