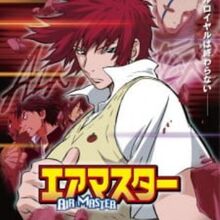 The series follows Maki Aikawa a six-foot tall schoolgirl. She formerly trained with her mother as a competitive gymnast, but due to her size she could no longer partake in it. In order to gain the same thrill she once had while competing, Maki turns to street-fighting.
A Seinen Manga series written by Yokusaru Shibata that was then made into a 27 episode anime. The anime is notable for it's lead being a extremely tall, muscular redheaded schoolgirl, and actually animating most of its scuffles, to the point that stuff like story, plot or motivation comes second place to the fighting. The unusual art style borrows a lot from the 70s, with some fans disliking or liking for the exact same reasons.
Tropes used in Airmaster include:
Community content is available under
CC-BY-SA
unless otherwise noted.