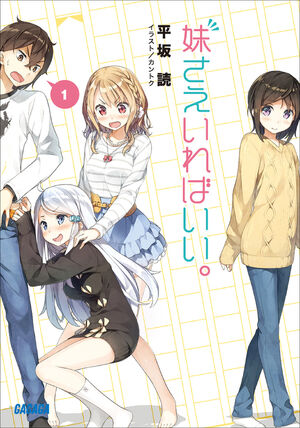 A 2015 light novel series.
Itsuki Hashima is a light novel writer who, to be short, writes very weird fiction, to not mention inconsistent. To the point his editor gets incredibly mad at his new manuscript and rejects it. The thing is, Itsuki is madly obsessed with the concept of having a little sister and not in a normal way. His editor presumes that happens because he don't have a little sister, but instead just a cute little brother. But then again, maybe he don't would have a career if he didn't.
Despite his creepy behaviour, Itsuki still attracts the attention of one girl who admires his writing: Nayuta Kani, a girl who seems to obsessed about sex and dirty jokes.
Written by Yomi Hirasaka and illustrated by Kantoku. Published by Shogakukan.
Tropes used in A Sister's All You Need include:
Community content is available under
CC-BY-SA
unless otherwise noted.