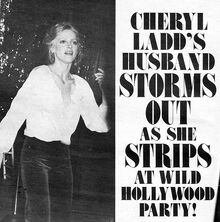 For fictional people past puberty, any wild party with both genders, teen or otherwise, is all about one thing: getting it on. This can be a good or bad thing, depending on many factors. Although one absolute in fiction is that if it's a teenage girl going, and you're her guardian, it's always a bad thing.
Part of the reason for this is simply that All Men Are Perverts and All Women Are Lustful. Incredibly common in Porn, of all things.
If it's planned and advertised as an orgy, it doesn't count.
Compare Hookers and Blow, Sex, Drugs and Rock and Roll. See also Binge Montage.
Examples of A Party - Also Known as an Orgy include:
 Hedonism-bot: Everywhere I looked, there were piles of bodies... and then the explosion struck! Ah ha ha ha! Oh hoo hoo...
 Benson: It's almost 8 o'clock. Kill the lights!

Muscle Man: (unzipping noises) Woohoo! Skips is going to be totally surprised when he walks in and sees us totally naked!

Benson: ...it's not that kind of party, Muscle Man.
Community content is available under
CC-BY-SA
unless otherwise noted.