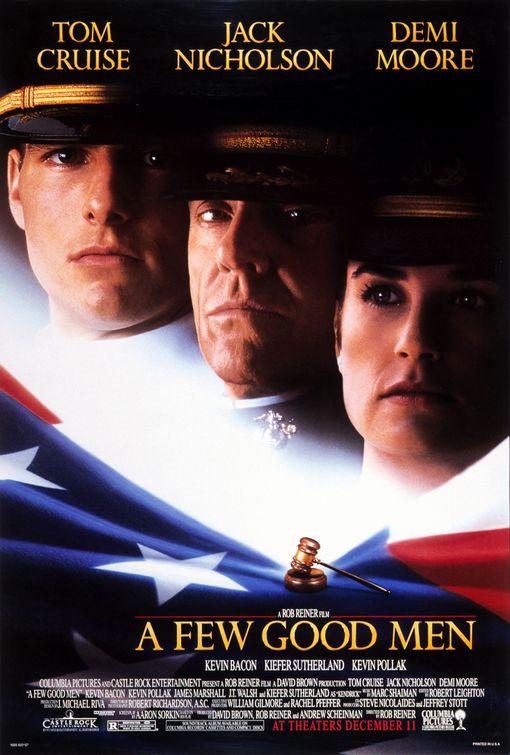 Jessep: You want answers?!

Kaffee: I want the truth!

Jessep: You can't handle the truth![1]
A 1989 play made into a 1992 movie directed by Rob Reiner, written by Aaron Sorkin and starring Tom Cruise and Jack Nicholson, A Few Good Men is a military-themed courtroom drama in which young lawyer Kaffee (Cruise) defends two Marines accused of murder, who say they were acting under orders from Col. Jessep (Nicholson). The movie is mainly famous today for its "You want the truth? You can't handle the truth!" Motive Rant at the end.
Tropes used in A Few Good Men include:
 Kaffee: DID YOU ORDER THE CODE RED?!

Col. Jessep: YOU'RE GODDAMN RIGHT I DID!
| | | |
| --- | --- | --- |
| |   Kendrick: I like all you navy boys. Every time we go somewhere to fight you boys always give us a ride. | |
| | | |
| --- | --- | --- |
| |   Col. Jessep: "You want to investigate me, roll the dice and take your chances. I eat breakfast 300 yards from 4,000 Cubans who are trained to kill me, so don't think for one second that you can come down here, flash your badge, and make me nervous." | |
 Lt. Weinberg: "Cmdr. Galloway, Lt. Kaffee is considered to be the best litigator in our office. He successfully plea bargained 44 cases in 9 months."

Kaffee: "One more and I get a set of steak knives."

Later on when it looks like the case is slipping away from them:

Galloway: "I'm sorry I cost you the steak knives."
| | | |
| --- | --- | --- |
| |  Sam: He does think better with his bat. | |
| | | |
| --- | --- | --- |
| |  Ross: I represent the United States Government without passion or prejudice. And my client has a case. | |
| | | |
| --- | --- | --- |
| |  "I have two books at my bedside, Lieutenant. The Marine Corps Code of Conduct and the King James Bible. The only proper authorities I am aware of are my commanding officer Colonel Nathan R. Jessup and the Lord our God." | |
 Downey: What did we do wrong? We did nothing wrong.

Dawson: Yeah, we did. We were supposed to fight for the people who couldn't fight for themselves. We were supposed to fight for Willie.
Honor Before Reason: Why Dawson refuses the plea bargain. The proposed deal would have saved them from prison, but a dishonorable discharge essentially negates everything they'd done in the Corps.
Ho Yay: Between Kaffee and Ross. They seem to know each other pretty well, and then there's the whole scene with Cruise sucking on his doughnut-dust-covered finger while Bacon stares him down. And then some of the final lines:
 Ross: Strong witnesses.

Kaffee: And handsome too, didn't you think?
Hypocrite: For all of his talk about how Marines never disobey orders, Jessup thinks nothing of ignoring the orders of his own superiors because he thinks he knows better. For all of his talk about loyalty, he is more than willing to throw two of his men under the bus to save his own hide.
It's All About Me: Jessep has this in spades. He has no remorse for ordering a weak marine killed and only becomes angry when his validity as a soldier is questioned or his orders disobeyed.
I Won't Say I'm Guilty: Dawson's position on the Code Red -- yes, he did it, but since his commander ordered him to do it, he won't allow himself to plead.

Unusually for this trope, Dawson changes his mind at the end. Having been acquitted for the major crimes, he accepts a dishonorable discharge for "conduct unbecoming a Marine," admitting that he should have stood up for Santiago.

Which is partially foreshadowed when he refuses to plea bargain:
| | | |
| --- | --- | --- |
| |  "If a court decides that what we did was wrong, I'll accept whatever punishment they give..." | |
| | | |
| --- | --- | --- |
| |   "We joined the Marines because we wanted to live our lives by a certain code, and we found it in the Corps. Now you're asking us to sign a piece of paper that says we have no honor. You're asking us to say we're not Marines. If a court decides that what we did was wrong, then I'll accept whatever punishment they give. But I believe I was right sir, I believe I did my job, and I WILL NOT DISHONOR MYSELF, MY UNIT, OR THE CORPS SO I CAN GO HOME IN SIX MONTHS! [beat] Sir. | |
| | | |
| --- | --- | --- |
| |  Kaffee:Don't call me son. I'm a lawyer, and an officer in the United States Navy, and you're under arrest you son of a bitch. | |
That Was Objectionable: A borderline example. The prosecution puts on a doctor to give his opinion as to the cause of Willie Santiago's death. Lt. Cmdr. Galloway objects on the basis of his qualifications. When the judge overrules her, she "strenuously objects" and is again overruled.
| | | |
| --- | --- | --- |
| |   Sam: "Strenuously object"? Is that how it works? "Objection!" "Overruled." "No no no, I strenuously object." "Oh, well if you strenuously object, then I should take some time to reconsider." | |
Her "strenuous objection" prompts the judge to say "The witness is an expert, and the court will hear his opinion;" undermining her own point in front of the court members, which Sam calls her on.
 Capt. West: Commander Galloway, why don't you get yourself a cup of coffee?

Lt. Cmdr. Galloway: Thank you, sir, I'm fine.

Capt. West: Commander, I'd like you to leave the room so we can talk about you behind your back.

Lt. Cmdr. Galloway: Certainly, sir.
 Luther: It ain't over till the fat lady sings.

Kaffee: You can say that again.

Luther: It ain't over till the fat lady sings.

Kaffee: (with him) Fat lady sings. I walked into that one.