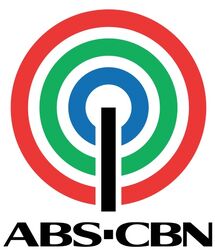 It's an undisputedly large media institution mixed with a dedication to serve the Filipino, wherever they may be.
ABS-CBN (Alto Broadcasting System - Chronicle Broadcasting Network) is a major commercial television network in the Philippines. It is the oldest and the leading television network in the country with an advertising revenue of ₱19 billion for the fiscal year 2012. It is a unit of the media conglomerate ABS-CBN Corporation. It was launched on 23 October 1953 under the name Alto Broadcasting System, and is among the first commercial television networks in Asia. Its headquarters are in Quezon City with regional offices and news bureaus in over 25 provincial areas throughout the country.
The network is very famous for being the first TV network in the Philippines and among the first in Southeast Asia, its innovations in broadcasting, being a successful media conglomerate, a consistent ratings champion, its commitment to public service, and being the largest TV network in the country (with 71 TV stations all over the Philippines).
History
For a more comprehensive view of ABS-CBN's history, see the timeline part of ABS-CBN/Analysis.
ABS-CBN was created in June 13, 1946 as Bolinao Electronics Corporation by an named James Lindenberg. He saw the potential of TV in the Philippines but branched into radio broadcasting instead due to strict import controls. However, he managed to find a partner named Antonio Quirino, who wanted to have a TV station but was denied. He soon bought BEC and renamed it Alto Broadcasting System or ABS. The network soon managed to build a 50kW transmitter tower, and was able to import 300 sets. In 1953, DZAQ-TV Channel 3, the first commercial TV station in the country, was established. DZAQ-TV began commercial television operations on 23 October 1953; the first fully licensed commercial television station in the Philippines. The first program to air was a garden party at the Quirino residence in Sitio Alto, San Juan. After the premiere telecast, the station followed a four-hour a day schedule, from six to ten in the evening.
In 1955, Manila Chronicle owner Eugenio Lopez, Sr. and former Vice President Fernando Lopez, acquired a radio-TV franchise from the Congress and immediately established Chronicle Broadcasting Network (CBN) in 1956, with DZYK-FM, the very first FM station in the country. On 24 February 1957 Lopez invited Judge Quirino to his house for breakfast and ABS was bought under a contract written on a table napkin. The corporate name was reverted to Bolinao Electronics Corporation immediately after the purchase of ABS. DZXL-TV Channel 9, the TV station of CBN soon emerged the following year.
During that time, several hits rose: Tawag ng Tanghalan and Student Canteen were among them. In 1961, Eugenio's son Geny saw the potential of "bridges on the air". He managed to complete the first phase of this project by establishing DYCB-TV Channel 3 in Cebu, the first provincial TV station in the country. In the same year, competition emerged as new rivals emerged—one of them was DZBB-TV Channel 7, owned by the Republic Broadcasting Corporation (now GMA Network, Inc.), was established. Ironically, like BEC, RBS was also established by an American named Robert La Rue Stewart or Uncle Bob.
Even at a young age, in the sixties, ABS-CBN was the undisputed ratings and audience share leader and spawned new hits like Your Evening With Pilita, Buhay Artista, and Hiwaga sa Bahay na Bato, as well as the long-running English newscast The World Tonight, all factors that caused ABS-CBN to dominate the TV industry. ABS-CBN also dominated in the radio industry as DZAQ-AM and DZYK-FM became popular among listeners. They also expanded to Bacolod, Davao, Dagupan, Bicol, and Baguio. ABS-CBN also pioneered in color TV in 1966 with the help of RCA. The network also pioneered with the most advanced broadcast center at that time, the ABS-CBN Broadcast Center which still stands today and the breaking news concept and interplanetary coverage. In 1969, the network changed its channel assign,nets in Manila from channels 3 and 9 to channels 2 and 4.
The declaration of martial law by Ferdinand Marcos marked the shutdown of ABS-CBN, its seizing from the Lopezes, Geny's imprisonment, and the loss of the jobs of 2,300 employees. The network fell silent until 1986. Meanwhile, ABS-CBN's stations were used by KBS, then by a new network named Banahaw Broadcasting Corporation or BBC. Its facilities, meanwhile, were used by KBS (which later became RPN), BBC, IBC, and GTV, and their owner Roberto Benedicto, failed to pay a single cent of money for the Lopezes.
RPN, BBC, and IBC soon left the Broadcast Center under the management of GTV (which soon became MBS) in 1979, to occupy the then newly-built Broadcast City in Old Balara Drive in Quezon City. MBS also failed to pay a single cent for the Lopezes. Eugenio Sr. soon died of cancer in 1975 while Geny escaped from prison in 1977.
Sweet Revenge (1986)
The long hibernation of ABS-CBN ended on February 1986. As the EDSA revolt broke out in the eighties, and Marcos' grip on power debilitated, the reformists in the military contended the broadcasting network would be a vital asset for victory. Thus, at 10 AM on February 24, they attacked and took the ABS-CBN Broadcast Center that was then the home of MBS (which soon became PTV). Marcos, despite his attempts to remain in power, had his reign ended as he was finally kicked out of office. He left in exile to Hawaii where he soon suffered his biggest punishment: he died three years later. By this, he did not know that although he extinguished ABS-CBN 14 years ago, it only seemed fitting for the network and its alumni to help pave the way for the errant president's crushing downfall and defeat.
ABS-CBN's Return and the Tiny Dork Age (1986-1988)
In July the same year, Channel 2 was given back to the Lopezes but not Channel 4, and thus, ABS-CBN was resurrected while BBC was shut down by the government, and in September, ABS-CBN resumed operations. Funds were low, only 200 employees were working for the network, resources stretched to the limit, and ABS-CBN was in last place. Very much, instead of gaining lost glory, they were stuck in a Dork Age (which at least lasted less than a year).
An even bigger problem was that the Lopezes needed funds to pay their debts, but Benedicto ignored that concern, while the Broadcast Center's ownership remained under PTV until 1987.
As a result, his networks, RPN and IBC, which once thrived during the Marcos years, ended up suffering a financial crisis and slumped in the ratings and worse yet for the two networks, their reach folded slowly, as they sold some regional stations to other networks (and ABS-CBN), and their life, from being a bed of roses, had already become a living hell. GMA and PTV meanwhile, continued to thrive. In 1987, PTV soon gave up ownership of the Broadcast Center to ABS-CBN and 600 of its employees as well.
On 1 March 1987, Channel 2 was relaunched with the live musical special, "The Star Network: Ang Pagbabalik Ng Bituin" (The Return of the Star). One of the new programs in the relaunch would evolve into a Long Runner newscast: TV Patrol. In the following months, thanks to the new programs, ABS-CBN had jumped up some spots, and before 1987 ended, ABS-CBN had been elevated from dead last to second place, just behind its old rival, GMA.
Back On Top (1988-1990)
In 1988, ABS-CBN finally completed its "bridges on the air" project with the help of satellite technology allowing it to broadcast on nationwide telecast.
In August 8 the same year, the entire nation was blown away—ABS-CBN was number one again in the ratings! The top 10 shows were also from ABS-CBN—among them were Chika Chika Chicks, Loveli-ness, TV Patrol, among many others. In 1989, ABS-CBN made showed its true mission via a new iconic slogan: In The Service Of The Filipino. In 1990 and 1991, ABS-CBN addressed to the needs of victims of the Mount Pinatubo eruption and Luzon earthquake thru a new subsidiary called ABS-CBN Lingkod Kapamilya Foundation.
ABS-CBN's Transformation (1990-2004)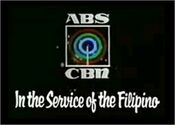 But thats not all. ABS-CBN also expanded its operations worldwide in 1992. To signal the full blast of the international expansion, the slogan In The Service Of The Filipino evolved into In The Service Of The Filipino Worldwide.
The following years, while making new hits, both entertaining and informing, like Home Along Da Riles, ASAP, Oka Tokat, Oki Doki Doc, The Correspondents, Mara Clara, Cristy Per Minute, Abangan Ang Susunod Na Kabanata, Usapang Business, Sineskwela, Math Tinik, Bayani, Epol Apple, Palibhasa Lalake, Sharon, Showbiz Lingo, Balitang K, Today with Kris Aquino, Flames, G-Mik, Sports Unlimited, Ang Munting Paraiso, Jullie, Tabing Ilog, Tarajing Potpot, Hirayamanawari, Knowledge Power, Wansapanatym, Maalaala Mo Kaya, Marinella, Magandang Gabi Bayan, Esperanza, Mula Sa Puso, Magandang Tanghali Bayan, Teysi ng Tahanan, Hoy Gising, and Alas Singko Y Medya, ABS-CBN expanded into other businesses:
film production (ABS-CBN Film Productions, Inc.), music production (Star Recording, Inc.), visual effects (Roadrunner Network, Inc.) print publication (ABS-CBN Publishing, Inc.), and new media (ABS-CBN Interactive),
a UHF television network Studio 23 (which was later reformatted in 2014 to become ABS-CBN Sports+Action) as well as the cable channels Myx (music), ABS-CBN News Channel (news), Cinema One (movie), Hero (Tagalog dubbed anime), the Lifestyle Network (home and lifestyle), Kapamilya Channel (regionally produced shows.), DZMM Teleradyo (interactive news), Knowledge Channel (educational), Balls (sports), O Shopping (home shopping), Jeepney TV (old ABS-CBN shows), and the now defunct Velvet (women-oriented) and Maxxx (men-oriented),
established regional stations and news bureaus to handle operations in different areas throughout the Philippines and throughout the world,
Cinemagica (theater operations) and Metropolitan Basketball Association (sports), and
ABS-CBN Lingkod Kapamilya Foundation, Inc. via E-TV (Educational Television), the Knowledge Channel Foundation, Bantay Bata (Children's Watch), Bantay Kalikasan (Environment Watch), and ABS-CBN Bayan Foundation.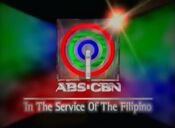 By that time, ABS-CBN had already transformed into a globally-known multi-media conglomerate. Geny Lopez soon retired as chairman and passed it on to his son Eugenio III (or Gabby) and became chairman emeritus before dying of cancer in 1999. ABS-CBN soon launched its powerful 120kW Millennium Transmitter in 1999, in time for their New Year 2000 special broadcasted in many points of the country and the world. Along with the dawn of the new millennium, ABS-CBN also changed its Iconic Logo as well. They also started using the term "Kapamilya" or part of the family.
ABS-CBN also rolled out new hits like Game KNB? and Pangako Sa 'Yo, allowing ABS-CBN's reign of dominance to reach its 15th year in 2002. In 2003, ABS-CBN celebrated the 50th anniversary of Philippine TV, still the dominant leader in Philippine TV, while introducing more hits like the phenomenal Asianovela Meteor Garden. But although ABS-CBN remained dominant and sustained its reign of dominance, one rival was worthy enough to tear it apart....
The Second Dork Age: Failing Hard/Growing Pains (2004-2007)
After 16 years, GMA-7 did its own sweet revenge on ABS-CBN by out loading it from first place in Mega Manila, pushing ABS-CBN to a far second. This was because of the Korean dramas and fantasy series aired there. They changed Game KNB? into Pilipinas Game KNB? and TV Patrol into TV Patrol World. Yes, they were stuck in another merciless (and again, short) Dork Age.
In 2005, ABS-CBN upgraded its transmitter to 346.2kW and launched new shows like Wowowee, Pinoy Big Brother, and Kampanerang Kuba. While successful, ABS-CBN was still number two in Mega Manila. In 2006, ABS-CBN suffered another huge loss when Wowowee's first anniversary ended up with 71 people killed by a stampede. But thankfully, luck would be on their side the following year. Top-rated hits like Goin Bulilit, Super Inggo and Ysabella would becomes signs that ABS-CBN was on its way to recovering in the ratings.
Entering An Era Of Recovery (2007-2010)
And yet, even if GMA dominated Mega Manila, surveys confirmed that ABS-CBN was number one nationwide in 2007, thanks largely to massive hits like Sana Maulit Muli, Ysabella, Super Inggo, and Kokey.
ABS-CBN soon celebrated its 55th anniversary and in the following years after 2007, ABS-CBN spawned new hits like Palos, Maging Sino Ka Man, Lobo, Dyosa, Kung Fu Kids, May Bukas Pa, Pieta, Precious Hearts Romances, a new Wansapanatym, Noah, Banana Split, The Singing Bee, and Showtime.
ABS-CBN Regains Its Dominance (2010-2012)
In 2010, ABS-CBN shifted to augmented reality technology for its newscasts and news coverages. And in February the same year, ABS-CBN finally regained leadership in Mega Manila, driven by the monumental performance of its election coverage and the overwhelming success of its shows. ABS-CBN remained dominant in the following years with new hits: 100 Days to Heaven, Guns and Roses, Minsan Lang Kita Iibigin, Be Careful With My Heart, Walang Hanggan, Princess and I, It's Showtime, and Gandang Gabi Vice.
GMA and a new rival named TV5 continued to pose as serious competition to ABS-CBN, but were still unable to topple ABS-CBN's dominance. In 2012, Gabby Lopez retired as CEO and passed it on to Charo Santos-Concio, who was also president and CEO. The following year, ABS-CBN would soon turn out to be luckier than they have expected.
Soaring To New Heights (2013-present)
In 2013, ABS-CBN turned 60. The network celebrated the occasion with the launch of a new campaign called "Kwento Natin Ito!", and defended its lead with several new shows: among them are the phenomenal Juan dela Cruz, Got to Believe, Muling Buksan Ang Puso, Annaliza, and Honesto, as well as the return of The Singing Bee which debuted to great expectations, and a new look and set for TV Patrol and Bandila. ABS-CBN also celebrated its 60th anniversary through its Kwento ng Kasiyahan: The ABS-CBN Grand Kapamilya Weekend at the Quezon Memorial Circle in Quezon City, which had entertainment and public service events rolled up for the celebration. The summer and Christmas slogans for ABS-CBN, namely: Kwento ng Summer Natin and Magkasama Tayo sa Kwento ng Pasko respectively, were also centered around the network's 60th anniversary. By the end of 2013, ABS-CBN's dominance was sustained yet again, as its nationwide audience share stood at 42% against GMA's 33%.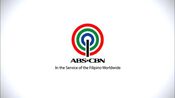 The network also announced a major rebranding project for 2014, which involves the adoption of the Gotham font as its corporate typeface, and a new logo as its centerpiece. On 1 January 2014, the network's most famous logo was retired, and the new logo replaced the 2000 logo as the new corporate logo of ABS-CBN, was adopted universally by its owned companies and subsidiaries, and was officially debuted on-air with the launch of a new station ID featuring the new logo. The on-air identity was also changed, now in a style which consists of countless thick rings which appeared to be popping out and enclosed by a rectangle without lining. The theme used for the rebranding and launching of the new logo was called Masayang Muli Ang Kwento Natin.
The network's logo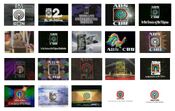 The network's logo, which has a vertical black line, three concentric rings, and a square, along with the text ABS-CBN, is arguably the most famous logo in Philippine media, especially in television.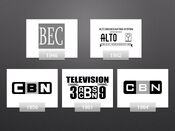 The line signifies a transmitter tower, while the three rings denote Luzon, Visayas, and Mindanao, the RGB pixels, and the network's presence in the Filipino way of life. The square represents balance, stability, and the network's dynamism into other media businesses, and the ABS-CBN text, which adopts a modern Rotis typeface to denote a modern, Filipino enterprise, signifies the network's mission: to serve the Filipino, wherever he may be.
The logo of ABS in 1953 had something like this: it contained a rectangle with a transmitter and a ring which represents a signal it emits, and the corporate name of ABS revolving around it. On the other hand, the logo of CBN consisted of three blocks with the text CBN. In 1961, ABS-CBN used a logo with a rectangle consisting of ABS and CBN's names united with one big letter B, together with the numbers 3 and 9.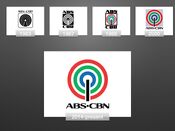 The network then used a new logo in 1963 which consisted of a triangle (which denotes a transmitter), and four rings (which denote its signals), enclosed in a square with rounded edges, and the name ABS-CBN on top. In 1967, the design was revised, and was changed to this form: three rings, a vertical line, a square with sharp edges, and the names ABS on top and CBN below. In 1986, the design was revised again: the square became a box which was combined with the line, and the rings were given RGB colors.
In 2000, to signify the beginning of the new millennium, the logo was given a big overhaul. The box was reverted to a square, the rings and line were slightly modified, and the names ABS and CBN were united into the ABS-CBN text (this is the second time the text has been like this), and was given a more modern Rotis typeface. The design was updated in 2014, with the square becoming white, the rings and line appearing to be thicker, and the ABS-CBN name being modified to make it look more "modern".
Community content is available under
CC-BY-SA
unless otherwise noted.