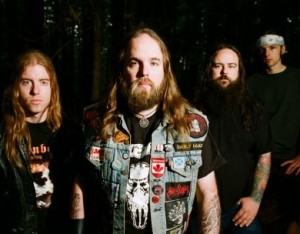 3 Inches of Blood is a thrash/PowerMetal band from Vancouver, British Columbia, Canada formed in 1999. Their style is inspired by the New Wave of British Heavy Metal and more modern death and black metal bands, which is mostly shown through vocalist Cam Pipes's Halford-esque singing style and former vocalist Jamie Hooper's screams and growls. On their first two albums, the NWOBHM influence is seen far more than the death metal influence, but their third release, Fire Up the Blades, shows far more of the death metal influence and was described to be inspired by "low quality beer, bong hits and listening to black metal in the dark." Here Awaits Thy Doom returned to the NWOBHM influenced style.
A new album is in the works, with the band giving updates via Facebook: "Going into the studio today to lay down a couple of new tracks. You'll get to hear them live if you come see us on our upcoming tour. Just finished getting drum sounds, can't wait for this new stuff to swing its mighty axe into everyone's brains...its fast and furious, whole lotto riffin going on. One song for drums down and two to go, sounds fuckin punishing, the spirit of this band has never been stronger."
They are often accused of being a joke band, though the band disagrees. While they acknowledge that they are ridiculously over the top, they do not consider themselves to be a joke band.
Current Members:
Vocals: Cam Pipes (2001-present)
Screams and Growls: Justin Hagberg (2004-Present)
Guitar: Justin Hagberg, Shane Clark (2004-Present)
Drums: Ash Pearson (2007-present)
Former Members:
Screams and Growls: Jamie Hooper (1999-2008, quit due to vocal injury)
Guitar: Bobby Froese (1999-2004), Sunny Dhak (1999-2004)
Bass: Rich Trawick (1999-2004), Brian Redman (2004-2006), Nick Cates (2006-2009)
Drums: Geoff Trawick (1999-2004), Matt Wood (2004-2005), Alexei Rodriguez (2005-2007, Fired for injuring Saxon drummer Nigel Glockler in a fight)
Discography:
Albums:

Battlecry Under a Wintersun (2002)
Advance and Vanquish (2004)
Fire Up the Blades (2007)
Here Waits Thy Doom (2009)
Long Live Heavy Metal (2012)
Extended Plays:

Sect of the White Worm (2001)
Trial of Champions (2007)
Singles:

"Ride Darkhorse, Ride" (2002)
"Destroy the Orcs" (2003)
"Deadly Sinners" (2004)
"The Goatrider's Horde" (2007)
"Trial of Champions" (2007)
This band may exhibit the following tropes:
Community content is available under
CC-BY-SA
unless otherwise noted.