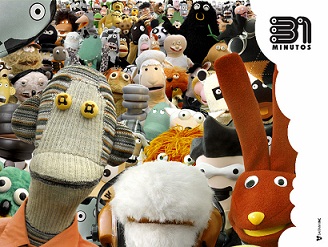 31 Minutos [2] was a Chilean TV series, which parodied the news shows format, hosted by puppets.
The whole idea behind the show was seeing how disastrous things could get on-air and off-air, with characters fighting each other, and Juanín trying to get everyone to do their things.
Among other things, the program had a couple of recurring sections, including the "Top-top-top-top-top music ranking" (where parodies of music videos where transmited) and "The adventures of Calcentin-con-rombos-man [3]" (a parody of super-heroes, with some aesop at the end).
Unfortunately, it was Too Good to Last, only spawning 3 seasons and a movie.
---
Note: since this series includes a lot of significant Spanish names, please try to give them a translation to English. You can always use hot tips: name <ref> translated-name]]</ref>
Tropes used in 31 Minutos include:
 Tulio: "Fascinating, Juan Carlos. It's very interesting to know what happens with our doo-doo."

Juan Carlos Bodoque: "Crap, Tulio. Let's call things for their name: The Crap. Also known as Ass Juice or PPPTTHHHBBHBHBHBHBHBH. It's a very interesting topic to discuss during lunchtime with the family."

Tulio (visibly upset): "... Thanks, Juan Carlos."
Calcetín Con Rombos Man is initially flattered and happy to see an old foe reforming, until he discovers that his products are being manufacturated by children. Slave children, forced to work on inhuman conditions, being fed just once a week and forced to drink alcohol to keep them quiet and obedient. He promptly releases the children and takes them to an Orphanage of Love.
Done In-Universe in the episode '¡Qué lástima!', where the image consultant of the show want to keep it as pitiful as possible in order to raise the TV rating, yet the characters can't stop doing "funny" stuff instead.

Mundane Made Awesome: Several songs featured in the show. The best example probably is "Mi equilibrio espiritual" ("My spiritual balance") by Freddy Turbina, a song about how awesome and admired he has become since he finally learned to ride a bike without training wheels.
Musical Episode: Last episode of each season, although they are actually clip shows of all the music videos of the season, and usually a new song.
News Parody: Faux News variation
No Celebrities Were Harmed: Several characters share traits with analogous Chilean media personalities, although the creators denies they were intended as parodies.
No Ending: 'Mugre' does have an ending, but it was so ambiguous and short that much people don't get it. The fact that it was simply removed in syndication by no seemingly reason doesn't help.
Non-Indicative Name: The song 'Papá, te quiero' literally translates as 'Dad, I love you', but in the lyrics is told in the sense of "Dad, I want you [to do me favors]".
No Title: The episodes were officially untitled until they were released to DVD.

Ascended Fanon: The titles of the first two seasons were taken from a fan website.

Once Per Episode: "¿Qué te pasa, Policarpo?", which translates to "What's happening to you, Policarpo?".
One-Hit Wonder: In-Universe, all songs featured on the 'Ranking Top' are this.
Overly Long Gag: In 'El secreto', about one minute of the characters astounded staring silent after discovering Policarpo's secret. (He's bald, his hair is actually a wig)
Painting the Fourth Wall: Every mention of Calcetí­n Con Rombos Man is followed by everyone turning to the camera while a snippet from Calcetín con Rombos Man's Leitmotif is played. In one episode his leimotiff is played so many times that Calcetín Con Rombos Man yells at the musics to stop playing it, and the musics themselves grab their instruments and walk away, offended.
Paper-Thin Disguise: Lulo Serrucho in his episode.
Photo Montage: The credits of 'No te vayas, Juanín', with photos of a party at Juanín's house.
Piggy Bank: Patana tries to break one until the piggy bank start running.
Product Placement: Parodied in 'Cebollas'.
Protest Song: Parodied with Guaripolo's 'Mala'.
| | | |
| --- | --- | --- |
| |  Guaripolo: "No more trucks, no more whales, no more revolving doors, no more batucadas, no more forests, no more carpets, no more remote controls, no more school vans and no more scholars." | |
 Cirilo Pila: "The only way to avoid the colission would be we make explode the asteroid."

Jackson Aceituno: "And how do you know it?"

Cirilo Pila: "Because I saw it in a movie once..."
 Monstruo Chupachupa: I will not let them go because I'm [she-]evil!

Tulio: Oh, now you're a woman!

Monstruo Chupachupa: (nervously) …I'm a [she-]vacuum, you don't get it?

Tulio: Ah, well, yes…
Notes
↑

Tulio, we are already on-air!

↑

Literal translation: Sock-with-Rhombus-man
Community content is available under
CC-BY-SA
unless otherwise noted.