Wiki Targeted (Entertainment)
Play Sound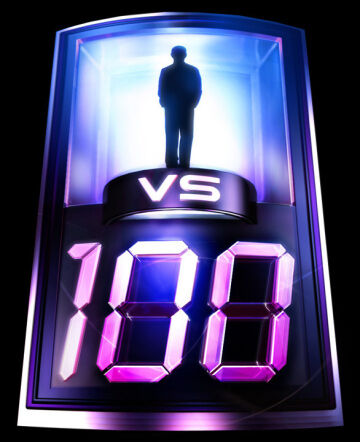 Game Show which originated in the Netherlands and has been exported to over 30 countries. The U.S. version aired on NBC. In the game, one player (the One) plays against 100 other people (the Mob). The players are asked a series of questions; if the One correctly guesses, he moves on to the next question, while all Mob members who answered incorrectly are knocked out. The goal of the One is to answer as many questions as it takes to knock out all of the Mob. If the One answers a question incorrectly, the game ends and (in some versions) the prize money is distributed amongst any remaining Mob members.
In 2009, Microsoft revived the show as an Xbox Live game through a twice-weekly event for all Gold members. The One and Mob remained unchanged, while the game allowed the crowd (anyone playing the game who was neither the One or a member of the Mob) to also answer questions; the top three scorers of the round got a free Xbox Live Arcade game (no small feat, as there could be up to several thousand crowd members at any time). Selection for being the One or a Mob member depended on score, and the game was played for Microsoft Points using the last NBC format.
Microsoft also hosted daily Extended Play games with no prizes, though scores achieved here counted toward a person's chances of being selected during Live. Season 2 of the Xbox run ended on February 12, 2010, but in July it was reported that the show had been canned again.
Reruns began airing on GSN, which became very popular — especially when combined with the Xbox Live version. The show was Uncanceled again on November 15, 2010 with Carrie Ann Inaba as emcee. The GSN version is a cheaper production, with no physical setup for the Mob and a much smaller top prize of $50,000 (sometimes $100,000).
The following
Game Show
tropes appear in
1 vs. 100
:
Other tropes include:
Community content is available under
CC-BY-SA
unless otherwise noted.