Line 1:
Line 1:
 

{{work}}

 

{{work}}

−

[[File:101DalmatiansVHS.jpg|frame|<small>I'm seeing lots of spots, plenty of polka dots...</small> ]]

+

[[File:101DalmatiansVHS.jpg|frame|<small>I'm seeing lots of spots, plenty of polka dots...</small>]]

 
 
 
 
Line 202:
Line 202:
 

* [[Getting Crap Past the Radar]]: Spot uttering the s-bomb in one episode. In "Un-Lucky", when she, Lucky, Rolly, and Cadpig get trapped and Lucky blames himself for getting them into this predicament due to his misfortune, Spot says, "Ah, stop it. I hate it when you get all whiny and insecure, that's my s***".

 

* [[Getting Crap Past the Radar]]: Spot uttering the s-bomb in one episode. In "Un-Lucky", when she, Lucky, Rolly, and Cadpig get trapped and Lucky blames himself for getting them into this predicament due to his misfortune, Spot says, "Ah, stop it. I hate it when you get all whiny and insecure, that's my s***".

 

* [[Grand Finale]]: "Dalmatian Vacation".

 

* [[Grand Finale]]: "Dalmatian Vacation".

−

* [[Great Detective]]: Spot's alter-ego -- Pullet Marlow, Private Chick.

+

* [[Great Detective]]: Spot's alter- Marlow, Private Chick.

 

* [[Green Around the Gills]]: In "The Dogs of De Vil", Lucky and Cadpig turn entirely green in a seasickness moment.

 

* [[Green Around the Gills]]: In "The Dogs of De Vil", Lucky and Cadpig turn entirely green in a seasickness moment.

 

* [[Handicapped Badass]]: Tripod, the three-legged dog.

 

* [[Handicapped Badass]]: Tripod, the three-legged dog.

Line 227:
Line 227:
 

* [[The Movie]]: The final three episodes of the series were also released as a direct-to-video movie, ''Dalmatian Vacation'' (but [[Keep Circulating the Tapes|only in foreign countries]]), bringing the total number of ''101 Dalmatian''-themed Disney movies up to five.

 

* [[The Movie]]: The final three episodes of the series were also released as a direct-to-video movie, ''Dalmatian Vacation'' (but [[Keep Circulating the Tapes|only in foreign countries]]), bringing the total number of ''101 Dalmatian''-themed Disney movies up to five.

 

* [[The Napoleon]]: Lt. Pug.

 

* [[The Napoleon]]: Lt. Pug.

−

* [[Off-Model]]: The episodes animated by [[Wang Film Productions]] and [[Koko Enterprises]] come into this, albeit for different reasons. Also in play due to other <ref> mostly [[Tama Productions]], [[Hanho Heung Up]], [[Toon City]] and [[Plus One Animation]]</ref> being involved.

+

* [[Off-Model]]: The episodes animated by [[Wang Film Productions]] and [[Koko Enterprises]] come into this, albeit for different reasons. Also in play due to other <ref>mostly [[Tama Productions]], [[Hanho Heung Up]], [[Toon City]] and [[Plus One Animation]]</ref> being involved.

 

* [[Out of Order]]: Since the program began airing on the Disney Junior channel in repeats, the broadcasts began with an episode in the middle of the program's second season and then have been airing in what seems to be an order picked by throwing darts at a board. The recap episode "Humanitarian of the Year" was aired before many of the stories it recaps, while the third part of "Dalmatian Vacation" aired with the first two parts not even anywhere in sight on the schedule. They have also started airing repeats of episodes they have already aired, even though there are still numrous episodes that they haven't, and it's beginning to look like they just don't have those episodes to air.

 

* [[Out of Order]]: Since the program began airing on the Disney Junior channel in repeats, the broadcasts began with an episode in the middle of the program's second season and then have been airing in what seems to be an order picked by throwing darts at a board. The recap episode "Humanitarian of the Year" was aired before many of the stories it recaps, while the third part of "Dalmatian Vacation" aired with the first two parts not even anywhere in sight on the schedule. They have also started airing repeats of episodes they have already aired, even though there are still numrous episodes that they haven't, and it's beginning to look like they just don't have those episodes to air.

 

* [[Picked Last]]: Lt. Pug picks Lucky and Tripod as team leaders for cohesian drils in one episode. Spot is the last picked and Lucky even tries to pick a bucket instead because she is a chicken and the rest are dogs. She gets her own back later in the episode, though.

 

* [[Picked Last]]: Lt. Pug picks Lucky and Tripod as team leaders for cohesian drils in one episode. Spot is the last picked and Lucky even tries to pick a bucket instead because she is a chicken and the rest are dogs. She gets her own back later in the episode, though.

Line 279:
Line 279:
 

[[Category:101 Dalmatians]]

 

[[Category:101 Dalmatians]]

 

[[Category:The Disney Afternoon]]

 

[[Category:The Disney Afternoon]]

−

[[Category:All The Tropes Wiki]]

 
---
Revision as of 20:54, 9 September 2017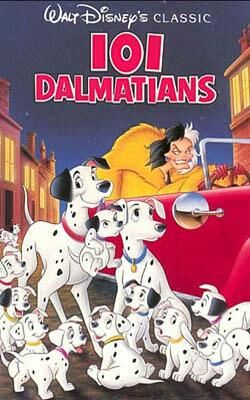 Entry #17 in the Disney Animated Canon. The Hundred and One Dalmatians was adapted for animation by Walt Disney Pictures and it was the second Disney animated film to be set unambiguously in contemporary times. Furthermore, the 1961 production was the first to use xerography to ease the inking process and make a film with this much technical complexity (the 101 dogs and their collective innumerable spots) possible. Unfortunately, this technology became the norm and its limitations trapped all Disney animation into a hard scratchy outline look for 16 years until The Rescuers, which finally was able to use further advancements for allow for a softer look again.
Disney adapted it again into live-action in 1996, casting Glenn Close as Cruella and setting the story in more modern times. The remake was mixed in critical terms, but it turned out such a big monetary profit that it spun off an Animated Series that ran in both Syndication (as part of what remained of The Disney Afternoon) and on Saturday mornings (as part of ABC's One Saturday Morning) in the 1997-98 season. Did we mention it was made by the same studio that made Doug? Then the live-action version got a sequel in 2000, as did the animated version three years later.
The television show was seen briefly as part of the Disney Junior lineup on Disney Channel and is now airing on the Disney Junior network, for whatever reason. While the show isn't a preschool show, it still has good morals at the end of the episodes, plus little kids probably are already familiar with the characters.
The original children's novel is less remembered than the Walt Disney movie based on it. (And it had a sequel, too.)
---
The Disney Adaptation (1961) and its sequel (2003)
| | | |
| --- | --- | --- |
| |  Thunderbolt: I always arrive in the nick of time...(whispering to Patch) Hey, I may not be a real hero, but I can act like one. I'll distract them. | |
The Live Action Adaptation (1996) and its sequel (2000)
 Cruella: Alonzo, we're going to make them pay!

Alonzo: Yes. How much?
 Horace: Crikey! Look at the size of that scar! No bloody wonder you can't talk, mate!

Skinner: (Death Glare)

Jasper: Excuse me. (closes the door and decks Horace)
The TV series (1997)
| | | |
| --- | --- | --- |
| |  Ivy: I don't mind, Auntie Cruella can FAIL first! | |
Community content is available under
CC-BY-SA
unless otherwise noted.